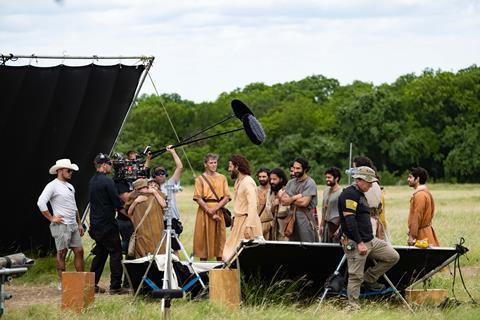 With a generously funded state incentive now on offer and a renovated soundstage facility opening soon, the Texas city of Dallas is looking forward to what it hopes will be a busy filmmaking future.
The city recently hosted shoots for series such as Hulu's Cruel Summer, USA Networks' Queen Of The South and worldwide hit The Chosen. Tony Armer, commissioner at Dallas Film Commission (DFC), has been working to bring more film and TV projects to the city since taking up his position at the start of the year. While the US actors and writers strikes have limited the opportunities up to now, Armer — previously commissioner at St Petersburg Clear­water in Florida — is optimistic for 2024 and beyond.
The increase of the Texas state production incentive has already sparked "a lot of interest", Armer reports. In May, funding for the incentive programme — which offers cash rebates of 5%-20% depending on budget — was increased from $45m to $200m for the next two years and the local cast and crew requirement was lowered from 70% to 55%. Armer says he has had "conversations with a lot of projects, from small indies to large studio TV series, that are all interested because of the incentive".
The expansion of Dallas's South Side Studios, meanwhile, "will make a huge difference", Armer suggests. "The three things projects look for are incentives, crew and soundstages. We have the incentive with the $200m in Texas, and Dallas has a great crew base. Now we'll have upper-echelon soundstage space to accompany those."
South Side was recently sold to Talon Entertainment Finance in a deal the DFC commissioner helped facilitate. Under its new owner, the studio — originally a converted warehouse space — is undergoing a multi-million-dollar renovation. The upgraded facility is set to open next May, and will have five soundstages ranging in size from 8,000 to 25,000-square-feet and a 270-degree LED volume.
As a bonus to incoming projects, South Side's location near downtown Dallas puts it in one of the under­utilised or economically distressed areas of Texas, where shoots qualify for a 2.5% addition to the state incentive — making the facility the only soundstage in Dallas or state capital Austin to offer that benefit.
As they look towards the post-strike future, Armer and his DFC team are also working on other ways to raise Dallas's film and TV production profile.
On the promotional front, the city will host the November 8 world premiere of The Iron Claw, A24's wrestling drama starring Zac Efron, which is set in Dallas even though it was shot in Louisiana.
To spotlight the city's locations, Armer is pitching Dallas as "a very business-oriented, cosmopolitan city" with "a great downtown that can be Dallas but can also be any big city you need". It also has "a very film-friendly community that is willing to work with projects".
Workforce development
To expand the city's crew base — currently big enough to handle about three major productions simultaneously — DFC is staging free educational workshops and is putting together a workforce development programme to help train crew members in the area.
Adding to the city's financial appeal, Armer says he has made it a goal to create a Dallas production rebate to supplement the Texas state incentive. "There is a lot of interest in it and a desire to do it — it's just a matter of working through the politics and the funding mechanism," says the DFC head.
The commission's efforts will help prepare Dallas for what is expected to be a rush of production activity across the US once the actors follow the writers in reaching a strike settlement. When the industry returns to work after the strike-induced inactivity, Armer suggests that demand for facilities and labour is going to be higher than traditional production hubs such as Georgia, California and New York can meet — prompting studios and producers to seek out fresh filming locations.
"There is not going to be enough soundstage space or crew around the country," predicts Armer. "Places like Texas — that have an incentive and crews and now the soundstage that we'll have here — are going to be very attractive to a lot of productions."
Contact: Tony Armer, commissioner, film & creative, Dallas Film Commission
Find out more: dallascreates.org

The Dallas Film & Creative Industries Office is the official resource for film, television, photography, music, and more.
View full Profile