Dir: Ben Wheatley. UK. 2012. 90mins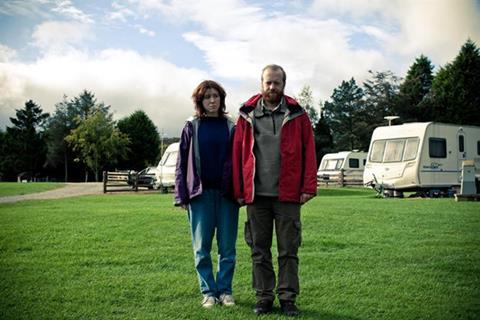 Sightseers is a blissful bit of dark, funny and at times very bloody entertainment as a pair of caravanning killers head off on a road trip through the beautiful tourist spots of the British Lake District and end up amassing as many bodies as visits to tourist sites. It is an often-hilarious British comedy horror that should click with audiences with a taste for pitch black comedy.
It is filmed with such visual panache and sense of humour that cult status should be guaranteed.
Director Ben Wheatley is quietly building something of a cult following through his films Down Terrace and most recently Kill List (which opened at SWSW last year), and with Sightseers his reputation as a quirky talent to watch is consolidated. The film, which had a special screening in Director's Fortnight, has been a buzz Cannes title, and likely to attract appreciative buyer interest.
The deliciously dark Englishness of the film – Nuts In May meets Badlands comes pretty close to summing it up – and the sheer oddness of its lead characters will naturally make Sightseers something of an acquired taste, but it is filmed with such visual panache and sense of humour that cult status should be guaranteed.
The script was originated by the film's lead actors Steve Oram and Alice Lowe who spent several years refining the characters, first on stage and then as leads in a TV pilot. They play Midlands couple Chris and Tina, a genial pair who head off an a caravanning holiday, much to the annoyance of Tina's mother who still blames her daughter for the accidental death of their beloved pooch Poppy.
Tina has led a sheltered life, but is keen to embrace Chris's passions for British tourist spots – such as the Crich Tramway Museum and the Keswick Pencil Museum – as well as have an active sex life. She has even knitted crotchless underwear for the holiday.
Things start well but a litterbug at the Tram Museum and irritating caravan neighbours drive Chris to distraction and bodies start to fall. Once Tina gets to grips with Chris's reactions to those who irritate him she embraces the concept, and before long the twosome's holiday becomes more of a murder spree.
Director Ben Wheatley's dark sense of humour meshes perfectly with this rather eccentric story of cagoule-clad caravanning killers. Despite their murderous ways, Chris and Tina are always presented with real affection (as are their holiday plans) and their oddball romance (very Natural Born Killers with a low-key British suburban twist) tender as they face the 'trials' of their relationship.
The killings do verge on the bloody at times, but everything is balanced with a sly and often wicked sense of humour, while the soundtrack, production design and shrewd costume choices all enhance a perfectly formed and enjoyably dark film.
Production companies: Rook Pictures, StudioCanal, Film4, BFI, Big Talk Pictures
International sales: Protagonist Pictures, www.protagonistpictures.com
Producers: Nira Park, Claire Jones, Andy Starke
Executive producers: Matthew Justice, Jenny Borgars, Danny Perkins, Katherine Butler, Edgar Wright
Co-producer: James Biddle
Screenplay: Alice Lowe, Steve Oram, Amy Jump
Cinematography: Laurie Rose
Editors: Amy Jump, Ben Wheatley, Robin Hill
Production designer: Jane Levick
Music: Jim Williams
Main cast: Alice Lowe, Steve Oram, Jonathan Aris, Richard Glover, Monica Dolan. Richard Lumsden