Dir: Susanne Rostock. US. 2010. 100mins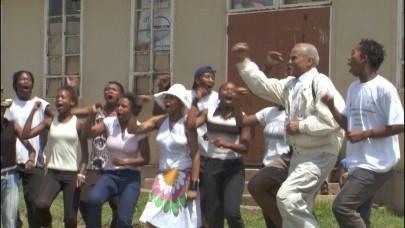 An intriguing - and welcome - surprise, Sing Your Song chronicles the life and times of 84-year-old Harry Belafonte. Any idea of calling him an entertainer, crooner, or even actor has been firmly banished by Susanne Rostock's film, however, which demonstrates that Belafonte's lasting and quite extraordinary legacy is as an impassioned and committed political and social activist - on a global basis.

Harry Belafonte's life makes an extraordinary screen story.
Footage, often very moving, tracks Belafonte through seemingly all the major political upheavals of the 20th century alongside icons such as Marlon Brando, Martin Luther King, the Kennedy brothers and Nelson Mandela, and on to the fight against poverty, discrimination and famine wherever he sees it. An easy fit in any TV or festival's schedule, this is an accomplished documentary which leaves many unanswered questions - but in a pleasingly provocative way.
Sing Your Song is produced by Belafonte's own production company (and, amongst others, his youngest daughter) and at times there's a worrying sense that it might be heading in the direction of hagiography. The fire in Belafonte's eyes and his naked hunger, even now, to set the world to rights is enough to banish these unworthy thoughts, however, to be replaced with a sense of how extraordinary his generation was, and whether we'll see their like again.
Sing Your Song can also be frustratingly vague; on dates (the chronology isn't always clear), major personal events (two divorces slither by without much in the way of introspection), and settings (early jumps from Harlem to Jamaica to the second world war and a stint as a munitions loader are disorientating)But it's clear that Belafonte's mission is greater than the details, and the film follows suit. Interviews with Belafonte's children where his son talks about the struggle to compete with the 'family of man' for his father's attention, are telling.
Belafonte's mother was an immigrant from Jamaica who found employment as a domestic servant in New York - abandoned by their father, Harry and his brother were sent back to Jamaica to stay with family while his mother worked. Whatever seared the young man with his sense of social justice, he isn't saying, but by the time young adult Belafonte - working as a janitor's assistant - first saw a performance by the American Negro Theatre, he knew it was the only road to take to make his voice heard.
As a up-and-coming performer, Belafonte toured the segregated south in a racially mixed group of performers. Performing his first stint in Las Vegas, he wasn't allowed into the hotel through the front door. Blacklisted by HUAC, his goal was to fight "unrelenting racist oppression" wherever he saw it, and he has never let up. The trousers were tight and the calypso croons soothing, but Harry Belafonte wanted nothing less than to change the world, and he has never stopped trying.
"I get up in the morning and I just can't let them win," he says. Protesting against famine in Ethiopia, apartheid in South Africa, the murderous regime in Haiti, war in Iraq, he has turned his attention lately to gangs, the prison system, and the virtual 'criminalisation of poverty' in his home land. Frail now, and with a hearing aid, he admits he never thought he'd spend the "last days of my life trying to fix the things we thought we fixed 50 years ago."

Harry Belafonte's life makes an extraordinary screen story, and, with a light hand and some strong technical support, Susanne Rostock relates it well, confident in the power of her protagonist. It's an ease that serves her and her subject well.

Production companies: S2BN Entertainment, Belafonte Entertainment
International sales: K5 International, www.k5international.com
Producers: Michael Cohl, Gina Belafonte, Jim Brown, William Eigen, Julius R. Nasso
Cinematography: Bobby Shepherd, Peter Pilaflan, Jim Brown
Editor: Susanne Rostock, Jason L. Pollard
Musi:c Hahn Rowe