Festival top brass announced on Monday the 12 Narrative and eight Documentary Feature Film Competition films in 22nd edition, set to run in Park City from January 22-28, 2016.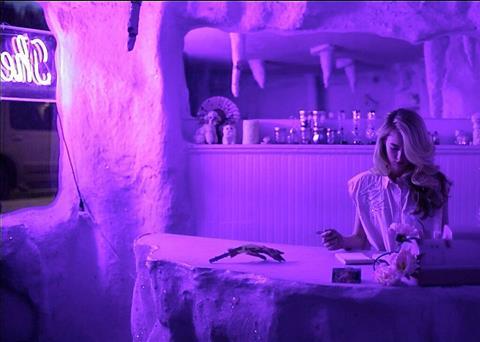 The 20-strong line-up includes 12 world premieres, three North American premieres and one US premiere.
All competition films are feature directorial debuts with budgets of less than $1m and without US distribution.
Jury awards are presented to feature films in both categories and all films are eligible for audience awards as well as the Spirit Of Slamdance Award, judged by the filmmakers themselves.
"The standard of DIY filmmaking around the world is the highest we've seen, and the diversity of storytelling is the most we've experienced," sad Slamdance co-founder and president Peter Baxter.

"With a record breaking number of submissions to select from, the narrative and documentary feature line-up has never been so competitive or as exciting to programme."
All synopses provided by the festival.
NARRATIVE FEATURES PROGRAMME
All The Colors Of The Night (Brazil), dir Pedro Severien
Iris wakes up in her spacious seafront apartment, discovers a body in the living room and enlists the help of other women, setting off a spiral of redemption in an atmospheric drama of dark imagery and questionable reality.
Cast: Sabrina Greve, Sandra Possani, Brenda Ligia, Giovanna Simões, Rômulo Braga
Alvin's Harmonious World of Opposites(Australia-Indonesia), dir Platon Theodoris
Agoraphobic Alvin prefers stuffed pandas and online shopping to the aggressive rantings of his neighbour Virginia, until the sludge seeping from his ceiling forces him to search for answers in this offbeat comedy with a tender heart.
Cast: Teik-Kim Pok, Vashti Hughes, Dessy Fitri, Ailis Logan, Nitin Vengurlekar, Tina Andrews, Alicia O'Donnel
North American Premiere
Chemical Cut (USA, pictured), dir Marjorie Conrad
Twenty-three-year-old Irene is an artistic misfit turned LA model busy searching for identity, inspiration and a kindred spirit while surrounded by competition, absurdity, and so many nude bras.
Cast: Marjorie Conrad, Ian Coster, Leah Rudick, Michael Lucid, Stephen Saban, Deven Green, Nicolas Coster, Vicki Marlane
World Premiere
Driftwood (USA), dir Paul Taylor
A young woman washes ashore and is claimed and conditioned by an older man in this intricately layered, dialogue-free exploration of familial roles, isolation and captivity.
Cast: Joslyn Jensen, Paul C Kelly, Michael Fentin
World Premiere
Honey Buddies (USA), dir Alex Simmons
Jilted groom David is convinced by his excitable best man Flula to continue with his planned honeymoon, a backcountry trek in the mountains of Oregon, in a highly comedic ode to friendship and the great outdoors.
Cast: David Giuntoli, Flula Borg, Brian T. Finney, Claire Coffee, Jeanne Syquia
World Premiere
Hunky Dory (USA), dir Michael Curtis Johnson
After his ex disappears, Sidney, a dive bar drag queen, is forced to look after his 11-year-old son in a tale of unconventional fatherhood, the fear of mediocrity and the pulsing reality of dreams deferred.
Cast: Tomas Pais, Peter Van Norden, Jeff Newburg, Joy Darash, Edouard Holdener, Nora Rothman, Chad Borden, Chad Hartigan
World Premiere
If There's A Hell Below (USA), dir Nathan Williams
In a desolate landscape, an ambitious young journalist in a dusty car meets covertly with a national security whistleblower, and their roving exchange becomes increasingly cloaked in paranoia, tension and escalating threat.
Cast: Conner Marx, Carol Roscoe, Paul Budraitis, Mark Carr
World Premiere
Last Summer (Italy), dir Leonardo Guerra Seragnoli
Set on board a luxury yacht in sparkling international waters, this tense and stylish drama captures the four final days a mother is granted with her six-year-old son to say goodbye after losing a custody battle.
Cast: Rinko Kikuchi, Yorick van Wageningen, Lucy Griffiths, Laura Bach, Daniel Ball, Ken Brady
US premiere
The Lesson (UK), dir Ruth Platt
A grisly study of the relationship between a tormented teacher and the troubled teens who bear his wrath once he snaps; this morally challenging horror film is dark, claustrophobic, and shockingly eloquent.
Cast: Evan Bendall, Robert Hands, Michaela Prchalova, Tom Cox, Rory Coltart, Dolya Gavaniski, Michael Swatton, Charlotte Croft
North American Premiere
MAD (USA), dir Robert G Putka
A matriarch past the point of a nervous breakdown, her two daughters that don't give a damn, and the heat-seeking missiles of resentment they toss at each other create a lively backdrop for this dark and dramatic comedy.
Cast: Jennifer Lafleur, Maryann Plunkett, Eilis Cahill, Mark Reeb, David Sullivan, Conor Casey, Shaun Weiss, Chris Doubek
World Premiere
Neptune (USA), dir Derek Kimball
Set in the late 1980s on an island off the coast of Maine, an orphan girl raised by the church becomes obsessed by the disappearance of a classmate, and her haunted dreams and visions propel her to push past her sheltered life.
Cast: Jane Ackermann, Tony Reilly, William McDonough III, Christine Louise Marshall, Dylan Chestnutt, Maureen Butler
The Tail Job (Australia), dirs Bryan Moses, Daniel Millar
Nicholas hires a taxi driver to follow his fiancé when he suspects her of cheating in this micro-budget comedy action tale that makes every wrong turn crackle with genuine humour and unexpected insight.
Cast: Blair Dwyer, Craig Anderson, Laura Hughes, Kellie Clarke, Dorje Swallow, Grant Dodwell, Gary Waddell, Ursula Mills
World Premiere
DOCUMENTARY FEATURES PROGRAMME
1ha 43a (Germany), dir Monika Pirch
After inheriting a plot of farming land near Dusseldorf, Monika explores the potential of her field through administrative, historic and poetic methods and manages to reconnect with the land and her ancestry in a beautiful and unexpected way.
North American Premiere
Art Of The Prank (USA), dir Andrea Marini
Legendary funny man Joey Skaggs has been pulling America's chain since 1965. His next hoax? Film festivals.
Cast: Joey Skaggs, Robert Forster, Peter Maloney, Charlie Todd, Richard Johnson, Buck Wolf, Sarah Farrell, Jeff Cohen
Dead Hands Dig Deep (USA-Australia), dir Jai Love
From the isolation of his secluded desert compound Edwin Borsheim, founder of the shock metal band Kettle Cadaver, ruminates on a life of violence, mayhem and personal destruction lived on the absolute edge of the known musical universe.
World premiere
Fursonas (USA), dir Dominic Rodriguez
Like any community, the Furry world is one with gossipers, dreamers, followers, whistleblowers and the one guy who wants to rule them all.
World premiere
Los Punks; We Are All We Have (USA), dir Angela Boatwright
A cobbled-together family of Hispanic youth comprise the thriving backyard punk scene of South Central and East LA: bands, fans, and production are interwoven into a sub-culture of thrash, noise and pits.
Cast: Gary Alvarez, Nacho Corrupted, April Desmadre, Jennie Oi, Alex Pedorro, Natalie Rodriguera
World Premiere
The Million Dollar Duck (USA), dir Brian Golden Davis
Artists from different walks of life vie to win the Federal Duck Stamp Contest, the only art competition of its kind sponsored by the US government.
Cast: The Hautman Brothers, Rebekah Nastav, Tim Taylor, Dee Dee Murry, Rob McBroom, Adam Grimm
World Premiere
Myrtle Beach (Canada), dirs Neil Rough, Michael Fuller
Myrtle Beach is a disturbingly intimate peek into the lives of the deviants, outcasts and forget-me-nows that inhabit this deformed stepsister of Coney Island.
World Premiere
Peanut Gallery (USA), dir Molly Gandour
An intimate and unflinching exploration of one family's tragic loss and their attempt to heal after decades of silence.
Cast: Jackson Gandour, Mary Jane Gandour, Molly Gandour, Aimee Gandour.