A preview of some of the most-anticipated Spanish productions and co-productions of the year, from big-budget English-language dramas to Pedro Almodovar's next women-centric tale. By Juan Sarda.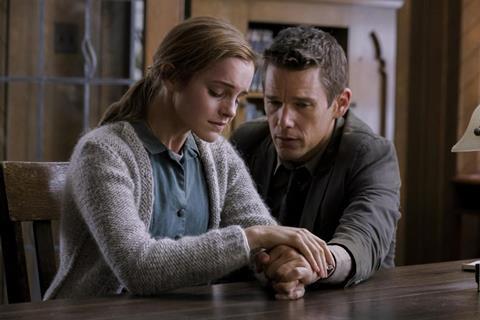 A Monster Calls
Dir JA Bayona
After his international hit The Impossible, Bayona is completing his 'motherhood trilogy' with a film about Conor, a 12-year-old boy who tries to deal with his mother's terminal illness by befriending fantastical beings. "It's the kind of story the audience is eager to see and Hollywood doesn't produce any more," suggests Bayona. Sigourney Weaver and Felicity Jones lead the cast, which is adapted from Patrick Ness's novel. It is set for release in autumn 2016 by Focus Features in the US and Universal in Spain, and is a co-production between River Road Entertainment, Participant Media, Lionsgate International and Focus Features, with Belen Atienza producing.
Contact Lionsgate International, www.lionsgate.com
A Perfect Day
Dir Fernando Leon de Aranoa
Four-time Goya winner Leon de Aranoa (Mondays In The Sun) has an international cast led by Benicio del Toro, Mélanie Thierry and Tim Robbins for his new film, set in an unspecified zone of conflict. The story follows a group of aid workers who try to remove a corpse that is poisoning a well's water supply. Leon de Aranoa's company Reposado and Jaume Roures' MediaPro produce. WestEnd has already pre-sold to territories including France (TF1/UGC), Germany (X Verleih), Benelux (Wild Bunch), Switzerland (Praesens) and Israel (United King). The film is in post-production, and Universal is releasing in Spain later this year.
Contact WestEnd Films, info@westendfilms.com
Nobody Wants the Night
Dir Isabel Coixet
Coixet, who has been in Berlinale Competition previously with My Life Without Me and Elegy, landed the coveted opening night slot for this year's festival. The drama, inspired by true events, is set in 1909 Greenland. Juliette Binoche plays Josephine Peary, whose encounter with a mysterious woman (Rinko Kikuchi) in the icy landscape changes her life forever. Berlinale festival director Dieter Kosslick says: "Isabel Coixet has created an impressive and perceptive portrait of two women in extreme circumstances." The film is produced by Andres Santana's Ariane & Garoe and Jaume Roures of MediaPro in co-production with France and Bulgaria. Wild Bunch France has French rights.
Contact Elle Driver, eva@elledriver.eu
Palm Trees in the Snow
Dir Fernando Gonzalez Molina
Box-office champion Molina (I Want You) reteams with actor Mario Casas for this adaptation of a bestselling Spanish novel. The story of tragic and forbidden love is set during the waning days
of colonialism in Africa, as a young woman travels to Guinea. Popular local actress Macarena Garcia (Blancanieves) and Adriana Ugarte co-star. Palm Trees In The Snow is produced by Nostromo Pictures' Adrian Guerra and Antena 3. Warner Bros plans a December launch in Spain.
Contact Film Factory, v.canales@filmfactory.es
Regression
Dir Alejandro Amenabar
Oscar-winning director Amenabar (The Sea Inside) returns after a six-year absence with Regression, a supernatural thriller based on the director's original story about a man who is accused of abusing his child. Ethan Hawke and Emma Watson lead the cast of this intense English-language story set in 1990 Minnesota. Long-time Amenabar collaborator Fernando Bovaira of Mod produces along with Telefilm Canada. The Weinstein Company will release in the US in August; Universal has acquired Spanish rights.
Contact FilmNation, info@filmnation.com
Silencio
Dir Pedro Almodovar
Almodovar will start shooting his new film, Silencio, in September. The director of Talk To Her and Volver has revealed it will be a drama and a return "to cinema based on women". "It will really knock audiences out and that's something that brings me a lot of joy," the director explained. Casting is now under way with Almodovar revealing he plans to cast actors with who he has never before worked. The Spanish-language production is being produced by his brother, Agustin.
Contact El Deseo, eldeseo@eldeseo.es
Toro
Dir Kike Maillo
Spanish superstars Mario Casas and Luis Tosar lead this action adventure film set on the streets of Malaga, Andalusia. They play brothers pursued by the mafia, who try to escape their life of crime and save one brother's daughter. The film will combine action sequences with Spanish cultural references. Barcelona-born Maillo won the Goya Award for best new director in 2011 for robot story Eva. Apaches is producing with Atresmedia Cine, Zircocine and Escandalo. Shooting began in Malaga in January and the film is set for an autumn release.
Contact Film Factory, v.canales@filmfactory.es
Truman
Dir Cesc Gay
Gay enjoyed international success with A Gun In Each Hand (2012) and he reteams with two of that film's stars — Argentina's Ricardo Darin and Spain's Javier Camara — for Truman. Using the Catalan film-maker's trademark mix of comedy and drama, Truman tells the story of a middle-aged actor who must confront a terminal illness. He reunites with his childhood friend to find a new home for his dog. Gay said: "It's a blend of humour and emotion, irony and tenderness." In post-production, the film is readying for an autumn release.
Contact Filmax, i.diaz@filmax.com