Warner Bros.' final instalment of the Potter franchise holds onto pole position ahead of Disney's Cars 2.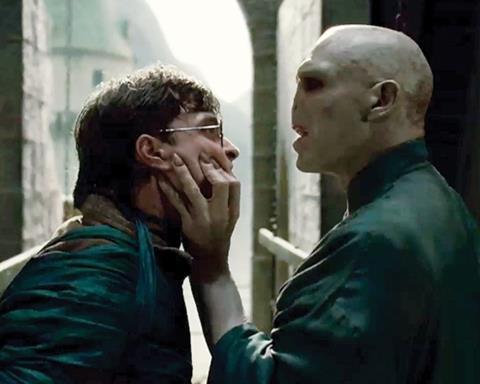 After its record-breaking opening weekend last week, Warner Bros.' Harry Potter And The Deathly Hallows Part 2 continued to dominate in its second week, conjuring up a further $13.9m (£8.5m) to stand at a formidable $72.1m (£44.3m) so far. Astonishingly after just ten days in play, it is only $1.8m (£1.1m) off dethroning The King's Speech as this year's highest UK box office earner to date which it will do in the next day or two.
On top of that, it is ahead of every second weekend tally of the previous seven films in the series with last year's Deathly Hallows Part 1 ten day total of $54.1m (£33.3m) the closest. It's also this year's best second weekend performance with the $7.8m (£4.8m) holdover of The Hangover Part II a distant second.
With the school summer holidays just starting to kick into gear, Philosopher's Stone's record of $107.6m (£66.1m) as the highest grossing Potter movie at the UK box office is looking increasingly fragile.
Despite having to settle for second place, Disney can be fairly pleased with the $5.8m (£3.5m) debut for Cars 2 at the week's second highest average of $11,861 (£7,287), behind Potter. While a mile away from Toy Story 3's mammoth $34.5m (£21.2m) opening, including previews, it still improved on its predecessor by almost £1m as that opened in 2006 on $4.3m (£2.7m) and in more locations (513 compared to 486); it also compares favourably to the summer's other animated sequel Kung Fu Panda 2 which opened on $10.1m (£6.2m) but had $5.0m (£3.1m) of previews to fall back on whereas Cars 2 had no previews.
However, it stalls somewhat in the context of other Pixar releases' openings such as Monsters Inc. ($15.0m / £9.2m), Wall-E ($6.9m / £4.3m) and A Bug's Life ($6.8m / £4.2m). It will have to rely on decent holdovers to overtake the $26.9m (£16.5m) lifetime tally of Cars but it's an achievable target even in the face of further family competition from Horrid Henry: The Movie this week.
Continuing a rich vein for comedies at the UK box office this year, Warner Bros.' Horrible Bosses opened strongly on $3.4m (£2.1m) at a decent average of $8,268 (£5,079) to chart third. While down on Bridesmaids' $5.8m (£3.5m) debut a month ago, it did beat the $3.2m (£2.0m) achieved by Bad Teacher. It just missed out on being director Seth Gordon's best UK opening, a record which still belongs to the $3.7m (£2.3m) debut of Four Christmases back in 2008.
The honeymoon shows no sign of stopping for Universal's Bridesmaids as it recorded a fifth straight £1m+ weekend, only the third film to do so this year following The King's Speech and Tangled. It now stands at an impressive $29.9m (£18.4m) with The Hangover's final tally of $36.0m (£22.1m) potentially within its reach.
There were three other new entries in this week's top 15 with Universal's Beginners, starring Ewan McGregor and Christopher Plummer, the best of the rest, landing in eighth after a $237,890 (£146,096) debut at a solid $3,448 (£2,117) average.
Reliance's Singham and Artificial Eye's The Big Picture opened in 12th and 13th respectively after limited releases, the latter of which achieving the higher average at $3,525 (£2,165) from its 21 locations.
This week sees the arrival of Paramount's Captain America: The First Avenger, hoping to emulate its North American success in toppling the mighty Potter from the number one spot. Local competition comes from Vertigo's 3D family film Horrid Henry: The Movie which receives a saturation release, as does Sony's Zookeeper. Optimum's Arrietty, from Studio Ghibli, also launches.