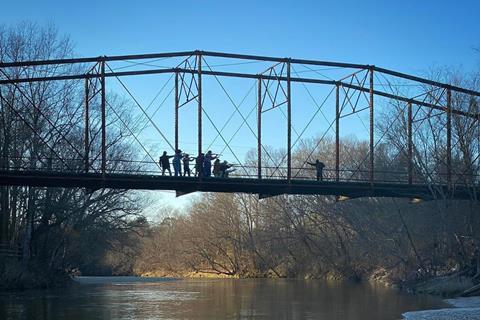 Mississippi has one of the most competitive US state incentive programmes as well as myriad location options including beaches, the Mississippi delta, plantations and casinos. Cities around the state can double for backdrops as diverse as western Texas, Philadelphia and Memphis, with neighbourhoods capable of standing in for the distinctive look of New Orleans.
The Mississippi Film Office (MFO) is renowned for its distinctive - and thoughtful - enticements.
"Our giveaways include bug spray and sunscreen, since we know productions will likely be outside," says MFO director Nina Parikh.
The weather can take some getting used to. In the summer, particularly July through early September, while the temperature may not seem that hot (high 80s into the 90s Fahrenheit), the humidity is what really makes it feel tropical. "And maybe you don't have mosquitoes where you come from in the way that Mississippi has mosquitões," Parikh smiles.
Going the extra mile underlines the commitment Parikh and her team offer productions. Of the five-person team, three have filmmaking backgrounds.
"We speak the language, we know what production needs are," she affirms. "You are not talking to just tourism people; you're talking to film professionals."
The MFO reads scripts and break them down before sending a tailored package of pictures and location steers so filmmakers are aware of the locations to match the script's artistic vision. The office also offers filmmakers a personal physical location scout.
"Once productions determine this is where they would like to be, we will work hand in hand with the location manager. We like to try to be an extension of the producing team, as much as possible," Parikh says. "We're always on call to assist with crewing up and finding whatever resources you need. Whether it's finding a camera or finding an acupuncturist we're going to help you find what you need while you're here."
Mississippi has been humming with filmmakers since it reopened in June 2020 following the pandemic shutdown. The state apportions a 25% to 35% cash rebate on local spend and payroll from an annual fund of $20m. "For the types of projects we've been getting, it's worked out perfectly," says Parikh. "It's a good level for us to be at."
Mississippi is home to Morgan Freeman, Kermit the Frog, Oprah Winfrey and Elvis and the birthplace of America's music. It also regularly houses the work of Jackson- born actor and filmmaker Tate Taylor, whose directing credits include The Help, Get On Up, Ma, and Breaking News In Yuba County, all of which shot in Mississippi.
Taylor's Crooked Letter Productions label is front and centre of an increasingly vibrant film community in Natchez, Mississippi. One of the oldest towns in the state, Natchez has the most number of historic homes in the US, large, elegant mansions, usually plantation homes, built in the American South before the American Civil War. Taylor has established a nonprofit company called Film Natchez to train and build a crew base and support indigenous filmmaking. He also operates the state's only soundstage production facility to host films including third-party productions.
The MFO is also adept at finding large-scale spaces for producers when they have needed to build sets in warehousing stock.
Recent productions to shoot in Mississippi include Running Wild Films' Texas Red, directed by Travis Mills and this summer, Norwegian-born filmmaker Anna Gutto is shooting Paradise Highway, starring Juliette Binoche and Morgan Freeman in Jackson, Clarksdale and the Mississippi delta, close to where Freeman has a blues club with his partner.
Paul Schrader's The Card Counter, starring Willem Dafoe, Oscar Isaac, Tye Sheridan and Tiffany Haddish, shot in Mississippi, finishing in the summer of 2020 after being forced to shut down production in March 2020. "It was the first production to come back to Mississippi and possibly one of the first productions to begin again anywhere in the country," Parikh says.
While Mississippi is certainly inexpensive compared to California, Georgia and New York State, Parikh also talks of the state possessing a magic and mystique amid its global renown for hospitality and a welcoming and open-minded population.
"It's not unlikely that a production will leave here with friends for life and will come back to Mississippi to visit them," Parikh says.

The Mississippi Film Office can assist in location scouting and research; pre-production help with casting, extras, crew, equipment; trouble-shooting during production and wrap. The state has one of the strongest incentive programs in the country, a 25-35% cash rebate on spend and all payroll.