Otto Bell's well received documentary has gone to the distributor for North America, Latin America, Germany, Australia/New Zealand, Scandinavia and Asia.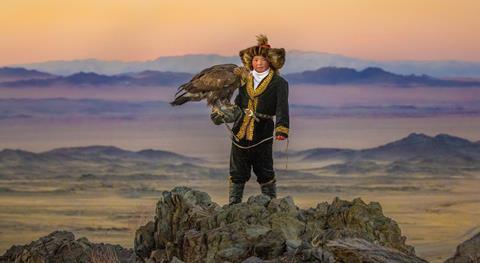 Morgan Spurlock and actress Star Wars: The Force Awakens actress Daisy Ridley serve as executive producers on The Eagle Huntress.
The film premiered in Sndance Kids and tells of a 13-year-old who becomes the first non-male eagle hunter in Mongolia.
Under the tutelage of her father and grandfather, the youngster enters the annual Golden Eagle Festival, where she competes against 70 male Eagle Hunters.
Aisholpan, the subject of the film, travelled more than 6,000 miles with her mother to attend the Park City festival.
Stacey Reiss and Sharon Chang produced. Joining Spurlock and Ridley on the producer roster are Jeremy Chilnick, Marc H. Simon, Dan Cogan, Regina K. Scully, Barbara Dobkin and Susan Maclaury in association with Artemis Rising Foundation, Impact Partners, Shine Global and Warrior Poets.
CAA represented the filmmakers.