Dir/scr: Josh Oppenheimer. Denmark-Norway-UK. 2012. 116mins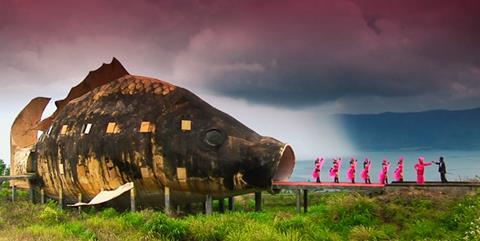 A surreal, chilling and unprecedented examination of atrocity and accountability, it's difficult to think of another documentary—or piece of media—that so thoroughly captures a mass murderer's conscience—as well as charting its evolution. And while it takes some time for The Act Of Killing to get to its revelatory conclusion, the final pay-off is a stunner.
Indeed, given the material it should come as little surprise that nonfiction mavens Errol Morris and Werner Herzog, having seen an early cut of the documentary, signed on as executive producers.
With strong critical support a certainty, the film should potentially have a long life in ancillary markets. as a powerful piece of creative political documentary filmmaking.
The Act Of Killing focuses on the perpetrators of violence from Indonesia's history 47 years ago when President General Suharto sanctioned the killing of more than a million alleged Communists. After American-born director Josh Oppenheimer spent three years filming survivors of the 1965-66 massacres, he eventually met the boastful thugs who committed the attacks, and asked them to restage their crimes against humanity. In a country where such murders remain valorised and its executioners have been hailed as national heroes, the killers were only too happy to oblige.
While it might sound similar to Cambodian director Rithy Path's S-21: The Khmer Rouge Killing Machine, in which guards and interrogators reenact their treatment of prisoners, the reproductions in The Act Of Killing strive for Hollywood-like production values—with some kitschy Indonesian additions thrown in such as dancing girls amid waterfalls.
It helps that the film's central figure, feared death squad leader Anwar Congo, began his career as a "movie theater gangster," scalping tickets and shaking down customers, and remains forever inspired by the likes of "Marlon Brando, Al Pacino, and John Wayne." Thus, Congo, along with his unrepentant crew, are not only delighted to show off the way they garroted people with wires—a method of murder, they tout, which avoids too much blood—they aspire to make a production that will rival "Paramount and MGM." Interrogation scenes involve noir-ish sets, gangster outfits of suits and fedoras, and plenty of make-up. The elderly Congo even dyes his white hair black.
In between the staged scenes, Oppenheimer observes the men's motivations for making the film, and their justifications and rationalizations for murder. "All this stuff about human rights pisses me off," says Congo at one point.
But a strange thing happens on the way to their final edit. Surprisingly, Congo admits he has nightmares, whose gory scenes of decapitation and haunting demons begin to be part of their shoot. Other restaged scenes of atrocity appear to take a toll on some of the participants. In several particularly poignant moments blurring the line between truth and fiction, crying child actors, asked to portray panic and fear, can't seem to shake the traumatic scenes even after the crew yells "cut." As one of the men says to a little girl, "Your acting was great, but stop crying." She can't. (Oppenheimer has described his process as "a documentary of the imagination.")
Indeed, given the material—both its macabre nature, and the way it plays with history, re-enactment, movies and truth—it should come as little surprise that nonfiction mavens Errol Morris and Werner Herzog, having seen an early cut of the documentary, signed on as executive producers. Like their best work, Oppenheimer allows his subjects to talk and express themselves freely, until they slowly begin to reveal the darkest corners of themselves and their deep-set moral hypocrisies. If Congo begins to show some culpability, others do not, expressing a sick love for child rape and other guiltless cruelties—as one of Congo's fellow leaders notes as justification, in a line that echoes the words of Robert S. McNamara in Morris's The Fog Of War: "War crimes are defined by the winners."
The Act Of Killing also broadens its scope to examine the right-wing paramilitary group that continues to terrorise Indonesia's citizens, and the widespread corruption that prevails in the country. But the heart of the film is Congo's journey, and given the film's running time, such contextual scenes may be extraneous.
Production companies: Final Cut for Real ApS, Torstein Grude, Piraya Film AS, Novaya Zemlya Ltd, Spring Films Ltd
International sales: Cinephil, www.cinephil.co.il/
Co-directors: Christine Cynn, Anonymous
Producers: Signe Byrge Sørensen, Joshua Oppenheimer, Christine Cynn, Joram ten Brink, Michael Uwemedimo, Anne Köhncke, Torstein Grude
Executive producers: Werner Herzog, Errol Morris, André Singer, Joram ten Brink
Cinematography: Lars Skree, Carlos Arango de Montis, Anonymous
Editors: Niels Pagh Andersen, Janus Billeskov Jansen, Mariko Montpetit, Charlotte Munch Bengtsen, Ariadna Fatjó-Vilas Mestre
Music: Elin Øyen Vister
Main cast: Anwar Congo