Dir. Lesley Manning. 2009. 84 mins.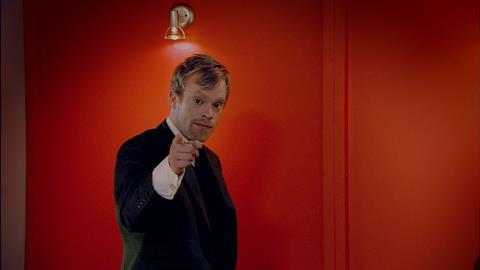 It takes moments to figure out that The Agent started life as a stageplay, and a few moments more to realise that it's going to finish that way, even after an 84-minute low-tech transfer to the big screen. Flawed though it is, however – and The Agent certainly has more than its fair share of problems – there's enough talent on display to make it of professional interest, and a smattering of chunky Big Ideas which see it bow out as a smart-edged misfire.
Made for a vanity-level £24,000, The Agent's production values are so low it's actually hard on the eye. And screenwriter/producer Martin Wagner is too in love with his original play to excise the requisite amount of dialogue – or duelling monologues - and open it out sufficiently to become a film. The premise would be stretched at a 30-minute TV drama, never mind 84 minutes on the big screen.
But there's still enough zing to the writing though, coupled with strong performances by the two leads (William Beck and Stephen Kennedy) to make The Agent a curio and a calling card. And so, a film about an unlikable writer and his horrible agent is most likely to draw attention from agencies themselves.
Glib, glad-handing literary agent Alexander (Beck) is visited by struggling writer Stephen (Kennedy), an author he no longer wants on his books and whose new novel Black, about miners, he hates – if, indeed, Alexander has ever actually read it. Stephen is impelled to carry on with what seems like a pointless profession in the face of overwhelming adversity. So desperate is he, in fact, following his wife's recent departure, that he'll even consider blackmailing Alexander until he gets what he wants – an auction of the book rights, perhaps with a movie adaptation thrown in.
This darkly witty little tale has a few stings in its tail and some barbed points to make. Its two leads are nicely unsympathetic, and well-rounded characters given their stagey framework (all credit to the actors here, in the face of adversity). The Agent's smart, The Player-like exchanges, however, lose their impact when wadded into bolts of monologue. Having the two principals walk onto the roof, or into a lift, or even through an amusement park, doesn't make The Agent a film if they're just waiting for each other to finish before launching into the next argument about The Future Of The Written Word.
Technically, this doesn't pass muster for the big screen. One bright note is a very brief appearance by Maureen Lipman as a pivotal publisher.
To sign up for Screen's weekly Reviews Newsletter with international openings and full festival reviews delivered free every Friday,please click HERE
Production company/international sales
Pinter & Martin Limited
+ 44 (0) 207 737 68 68
Producers
Martin Wagner
Lesley Manning
Screenplay
Martin Wagner
Cinematographer
Jonathan Harvey
Production design
Humphrey Jaeger
Music
Simon Lambros
Main cast
William Beck
Stephen Kennedy
Maureen Lipman