Dir: Martin Scorsese. US.2006. 119 mins.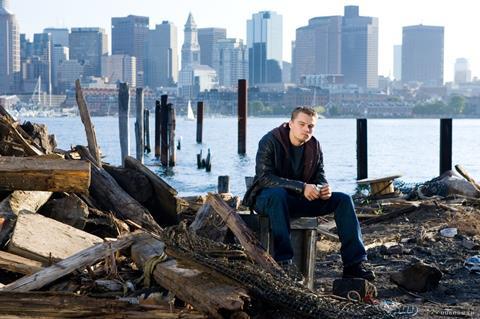 Martin Scorsese returns to familiar territory - the world of inner-city gangsters - in his latest film, an expertly-crafted genre thriller which stands a chance at becoming one of his biggest box office hits yet. Remaking Andrew Lau and AlanMak's 2002 Hong Kong blockbuster Infernal Affairs, Scorsese and screenwriter William Monahan have taken that film's cracking story and reset it in the colourful setting of south Boston where hard-nosed cops wage war on ruthless Irish American crime factions. Fast-paced, unpretentious and bristling with rich language and tasty detail, The Departed is bound to find a large mainstream adult audience.
DiCaprio and Damon acquit themselves well as the two men who have "departed" from normal existence
Although critics may be hardon Scorsese for remaking a foreign-language film, his Americanised film standsas both homage to and independent of the slick HK original. Infernal Affairs was a superb entertainment dominated by the laconicpresence of Asian stars Andy Lau and Tony Leung. Scorsese's adaptation issuccessful because it truly starts afresh, finding its feet in the Bostonsetting, recreating the characters as authentic Southies, and investing screentime in the dialect, traditions and characters of the city. It's one of thebest examples of a US remake in some years.
The Aviator is Scorsese's highest grosser to date with $213m in2004/5, while Gangs Of New Yorkis second on $190m in 2002/3 and Cape Fear third on $182.3m in 1991. The Departed is certainly likely to rival these performances,although this is a strictly adult film with an abundance of cursing and someextreme and unpleasant violence.
Warner Bros has worldwiderights excluding some key territories sold by producer Graham King such as theUK (Entertainment), France (TFM) and Italy (Medusa). The film opens day anddate next Friday in the US and UK and has a continental European launch at theRome Film Festival in Oct.
The film starts in much thesame fashion as the Hong Kong version. Frank Costello (Nicholson) is a powerfulgangster who nurtures a young south Boston kid Colin Sullivan (Damon) andsupports him through police academy, training him to be a high-ranking insiderfor his interests in the police force. Meanwhile Billy Costigan (DiCaprio),another kid from "Southie", also goes through police academy and is recruitedby poice Captain Queenan (Sheen) and his deputy Dignan (Wahlberg) to goundercover into Costello's gang.
Costello is initiallyskeptical about Costigan, suspicious that he has quit the police force toreturn to his neighbourhood, but the young man soon wins his trust after a fewviolent tests and joins Costello's inner circle.
Sullivan meanwhile risesswiftly in the force eventually joining the special investigations unitdesigned specifically to bring Costello down.
As the war between the twosides of the law rages, it becomes obvious to both Costello and Queenan thateach has a mole in their camp. Costigan and Sullivan find themselves inconstant fear for their lives as scrutiny on their every move becomes moreintense and the stakes become higher. Only when Queenan gets caught in thecrossfire do matters come to a head.
Scorsese peoples the dramawith a wonderful assortment of salty characters from Wahlberg (whose characterwas not in the original) as the pugilistic, foul-mouthed Dignan to Alec Baldwinas the fearsome head of the police unit to Winstone as French, Costello'snumber two. Vera Farmiga is effective as the only woman in the film, a policepsychiatrist who is both Sullivan's live-in lover and Costigan's shrink.
DiCaprio and Damon acquit themselves well as the two men who have "departed" from normal existence intolives of deception and secret identity; Nicholson, as expected, steals the showwith a portrait in genuine villainy that is as chilling as it is colourful.
It's not an awards picture like Gangs or The Aviator became, but there are some fine elements here - Nicholson, Monahan's script, Howard Shore's thunderously dramatic score, thegritty camerawork by Michael Ballhaus - which could get recognition.
Among elements which are changed from the Hong Kong film are the fact that Costigan's secret is known by two people not one, the fact that Costigan sleeps with the psychiatrist (it remains platonic in the first film) and the death of a leading character inthis film, who survived for a sequel in the Asian version.
To sign up for Screen's weekly Reviews Newsletter with all the week's new releases, international openings and full festival reviews delivered free to your mailbox every Friday, please clickHERE.
Production companies
Plan B, Initial Entertainment Group, Vertigo Entertainment in association withMedia Asia Films
Worldwide dist
Warner Bros
Initial Entertainment Group (select territories)
Executive producers
Roy Lee, Doug Davison, G Mac Brown, Kristin Zahn, Gianni Nunnari
Producers
Brad Pitt, Brad Grey, Graham King
Screenplay
William Monahan
Cinematography
Michael Ballhaus
Production design
Kristi Zea
Editor
Thelma Schoonmaker
Music
Howard Shore
Main cast
Leonardo DiCaprio
Matt Damon
Jack Nicholson
Mark Wahlberg
Martin Sheen
Alec Baldwin
Ray Winstone
Vera Farmiga
Anthony Anderson
Kevin Corrigan