The producers and directors who reign in Spain. Profiles by Chris Evans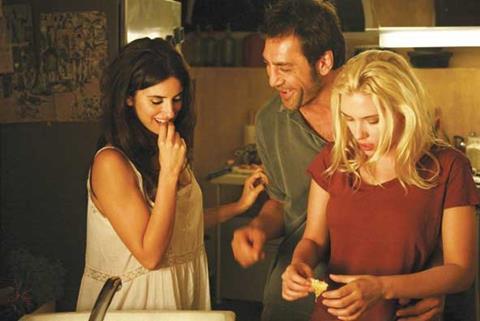 Jaume Roures (chief executive), Javier Mendez (producer), MediaPro
The Barcelona-based MediaPro Group owns TV channels (Gol TV), newspapers (Publico), post- production facilities and sales outfit Imagina. As a financier and producer, MediaPro signed a three-picture deal with Woody Allen and producer Letty Aronson of Gravier Productions in 2008, following a successful collaboration on Vicky Cristina Barcelona. You Will Meet A Tall Dark Stranger, starring Naomi Watts and Antonio Banderas, shot last year in London while Allen is now prepping a romantic drama to shoot in Paris this summer. Outside the Allen deal, Roures (pictured top) and Mendez are also producing the $28m (€20m) Las Madres De Elna set during the Spanish Civil War. "We like to combine big international projects with smaller quality local films," says Mendez.
Simon De Santiago, Fernando Bovaira (both pictured) and Pablo Alfaro, producers, Mod Producciones
Set up in 2007 by the three former Sogecine executives, Mod Producciones has quickly become a production powerhouse. Its credits include Alejandro Amenabar's Agora, Alejandro Gonzalez Inarritu's upcoming Biutiful and Oskar Santos Gomez's feature debut El Mal Ajeno, produced by Amenabar. "We have formed a strong relationship with key directors from our days at Sogecine," explains De Santiago.
Alvaro Augustin, chief executive, Telecinco Cinema
As the head of the film arm of free-to-air private broadcaster Telecinco, which is presently obliged to invest 5% of its annual income in local features and international co-productions, Augustin is one of the most powerful figures in the Spanish film industry. He is known as a very hands-on producer on major projects including The Orphanage, The Oxford Murders, Agora and Cell 211. Last year, Telecinco invested in 10 projects, but with the obligation likely dropping to 3% this year and film delivering some diminishing returns for broadcasters, Telecinco's involvement in Spanish film may decline.
Alvaro Longoria, Juan Gordon, Pedro Uriol, producers, Morena Films
One of Spain's most internationally minded production companies - its credits include Steven Soderbergh's Che films - Morena recently finished shooting Iciar Bollain's Even The Rain in Bolivia and Mexico, and has been in Cuba sourcing co-production possibilities. "If you do movies just to bank on the Spanish TV and box office, it is suicide," says Longoria.
Mercedes Gamero, head of acquisitions, Antena 3 Films
As head of acquisitions at broadcaster Antena 3 and director general of its cinema arm Antena 3 Films, Gamero plays a key role in the organisation's film buying and financing activities through its 5% quota obligation. She has worked as a hands-on producer on local projects such as Lope and Brain Drain, and invested in major international projects such as Paul Greengrass' Green Zone, which shot in Spain last year, and Woody Allen's You Will Meet A Tall Dark Stranger. Gamero says: "We combine [film and TV] well, and there's often an overlap, with a lot of TV actors and directors going on to do our movies."
Joaquin Padro, Mar Targarona, producers, Rodar Y Rodar
Barcelona's Rodar Y Rodar makes small, scary movies which have a big international impact - exemplified by Juan Antonio Bayona's The Orphanage. Next are Guillem Morales' horror film Julia's Eyes, political thriller The Perfect Assassin and art mystery The Barcelona Connection.
Mark Albela, Denise O'Dell, Denis Pedregosa, producers, Kanzaman Films
The go-to company for international producers shooting in Spain thanks to strong connections with Valencia's Ciudad De La Luz studios and its familiarity with the film-subsidy system. Kanzaman is also developing its own projects including the $25m thriller Cold Skin set in the Antarctic, and Moses Taite's War starring Morgan Freeman.
Julio Fernandez, producer, Filmax
Fernandez, veteran producer and head of Barcelona-based genre studio Filmax, the company behind the two [REC] films, is upbeat in the face of difficult market conditions. "The current climate makes it more difficult to make films, but we're determined to continue making the same kinds of films," he says. Upcoming projects include Manuel Carballo's horror title Exorcismus and animation Snowflake.
Gerardo Herrero, producer, Tornasol Films
Herrero has long been one of Europe's most respected producers, working recently with directors such as Juan Jose Campanella (The Secret In Their Eyes), Danis Tanovic (Triage) and Francis Ford Coppola (Tetro). This year Tornasol has five projects in production, including Jonas Trueba's Todas Las Canciones Hablan De Miand Alex de la Iglesia's Balada Triste De Trompeta.
DIRECTORS: The double-A list
Pedro Almodovar, Alejandro Amenabar
For many cinema-goers outside Spain, these two film-makers personify contemporary Spanish cinema. However, Almodovar (above left) endures a love-hate relationship with his domestic film sector. His flamboyant, often challenging films are rarely put forward as the country's Oscar entry, and Broken Embracessuffered at the hands of some local critics last year, in contrast to the often rapturous reviews it received abroad. However, through his El Deseo production outfit, run with producer brother Agustin, Almodovar continues to make some of the most exciting and exportable films as any director anywhere in the world and the leading festivals compete for his new films. For his part, Amenabar has become one of the world's most bankable foreign-language film-makers since his English-language The Othersgrossed more than $200m worldwide in 2007. He also co-produces projects and supports up-and-coming Spanish and Latin American directors through his outfit Himenoptero. Both Amenabar and Almodovar are now working on new directing projects.
The Barcelona gang
A new generation of Spanish film-makers is becoming synonymous with fun, spooky films and these four from Barcelona represent the best with tiles such as The Orphanage (Bayona), the [REC] films (Plaza and Balaguero) and the hotly tipped Julia's Eyes (Morales). Bayona is now working in the US on his English-language debut Hater for Universal Pictures, and will next shoot the thriller The Impossible in Spain.