The King's Speech took a tremendous third-weekend haul of $6.7m (£4.2m).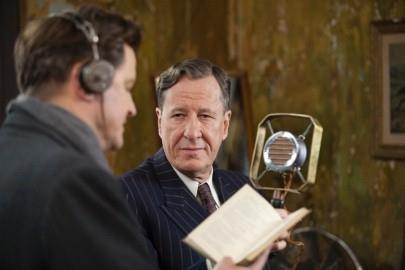 Momentum's awards favourite The King's Speech continued to outshine its rivals at the UK box office over a competitive Jan 21- 23 weekend, grossing $6.7m (£4.2m) for a stunning $29.3m (£18.3m).
The Tom Hooper directed-drama, which took the Best Film Award at the PGA ceremony in LA over the weekend, dropped only 4% week-on-week, for an impressive $13,466 (£8,418) screen average from a week-high 502 locations.
The King's Speech is by a country mile Momentum's best performer in the UK, leaving previous best PS I Love You ($16.5m/£10.3m) and Lost In Translation ($15.8m/£9.9m) trailing in its wake.
Fox's acclaimed ballet thriller Black Swan debuted in second on a healthy $4.5m (£2.8m) from 356 screens and a $12,412 (£7,760) screen average. With a total that might have topped the chart on kinder weekends, Darren Aronofsky's Oscar-tipped title still comfortably saw off Sony's The Green Hornet, which played on 75 more screens and Universal's debut comedy The Dilemma, which played on 63 more.
Third-placed action-comedy The Green Hornet took $3m (£1.9m) over its holdover weekend for $6.1m (£3.8m), a 37% week-on-week drop in revenue, while fourth-placed The Dilemma opened on $1.6m (£1.1m) for an average of $4,209 (£2,632).
A busy weekend saw four more top 20 openings. Paramount's comedy Morning Glory debuted in eighth, taking $840,287 (£525,356) from 374 screens, while eOne's gritty drama N.E.D.S charted tenth after grossing $453,148 (£283,210) from only 73 screens for a top-30 third-best screen average of $6,291 (£3,933).
UTV's drama Dhobi Ghat, starring Aamir Khan, opened in 16th, making $119,944 (£119,944) from only 39 screens, while John Carpenter's The Ward and Ayngaran's Kaavalan placed 20th and 22nd, respectively.
In what is shaping up to be one of the most competitive weekends of recent times at the UK box office this weekend sees saturation releases for Disney's top international performer Tangled, Lionsgate's action title The Mechanic, Sony's comedy-romance How Do You Know, Warner's Clint Eastwood-directed fantasy-drama Hereafter and a wide release for Universal's Barney's Version. Indie options are led by Optimum's Biutiful.
Last week's number one faces an uphill struggle to make it a staggering fourth successive week at number one over a truly diverse weekend.