Momentum's awards contender The King's Speech eased into top spot at the UK box office over the Jan 07-09 weekend.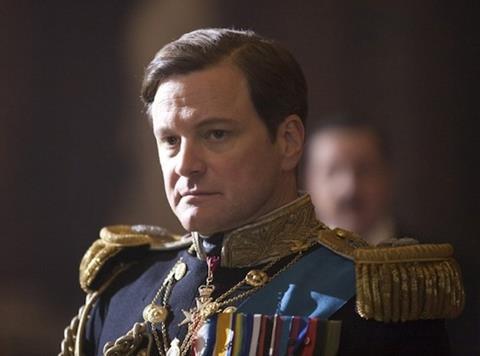 The Tom Hooper-directed feature opened on an impressive $5.4m (£3.5m) from 395 screens for a strong average of $13,930 (£8,942), making it one of the best-ever debut hauls for a British film.
Nominated for seven Golden Globes and recognised in 15 categories on the BAFTA longlist, the story about British monarch King George VI and his difficult ascension to the throne, is widely tipped for Oscar success, in particular for lead Colin Firth, who was nominated last year for his performance in A Single Man.
The opening was better than that of last year's biggest local hit StreetDance 3D, which debuted on $3.9m (£2.5m), and 2009 smash Slumdog Millionaire, which took $2.8m (£1.8m) on the equivalent weekend two years ago.
The opening was Firth's fourth-best at the UK box office, behind Bridget Jones' Diary, Bridget Jones: The Edge Of Reason, Love Actually and Mamma Mia.
Playing on the fewest number of screens among the top nine films, Warner's 127 Hours debuted on a decent $3.4 (£2.2m) from 310 screens at an average of $10,902 (£6,995). The take is a boost for producers Pathe after the film's somewhat lacklustre US performance to date.
Somewhat surprisingly, the opening is director Danny Boyle's biggest since big budget hit The Beach made $3.7m (£2.4m) in 2000.
Paramount's third-placed comedy Little Fockers took $2.8m (£1.8m) from 483 screens for a cumulative total of $23.8m (£15.3m) while Fox's fourth-placed Gulliver's Travels posted the top ten's most significant drop off at -78% in its second week, for a weekend total of $2.5m (£1.6m) from a week-high 495 screens. Rob Letterman's adventure-comedy has now taken $17m (£10.9m).
Lionsgate's thriller The Next Three Days opened in fifth position, taking $1.6m (£1m) from 425 screens, while Paramount's tenth-placed The Season Of The Witch took $872,458 (£559,769) from 306 screens.
Universal's comedy It's Kind Of A Funny Story opened in 15th and UTV's No One Killed Jessica a place below that.
This week sees a saturation release for Sony's action-comedy The Green Hornet and a wide release for Fox's drama Conviction.