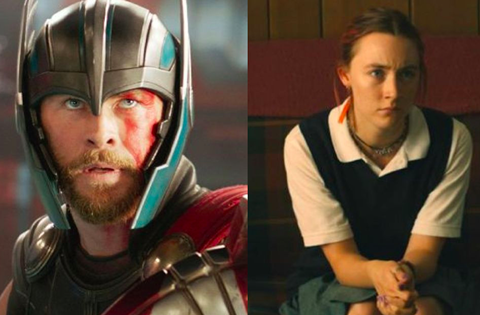 NOVEMBER 6 UPDATE: As uncertainty over the theatrical distribution arena continued to occupy attendees at a sluggish AFM, two films demonstrated how to play the game as Marvel Studios' Thor: Ragnarok powered to the seventh highest November debut in history on $122.7m and A24's Lady Bird scored a spectacular limited debut.
Meanwhile STX's A Bad Moms Christmas arrived in second place on a so-so $21.3m over five days.
Thor: Ragnarok generated the fourth highest North American debut of the year-to-date through Buena Vista and its launch pushed the Marvel Cinematic Universe past $5bn in North America and $13bn globally.
The latest instalment in the god of thunder series opened in 4,080 theatres and gained 41% over the $85.7m 2013 debut of Thor: The Dark World (dropping to 33.3% when adjusted for inflation), and 84% over the 2011 $65.7m launch of Thor (dropping to 69% when adjusted for inflation).
Chris Hemsworth stars alongside Tom Hiddleston, Mark Ruffalo, Cate Blanchett, Idris Elba, Karl Urban, Tess Thompson, and Athony Hopkins. Taika Waititi directed the superhero adaptation, which added $153.7m for a $308.4m international running total and elevated the worldwide haul to $431.1m.
A Bad Moms Christmas arrived in second place below expectations on $16.8m over three days in 3,615 venues for a 29.5% drop against the $23.8m three-day bow of Bad Moms in July 2016, and a 10.5% drop when the new film's $21.3m five-day debut is taken into account. The R-rated sequel drew mediocre reviews and played best among women, who accounted for 82% of the audience.
Mila Kunis, Kristen Bell, Kathryn Hahn, Susan Sarandon, Cheryl Hines and Christine Baranski star in the comedy sequel. The original grossed $113.3m in North America and $183.9m worldwide.
Another sparkling limited debut from A24 saw Greta Gerwig's feature directorial debut Lady Bird starring Saoirse Ronan open at number 26. The comedy-drama awards contender premiered in Toronto and delivered $364,467 in four venues for a $91,109 average. This ranks as the highest average for the year-to-date.
Lionsgate's Saw instalment Jigsaw dropped to third place in its second weekend on $6.6m for $28.7m – a solid running total for a horror film that reportedly cost $10m excluding P&A spend. Electric Entertainment opened Lyndon B. Johnson historical drama LBJ at number 14 on $1.1m from 659 venues. Rob Reiner directed Woody Harrelson in the titular role.
Box office is trailing 2016 by roughly 9% by the same stage. This weekend's top 12 combined for $167.4m, up 173% on last weekend and down 8.5% against the comparable session last year when Marvel's Doctor Strange opened top on $85.1m and DreamWorks Animations' Trolls arrived in second place through Fox on $46.6m.
This week's wide releases are: Fox's Agatha Christie whodunnit Murder On The Orient Express directed by and starring Kenneth Branagh; and Paramount comedy Daddy's Home 2 with Will Ferrell, Mark Wahlberg, Mel Gibson, and John Lithgow.
Confirmed top 10 North America November 3-5, 2017
Film (Dist) / Conf wkd gross / Conf total to date
1 (-) Thor: Rangarok (Buena Vista) Walt Disney Studios Motion Pictures International $122.7m –
2 (-) A Bad Moms Christmas (STX) STXinternational $16.8m $21.3m
3 (1) Jigsaw (Lionsgate) Lionsgate International $6.6m $28.7m
4 (2) Tyler Perry's Boo 2! A Madea Halloween (Lionsgate) Lionsgate International $4.5m $42.8m
5 (3) Geostorm (Warner Bros) Warner Bros Pictures International $3.2m $28.9m
6 (4) Happy Death Day (Universal) Universal Pictures International $2.7m $52.9m
7 (5) Blade Runner 2049 (Warner Bros) Sony Pictures Releasing International $2.3m $85.5m
8 (6) Thank You For Your Service (Universal) Universal Pictures International $2.2m $7.3m
9 (7) Only The Brave (Sony) Sony Pictures Releasing International $1.9m $15.3m
10 (11) Let There Be Light (Atlas Disrtibution) $1.7m $4.1m