EXCLUSIVE: Bac releases first image of third feature from cult genre film directors.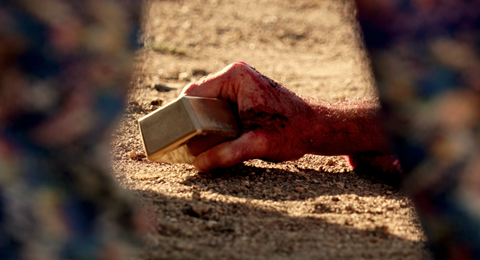 Bac Films International has picked up sales on French genre writer-director duo Hélène Cattet and Bruno Forzani's upcoming feature.
Let The Corpses Tan is the third feature from the Brussels-based couple after their cult 'giallo'-inspired hits The Strange Color Of Your Body's Tears and Amer.
The new work is adapted from the debut novel of late 1970s French crime writer Jean-Patrick Manchette, Laissez Bronzer les Cadavres, which Manchette co-wrote with screenwriter Jean-Pierre Bastid.
Set against the blue seas and blazing sun of a perfect Mediterranean summer, the film revolves around Rhino and his gang of professional thieves.
They think they have found the perfect place to hide out and stash a haul of gold in a remote hamlet controlled by a female artist who moved there for inspiration.
But the arrival of surprise guests and two police officers compromise their plan. The heavenly haven – once a backdrop to wild night happenings and orgies – is transformed into a gruesome battlefield.
Long-time Cattet and Forzani collaborators Eve Commenge of Brussels-based Anonymes Films and Francois Cognard of French production house Tobina Film are producing.
"As usual, the film is shot in a beautiful S16mm Scope, for a genre western movie which takes place in stunning sets located in Corsica, Italy and Belgium," said Commenge.
"Elina Löwensohn, Hal Hartley's muse, and Stéphane Ferrara, a former boxer and character face of the French Nouvelle Vague, are co-starring in the film," she added.
Bac – which previously handled The Strange Color Of Your Body's Tears – has taken on international sales. Boutique distributor Shellac will distribute in France.
"We are really proud to continue working with Cattet and Forzani," said Gilles Sousa, head of sales at Paris-based Bac. "They've proved to be fantastic directors, with great visual skills, and we believe Let The Corpses Tancould be a landmark for all elevated genre fans."
Sousa and international sales executive Marie Garrett will attend TIFF with Italian director Paolo Virzi's US-set, English-language debut The Leisure Seeker, starring Helen Mirren and Donald Sutherland, which is currently in production.
Other titles on Bac's TIFF slate include Irish filmmaker David Freyne's upcoming post-Zombie era genre picture The Third Wave starring Ellen Page, as well as Cannes 2016 titles Like Crazy by Virzi and Bogdan Mirică's Dogs.