Roadside Attractions confirmed on Thursday it had picked up North American rights in Toronto to Lady Macbeth, while Screen Media acquired US on The Bad Batch and Magnolia Pictures took North America on I Am Not Your Negro.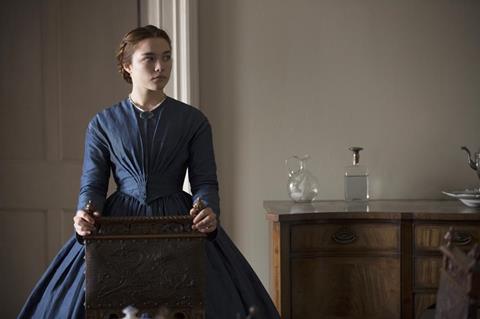 Meanwhile Fox Searchlight was understood to be close to acquiring North American rights from Pathé to Amma Asante's Gala Presentation A United Kingdom starring Rosamund Pike and David Oyelowo.
And the ongoing interest in George Nolfi's Birth Of The Dragon has moved to Los Angeles, where WME Global has set up screenings in the hopes of securing a wide release and possible worldwide deal.
William Oldroyd's much fancied Toronto selection Lady Macbeth is based on Alice Birch's adapted screenplay from Nikolai Leskov's 1865 novella Lady Macbeth Of The Mtsensk District.
Florence Pugh stars in the Platform selection as an unhappily married young woman who falls for an estate worker and will stop at nothing to keep their love alive. Cosmo Jarvis, Paul Hilton, Naomi Ackie and Christopher Fairbank round out the key cast.
Fodhla Cronin O'Reilly produced the Sixty Six Pictures and iFeatures production, a Creative England, BBC Films and BFI presentation in association with Oldgarth Media.
Protagonist Pictures brokered the deal with Roadside and handles international sales.
Meanwhile Screen Media said it had acquired US rights to Ana Lily Amirpour's Vanguard selection The Bad Batchfrom CAA following what it claimed to be an all-night bidding session following the North American premiere earlier this week.
Suki Waterhouse, Jason Momoa, Giovanni Ribisi and Yolonda Ross star in the dystopian love story that eon the special jury prize in Venice, where it received its world premiere.Keanu Reeves, Jim Carrey and Diego Luna provide cameos.
Screen Media plans a first quarter 2017 theatrical launch for the film, which will screen at Fantastic Fest in Austin, Texas, later this month. Annapurna Pictures and VICE Media produced.
Magnolia Pictures has picked up North American rights from ICM Partners and Del Shaw to Raoul Peck's TIFF Docs entryI Am Not Your Negro, a documentary based on James Baldwin's unfinished book, Remember This House.
The book attempted to recount the lives and successive assassinations of Baldwin's friends Medgar Evers, Malcolm X and Martin Luther King, Jr.
Baldwin's notes and the unfinished manuscript were entrusted to Peck by the Baldwin estate. Samuel L. Jackson narrates the sweeping look at race in America.
Wide House represents international rights and ARTE France is a major financer on the film.