The third cascade of world premieres in 15 days flowed from the headquarters of the Toronto International Film Festival on Tuesday as programmers revealed their Midnight Madness, TIFF Docs, Vanguard, TIFF Cinematheque and Short Cuts selections.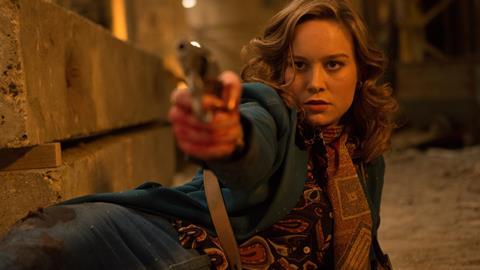 This week's offering includes Ben Wheatley's all-star gangster thriller Free Fire, which opens Midnight Madness one year after the premiere of the British auteur's High-Rise; fast-rising Chadwick Boseman in revenge thriller Message From The King in Vanguard and a TIFF Docs strand that features climate change documentary The Turning Point, featuring and produced by Oscar-winner Leonardo DiCaprio.
The 41st Toronto International Film Festival runs from September 8 to 18.
WP = world premiere, IP = international premiere, NAP = North American premiere, CP = Canadian premiere, TP = Toronto premiere.
MIDNIGHT MADNESS
Ben Wheatley's all-star gunfight Free Fire starring Brie Larson, Armie Hammer and Cillian Murphy will open the section, which includes Morgan Spurlock's documentary Rats, Adam Wingard's Blair Witch, André Øvredal's The Autopsy Of Jane Doe, Colm McCarthy's Locarno hit The Girl With All The Gifts, and The Mo Brothers' Headshot starring The Raid's Iko Uwais.
"Midnight Madness is the destination for those who love to sink their teeth into excessive, unrelenting, weird and wild films," said Colin Geddes, international programmer for the festival. Midnight Madness is sponsored by Cineplex Entertainment.
The Autopsy Of Jane Doe (USA) André Øvredal WP
The Belko Experiment (USA) Greg McLean WP
Blair Witch (USA) Adam Wingard WP
Dog Eat Dog (USA) Paul Schrader North American Premiere
Free Fire (UK) Ben Wheatley WP
Midnight Madness opening night film
The Girl With All The Gifts (UK) Colm McCarthy North American Premiere
Headshot (Indonesia) Kimo Stamboel and Timo Tjahjanto WP
Rats (USA) Morgan Spurlock WP
Raw (Grave) (France-Belgium) Julia Ducournau IP
Sadako vs. Kayako (Japan) Kōji Shiraishi IP
Midnight Madness closing night film.
TIFF DOCS
New work from Steve James, Raoul Peck, Errol Morris, and Werner Herzog takes pride of place, alongside Leonardo DiCaprio in The Turning Point. TIFF Docs is sponsored by A&E IndieFilms.
"Revelations abound in this year's crop of documentaries," said TIFF Docs programmer Thom Powers. "We gain fresh perspectives on high profile figures such as James Baldwin, Amanda Knox and The Beatles; and we meet compelling figures from the worlds of activism, music, sports and, not to be forgotten, classic burlesque."
The 6th Beatle (USA-UK-Germany) Tony Guma and John Rose, WP
ABACUS: Small Enough To Jail (USA) Steve James WP
Amanda Knox (USA-Denmark) Brian McGinn and Rod Blackhurst WP
An Insignificant Man (India) Khushboo Ranka and Vinay Shukla WP
The B-Side: Elsa Dorfman's Portrait Photography (USA) Errol Morris IP
Beauties Of The Night (Mexico) María José Cuevas CP
Bezness As Usual (Netherlands) Alex Pitstra NAP
Chasing Trane: The John Coltrane Documentary (USA) John Scheinfeld IP
The Cinema Travellers (India) Shirley Abraham and Amit Madheshiya NAP
Citizen Jane: Battle For The City (USA) Matt Tyrnauer WP
Forever Pure (Israel-UK-Ireland-Norway) Maya Zinshtein IP
Gaza Surf Club (Germany) Philip Gnadt and Mickey Yamine WP
Gimme Danger (USA) Jim Jarmusch NAP
Girl Unbound (Pakistan-Canada-Hong Kong-South Korea) Erin Heidenreich WP
I Am Not Your Negro (USA-France-Belgium-Switzerland) Raoul Peck WP
I Called Him Morgan (Sweden-USA) Kasper Collin CP
India In A Day (India-UK) Richie Mehta IP
In Exile (Germany-Myanmar) Tin Win Naing WP
Into the Inferno (UK-Austria) Werner Herzog and Clive Oppenheimer IP
The Ivory Game (Austria-USA) Keif Davidson and Richard Ladkani IP
Karl Marx City (USA-Germany) Petra Epperlein and Michael Tucker WP
Mali Blues (Germany) Lutz Gregor NAP
Politics, Instructions Manual (Política, Manual De Instrucciones) (Spain) Fernando León de Aranoa IP
Rodnye (Close Relations) (Latvia-Germany-Estonia-Ukraine) Vitaly Mansky NAP
The Turning Point (USA) Fisher Stevens WP
The War Show (Denmark-Finland-Syria) Andreas Dalsgaard and Obaidah Zytoon NAP
Water And Sugar: Carlo Di Palma, The Colours Of Life (Italy) Fariborz Kamkari IP.
Previously announced titles in TIFF Docs include: Brigitte Berman's The River Of My Dreams; Hubert Davis' Giants Of Africa; Nicholas de Pencier's Black Code; Hugh Gibson's The Stairs; Jaime Kastner's The Skyjacker's Tale; Dilip Mehta's Mostly Sunny and Fred Peabody's All Governments Lie: Truth, Deception, And The Spirit Of I.F. Stone. In Gala are: Jonathan Demme's JT + The Tennessee Kids and Paul Dugdale's The Rolling Stones Olé Olé Olé!: A Trip Across Latin America.
VANGUARD
Finding their way into Vanguard are Fabrice Du Welz's thriller Message From The King starring Chadwick Boseman, Nacho Vigalondo's Colossal, a twist on the Kaiju genre starring Anne Hathaway, and Ana Lily Amirpour's The Bad Batch. Vanguard is sponsored by AXE.
"At the festival, everyone has the opportunity to indulge their different cinematic tastes," said Geddes. "In the Vanguard line-up, arthouse and genre collide to surprise, delight and shock, with films that are a bit darker, a bit more transgressive and a bit more dangerous."
The Bad Batch (USA) Ana Lily Amirpour NAP
Blind Sun (France-Greece) Joyce A. Nashawati NAP
Buster's Mal Heart (USA) Sarah Adina Smith WP
Colossal (pictured, Canada) Nacho Vigalondo WP
GODSPEED (Taiwan) Chung Mong-Hong WP
I Am The Pretty Thing That Lives In The House (Canada-USA) Osgood Perkins WP
Interchange (Malaysia-Indonesia) Dain Iskandar Said NAP
Message From The King (UK-France-Belgium) Fabrice Du Welz WP
My Entire High School Sinking Into the Sea (USA) Dash Shaw WP
Prevenge (UK) Alice Lowe NAP
The Untamed (La Región Salvaje) (Mexico-Denmark-France-Germany-Norway) Amat Escalante NAP
WITHOUT NAME (Ireland) Lorcan Finnegan WP.
Previously announced Canadian titles in the Vanguard programme include Anne Émond's Nelly.
TIFF CINEMATHEQUE
Highlights from the digitally restored line-up include a 30th anniversary screening of Jonathan Demme's anarchic cult favourite Something Wild, Marlon Brando's sole directorial outing One-Eyed Jacks, and Gillo Pontecorvo's epic The Battle Of Algiers (La Battaglia Di Algeri).
"The power of this year's TIFF Cinematheque programme lies in the enduring resonance and impact each of these films presents for
contemporary audiences," said TIFF programmer Brad Deane. "Exploring issues of race, gender and geopolitical conflict, the films in the programme are as timely and relevant now as they were at the time of their release."
Tickets to all TIFF Cinematheque screenings during the festival are free and will be distributed at the Steve & Rashmi Gupta Box Office at TIFF Bell Lightbox on a first-come, first-served basis two hours before each screening.
Daughters Of The Dust (USA) Julie Dash
General Report On Certain Matters Of Interest For A Public Screening (Informe General Sobre Algunas Cuestiones De Interés Para Una Proyección Pública) (Spain) Pere Portabella
Irma Vep (France) Olivier Assayas
Lumière! (France) Lumière Brothers
One Sings, the Other Doesn't (L'Une Chante, l'Autre Pas) (France) Agnès Varda
One-Eyed Jacks (USA) Marlon Brando
Pan's Labyrinth (Mexico-Spain-USA) Guillermo del Toro
Something Wild (USA) Jonathan Demme
The Battle Of Algiers (La Battaglia Di Algeri) (Algeria-Italy) Gillo Pontecorvo
The Horse Thief (China) Tian Zhuangzhuang.
The previously announced Canadian title in the TIFF Cinematheque selection is Sidney J. Furie's A Cool Sound From Hell.
SHORT CUTS
Forty-one titles join the 33 previously announced Canadian shorts and the overall line-up will screen across 11 curated programmes. Films in the programme are eligible for the Short Cuts Award for best film.
All Rivers Run To The Sea (Toate Fluviile Curg în Mare) (Romania) Alexandru Badea NAP
And The Whole Sky Fit In The Dead Cow's Eye (Y Todo El Cielo Cupo En El Ojo De La Vaca Muerta) (Chile-USA) Francisca Alegría WP
Andy Goes In Josh Polon (USA) WP
Anna (Israel) Or Sinai NAP
Bargain (Moam-gab) (South Korea) Lee Chung-hyun IP
Battalion To My Beat (Algeria-USA-Western Sahara) Eimi Imanishi IP
Because The World Never Stops (Sweden) Maximilien Van Aertryck and Axel Danielson WP
BLACK HEAD COW (Tanzania) Engiteng' Narok Lukunya Elizabeth Nichols WP
A Brief History Of Princess X (France-Portugal-UK) Gabriel Abrantes, NAP
Cul-De-Sac (USA) Damon Russell WP
Dadyaa (Nepal-France) Pooja Gurung and Bibhusan Basnet NAP
Decorado (Spain-France) Alberto Vázquez NAP
Fluffy (Flafi) (Serbia-Canada) Lee Filipovski WP
Green (Verde) (Mexico) Alonso Ruizpalacios WP
Half A Man (Po covika) (Croatia) Kristina Kumric WP
The Hedonists (China) Jia Zhang-ke NAP
Imago (Philippines) Raymund Ribay Gutierrez NAP
Import (Netherlands) Ena Sendijarević NAP
In The Hills (UK) Hamid Ahmadi NAP
Inner Workings (USA) Leo Matsuda CP
The Last Leatherman Of The Vale Of Cashmere (USA) Greg Loser IP
Mr. Sugar Daddy (Sweden) Dawid Ullgren NAP
A New Home (Slovenia) Žiga Virc WP
Next (Russia) Elena Brodach NAP
Night Dancing (UK) Barney Cokeliss WP
On The Origin Of Fear (Indonesia) Bayu Prihantoro Filemon NAP
Paraya (South Africa-France) Sheetal Magan and Martín Morgenfeld NAP
The Pine Tree Villa (Eine Villa Mit Pinien) (Germany) Jan Koester NAP
Red Apples (Armenia-Georgia-USA) George Sikharulidze WP
Romantik (France-Poland) Mateusz Rakowicz IP
Samedi Cinema (Senegal-USA) Mamadou Dia NAP
Sandy Beach (Greece) Thanos Papastergiou WP
Second To None (Ireland) Vincent Gallagher IP
Semiliberi (Italy) Matteo Gentiloni NAP
Sevince (When You Love) (Germany) Süheyla Schwenk WP
Standby (UK) Charlotte Regan WP
SUBMARINE (Lebanon) Mounia Akl NAP
Summer Camp Island (USA) Julia Pott WP
Transition (Tranzicija) (Serbia) Milica Tomovic NAP
Trespass (Australia) Mirrah Foulkes IP
The White Helmets (UK) Orlando von Einsiedel CP.