The Arnold Schwarzenegger and Abigail Breslin zombie drama Maggie, Dustin Hoffman drama Boychoir, Kristen Wiig comedy Welcome To Me and Sophie Barthes' Madame Bovary have landed world premieres, TIFF gala and special presentation slots.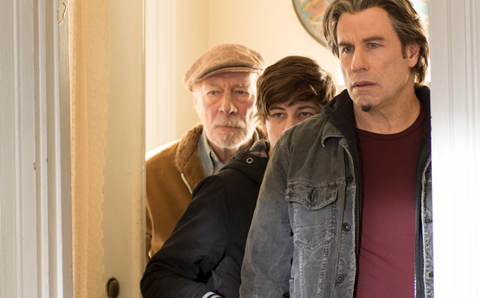 Also in line to screen for the first time anywhere at the Toronto International Film Festival (Sept 4-14) are crime thriller The Forger starring John Travolta, Christopher Plummer and Tye Sheridan, thriller Escobar: Paradise Lost starring Benicio Del Toro, Thomas McCarthy's The Cobbler starring Adam Sandler, and Paul Bettany's directorial debut Shelter.
TIFF top brass also unveiled the Wavelengths, Future Projections, TIFF Cinematheque and shorts programmes.
WP = World premiere / NAP = North American premiere / IP = International premiere / CP = Canadian premiere.
GALAS
Boychoir (US), François Girard WP
The Connection (La French) (France-Belgium), Cédric Jimenez WP
Escobar: Paradise Lost (France), Andrea Di Stefano WP
The Forger (US), Philip Martin WP
Infinitely Polar Bear (US), Maya Forbes CP
Laggies (US), Lynn Shelton IP
Ruth & Alex (US), Richard Loncraine WP
SPECIAL PRESENTATIONS
Beyond the Lights (US), Gina Prince-Bythewood WP
Clouds Of Sils Maria (France-US), Olivier Assayas NAP
The Cobbler (US), Thomas McCarthy WP
Don't Go Breaking My Heart 2 (Dan Shen Nan Nu 2) (Hong Kong-China), Johnnie To WP
Gemma Bovery (France), Anne Fontaine WP
Gentlemen (Sweden), Mikael Marcimain WP
Gomorrah (Italy), Stefano Sollima NAP
Human Highway (Director's Cut) (US), Bernard Shakey and Dean Stockwell WP
Madame Bovary (UK-Belgium), Sophie Barthes WP
Maggie (US), Henry Hobson WP
Pride (UK), Matthew Warchu NAP
Revenge Of The Green Dragons (US), Andrew Lau and Andrew Loo WP
The Search (France), Michel Hazanavicius NAP
Shelter (US), Paul Bettany WP
Three Hearts (3 Coeurs) (France), Benoît Jacquot NAP
Two Days, One Night (Deux Jours, Une Nuit) (Belgium-France), Luc Dardenne and Jean-Pierre Dardenne CP
Welcome to Me (US), Shira Piven WP
FUTURE PROJECTIONS
Five works explore the boundaries between cinema and the visual arts. Free and open to the public for the duration of the festival, the selection will showcase installations at various venues throughout downtown Toronto, including TIFF Bell Lightbox.
Anna And The Tower, 2014 (previously announced) WP
Some Graphic Sex, Heavy Drinking, Bloody Violence, And Dirty Language: Seven One-Minute Feature-Like Films About Seoul, 2014 WP
Nature Of The Self, 2104 NAP
BMX Channel And Midnight Traceur, 2013 and 2011 CP
Provenance, 2013 CP
WAVELENGTHS
Forty-six films that "challenge conventional approaches to cinema and propose daring new forms of filmic expression." Overseen by film curator Andréa Picard, with contributions from members of TIFF's international programming team.
SHORT FILM PROGRAMMES
Wavelengths 1: Open Forms
brouillard – passage #14 (Canada), Alexandre Larose
Against Landscape (USA), Josh Gen Solondz
Open Form – Game on an Actress's Face (Poland), KwieKulik Group
The Dragon Is The Frame (USA), Mary Helena Clark
Open Form – Street And Tribune In Front Of PKiN (Poland), KwieKulik Group
Poetry For Sale(Austria), Friedl vom Gröller
Under A Changing Sky (France), Jean-Claude Rousseau
Panchrome I, II, III (USA), T Marie
Wavelengths 2: Something In The Atmosphere
The Pimp And His Trophies (Austria), Antoinette Zwirchmayr
The Innocents (Canada), Jean-Paul Kelly
Catalogue (USA), Dana Berman Duff
Relief (USA), Calum Walter
Red Capriccio (Canada), Blake Williams
Under The Atmosphere (USA), Mike Stolz
Beep (South Korea), Kim Kyung-man
Wavelengths 3: Tales Told
Twelve Tales Told (Austria), Johann Lurf
San Siro (Italy), Yuri Ancarani
Intransit (Thailand), Jakrawal Nilthamrong
Canopy (USA), Ken Jacobs
Detour De Force (Austria-USA), Rebecca Baron
Wavelengths 4: Night Noon
Lunar Almanac (Canada-Chile), Malena Szlam
Deep Sleep (Malta-Greece-France-Palestine), Basma Alsharif
Orizzonti Orizzonti! (Italy), Anna Marziano
The Policeman's House (Israel-Palestine), Mich'ael Zupraner
Night Noon (USA-Mexico), Shambhavi Kaul
Sea Of Vapors (Germany), Sylvia Schedelbauer
MEDIUM-LENGTH GROUPINGS
The Figures Carved Into The Knife By The Sap Of The Banana Trees (USA-Portugal), Joana Pimenta IP
The Old Man Of Belem (Portugal-France), Manoel de Oliveira NAP
Taprobana (Portugal-Sri Lanka-Denmark) Gabriel Abrantes NAP
Journey To The West (Xi You) (France-Taiwan), Tsai Ming-liang, CP
Spectrum Reverse Spectrum (USA), Margaret Honda NAP
FEATURES
A Single Word (Une Simple Parole) (Senegal-Qatar), Mariama Sylla, Khady Sylla WP
Horse Money (Cavalo Dinheiro) (Portugal), Pedro Costa NAP
Episode Of The Sea (Netherlands), Lonnie van Brummelen, Siebren de Haan WP
Fires On The Plain (Nobi) (Japan), Shinya Tsukamoto NAP
From What Is Before (Mula sa Kung Ano Ang Noon) (Philippines), Lav Diaz NAP
Heaven Knows What (US-France), Joshua Safdie, Benny Safdie, NAP
Jauja (Denmark-USA-Argentina-Mexico-Netherlands-Germany-France), Lisandro Alonso NAP
La Sapience (La Sapienza) (France-Italy), Eugène Green NAP
Le Beau Danger (Germany), René Frölke NAP
Letters To Max (France), Eric Baudelaire IP
Maidan (Maïdan) (Ukraine-Netherlands), Sergei Loznitsa NAP
The Princess Of France (La Princesa De Francia) (Argentina), Matías Piñeiro NAP
Songs From The North (US-South Korea-Portugal), Soon-Mi Yoo NAP
TIFF CINEMATHEQUE
Newly restored classics from around the world including Nagisa Ôshima's Cruel Story Of Youth, John Ford's My Darling Clementine, Sergei Parajanov's The Color Of Pomegranates (Sayat Nova), King Hu's Dragon Inn and a special tribute screening of the late Harun Farocki's In Comparison.
The line-up features selections by the TIFF Cinematheque programming team led by Brad Deane, manager of film programmes. Tickets to all TIFF Cinematheque screenings are free and will be distributed at the Steve & Rashmi Gupta Box Office at TIFF Bell Lightbox on a first-come, first-served basis two hours before each film screening.
The Color Of Pomegranates (Sayat Nova) (Armenia), Sergei Parajanov
Cruel Story Of Youth (Seishun Zankoku Monogatari) (Japan), Nagisa Ôshima
Dragon Inn (Taiwan) King Hu
The Goddess (China), Wu Yonggang
Tribute Screening
In Comparison (Germany-Austria), Harun Farocki
My Darling Clementine (US), John Ford
Previously announced TIFF Cinematheque titles include Speaking Parts (Canada) by Atom Egoyan, and Crime Wave by John Paizs.