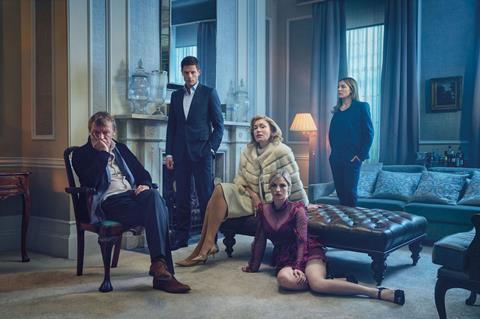 BBC Worldwide has announced that it has completed a multi-territory deal with Amazon Prime Video for McMafia, the upcoming eight-part series set in the international world of organised crime.
Amazon Prime Video will distribute the series in more than 200 countries and territories worldwide, excluding the UK, China, and North America, when it launches in 2018.
Hossein Amini and James Watkins created the series inspired by the non-fiction book by Misha Glenny, and all three will serve as executive producers. McMafia centres on Alex Godman, an English-raised son of Russian exiles with a mafia history, who has spent his life trying to escape the shadow of that criminal past. As he starts building his own legitimate business and forging a life with his girlfriend Rebecca , his family's past murderously returns to threaten them and Alex is forced to confront his values to protect those he loves.
James Norton, David Strathairn, and Juliet Rylance star. Additional cast includes Faye Marsay and Russian actor Aleksey Serebryakov as Dimitri, Alex's father. Watkins is directing all episodes of the eight-part series.
The BBC commissioned McMafia, which is a co-production between BBC, AMC Networks and Cuba Pictures, in association with Twickenham Studios. Nick Marston, Dixie Linder, Ben Hall, and Robyn Slovo serve as executive producers for Cuba Pictures; Elizabeth Kilgarriff serves as executive producer for BBC One, while Paul Ritchie is producer.
Paul Dempsey, president of global markets with BBC Worldwide said: "With a stellar cast, brilliant writing and huge international appeal McMafia has all the makings of a modern day classic and we're delighted that Amazon will be taking the series to its audiences around the world."
Brad Beale, vice-president of Prime Video TV content acquisition, said: "McMafia is a compelling international story that our Prime Video customers around the world are going to love. With a fascinating premise, talented writers and distinguished cast, McMafia will be a great addition to our stable of high quality hit shows that are available exclusively to Prime members."
Amini and Watkins said: "McMafia is the story of our contemporary globalised world and the criminal underworlds that compete and thrive just beneath its surface. It is a truly international show, spanning dozens of countries, and we are thrilled that through our collaboration with Amazon we can reach the global audience it was always meant for."
Nick Marston, CEO, Cuba Pictures, added: "We are thrilled to be working with Amazon. I don't think there could be a better home for this project, given their global reach and the quality of programmes they are associated with. BBC Worldwide, who have been instrumental in brokering this deal, have been fantastically supportive and enthusiastic partners from the start."
The series will premiere on BBC One in the UK in 2018.