The studio was one of several US majors to claim a coveted spot during Super Bowl 50 and subsequently issued a one-sheet that read, 'You know his name.' For a minute there we weren't sure, but we do now.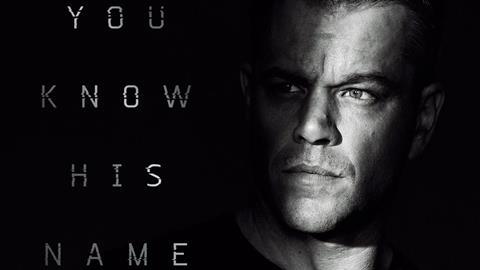 The next chapter in the spy saga sees Matt Damon back in action alongside director Paul Greengrass and will open on the previously announced July 29.
'It Girl' Alicia Vikander also stars with Vincent Cassel and Tommy Lee Jones, while Julia Stiles reprises her role in the series. Frank Marshall produces with Jeffrey Weiner for Captivate Entertainment, and Greengrass, Damon, Gregory Goodman and Ben Smith also produce.
Hollywood was all over the Super Bowl broadcast. At time of writing Disney had run a trailer for The Jungle Book (directed by Jon Favreau, out on April 15) and its Marvel Studios division was behind a teaser for Captain America: Civil War. Anthony and Joe Russo's film opens on May 6.
Fox showed a trailer for Independence Day: Resurgence from Roland Emmerich, which comes out on June 24.