Festival director Alberto Barbara also signs deal to keep him at Venice until 2020.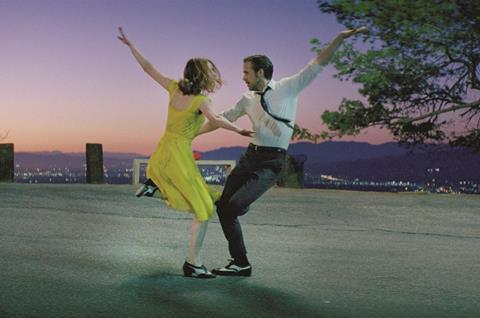 La La Land, written and directed by Damien Chazelle (Whiplash), is to world premiere as the opening film of the 73rd Venice International Film Festival (Aug 31 – Sept 10) and will play in Competition.
The musical drama stars Emma Stone, Ryan Gosling and John Legend and reunites Chazelle with JK Simmons, who won the best supporting actor Oscar for his role as a punishing music instructor in coming-of-age drama Whiplash.
Venice festival director Alberto Barbera described La La Land as "a surprising tribute to the golden age of American musicals".
"It is a film that does not merely reinvent the musical genre, it gives it a brand new start," he added. "If Whiplash was the revelation of a new filmmaker, La La Land is his definitive, albeit precocious, consecration among the great directors of Hollywood's new firmament."
Chazelle says "On behalf of the cast and crew of La La Land, I am both thrilled and honoured by the festival's invitation. It is deeply humbling for us to join the company of their previous opening night films, and we could not be more excited to share our movie with the audience in Venice".
Last year's opening film was Baltasar Kormákur's Everest.
La La Land will world premiere on Aug 31 in the Sala Grande at the Palazzo del Cinema on the Lido.
The Hollywood romance centres on Mia (Emma Stone), an aspiring actress who serves lattes to movie stars in between auditions, and Sebastian (Ryan Gosling), a dedicated jazz musician who scrapes by playing cocktail piano gigs in dingy bars. As success mounts, the couple are faced with decisions that begin to fray their love affair.
La La Land is produced by Lionsgate in partnership with Black Label Media, Gilbert Films, Impostor Pictures and Marc Platt Productions.
The film will be released in the US by Lionsgate on December 16, and in Italy by 01Distribution in collaboration with Leone Film Group.
Barbera strikes four-year deal
In addition, Barbera has been confirmed as director of the Cinema Sector for the next four-year term from 2017-2020. It follows the approval of the four-year development plan for the Cinema Sector - an organization of the Venice Film Festival, Biennale College - Cinema, Venice Production Bridge and Cinema nel giardino.
"This is an acknowledgment of the excellent job Barbera has done so far," said Paolo Baratta, chair of the Biennale's board of directors, "even as we undertake important new projects that will continue to raise the international standing of the Venice Film Festival and serve to fulfil its complex mission. Under these circumstances, continuity becomes an additional added value.
Baratta added that the city of Venice "is working rapidly to complete the renewal of the Lido area, essential for the acquisition of the spaces we need to develop new projects ".