Dir: Werner Herzog. US. 2009. 90 mins.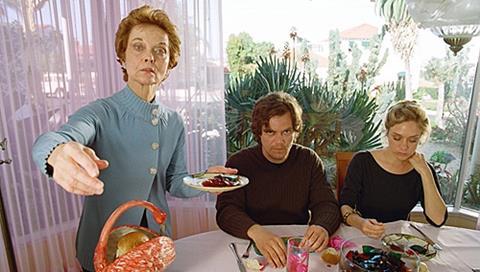 Werner Herzog collaborates with David Lynch on My Son, My Son, What Have Ye Done? and the result is a predictably nutty curio – a police procedural wrapped in a Greek tragedy and shot through with the delusions of mental illness.
The film will have to work hard to find an audience beyond Lynch acolytes and the very curious
Inspired by the true story of a son who killed his mother, the film revolves around the increasing instability of a young man, but it is a very ordinary tale of madness and fails to mesmerize like other Herzog characters Grizzly Man or Fitzcarraldo or even his other Venice competition character in Bad Lieutenant.
A super-hip cast and the iconic names of director Herzog and producer Lynch should propel My Son, My Son… to initial attention at festivals but the film will have to work hard to find an audience beyond Lynch acolytes and the very curious.
The film opens as two cops (Dafoe and Pena) answer a call to a murder scene in a San Diego suburb. As they walk into the house, a tall man toasts them with his "Razzle Dazzle"-branded coffee cup. This, it turns out, is Brad Macallam (Shannon), the son of the murder victim. Brad has attacked and stabbed his mother with a sword while she was sitting with neighbours (Hall and Devine as mother and daughter). When the cops go to her house across the road to apprehend him, he has barricades himself inside with two hostages.
A siege begins and two of his closest allies – girlfriend Ingrid (Sevigny) and theatre director Lee Meyers (Kier) – arrive on the scene where Detective Havenhurst (Dafoe) questions them to establish Macallam's background and motive.
Most of his story is from then on told in flashbacks as Ingrid recalls how he changed after a trip to Peru on which all his traveling companions perished, and how their relationship struggled because he couldn't escape the grip of his adoring mother.
Lee meanwhile tells how Brad became increasingly obsessed with matricide through the tale of Orestes, whom he was playing in one of his stage productions. It is only a matter of time before the lines between reality and Macallam's twisted world become blurred, and although he leaves the play, its evil stays with him.
The film becomes suitably illusory as Macallam's loss of sanity increases and his voyage into madness is accompanied by suitably demented characters like Zabriskie's doting mom and Brad Dourif's ostrich-keeping Uncle Ted, not to mention a couple of loyal flamingos.
By the time Devine has recovered her composure enough to relive the killing itself, the film has built some tension but the final tragicomic moments offer no surprises, only anticlimax.
Shannon, who is becoming an expert in embodying all manner of mentally ill folk (Bug, Revolutionary Road, World Trade Center), does as required as Brad but the most colourful moments come from indie scene-stealers Kier, Dourif and Zabriskie.

Production companies
Industrial Entertainment
Absurda
Paper Street Films
Defilm

International sales
Absurda, A David Lynch Company

Producer
Eric Bassett

Screenplay
Herbert Golder & Werner Herzog

Cinematography
Peter Zeitlinger

Production designer
Danny Caldwell

Editors
Joe Bini
Omar Daher

Music
Ernst Reijseger

Main cast
Michael Shannon
Willem Dafoe
Chloe Sevigny
Udo Kier
Michael Pena
Grace Zabriskie
Brad Dourif
Irma P Hall
Loretta Devine