The full line-up of world premieres Out of Competition at Venice, with details on each title including sales contacts.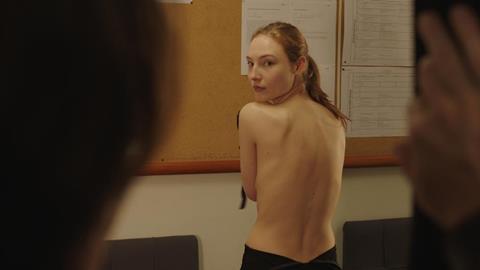 A Jamais (Fr-Port)
Dir Benoit Jacquot
The latest film by the prolific French auteur is inspired by a 2001 novella called The Body Artist by Don DeLillo. It is an atmospheric portrait of grief and loss as an actress struggles to come to terms with the sudden disappearance of her film-maker husband. Julia Roy and Mathieu Amalric star in the film, which is produced by Alfama Films' Paulo Branco. It is the fifth time at Venice for Jacquot, the last time being with 3 Coeurs in 2014.
Contact: Alfama Films, andrea.alfamafilms@orange.fr
The Age Of Shadows (S-Kor)
Dir Kim Jee-woon
Following his 2013 Hollywood debut The Last Stand, leading South Korean genre film-maker Kim (A Bittersweet Life) returns to local fare with this 1920s-set story of a Korean who works as a Japanese police officer assigned to uncover a group of armed freedom fighters. Shot in China and Korea, it is the first local production of Warner Bros Korea and stars Song Kang-ho (Snowpiercer) alongside Gong Yoo (Train To Busan).
Contact: Finecut, cineinfo@finecut.co.kr
American Anarchist (US)
Dir Charlie Siskel
In 1970, the then 19-year-old William Powell wrote one of the most controversial books ever published: The Anarchist Cookbook. A countercultural manifesto with tips on bomb-making, it became implicated in violent attacks on everything from abortion clinics to schools. Siskel, who scored a documentary hit with Finding Vivian Maier, has crafted a cautionary tale. The film meets Powell, now in his sixties, exiled from the US and struggling to come to terms with the legacy of his creation.
Contact: United Talent Agency, schwartz-wrightm@unitedtalent.com
Assalto Al Cielo (It)
Dir Francesco Munzi
Consisting entirely of archive footage, this documentary by Black Souls director Munzi focuses on those young political activists who chose to take the 'extra-parliamentary' route between 1967 and 1977, mixing utopian ideals with bank robberies, murders and armed revolution. Produced (with Rai Cinema) and distributed by Istituto Luce Cinecitta, whose archive was a major source for Munzi, the film is split into three movements.
Contact: Istituto Luce Cinecitta, a.massatani@cinecittaluce.it
Austerlitz (Ger)
Dir Sergei Loznitsa
This feature documentary from Ukrainian film-maker Loznitsa looks at museums in former concentration camps and shoots on location in several of the historic sites. Loznitsa has appeared twice in Competition at Cannes, for 2012's In The Fog and 2010's My Joy. His 2015 documentary The Event, which chronicled the failed coup d'etat in Moscow in 1991 that ultimately led to the collapse of the USSR, premiered at Venice last year.
Contact: Imperativ Film, info@loznitsa.com
The Bleeder (US-Can)
Dir Philippe Falardeau
This long-gestating boxing drama tells the true story of Chuck Wepner, a New Jersey liquor salesman and boxer who, aged 35, was given the chance to fight Muhammad Ali. Wepner, played by Liev Schreiber, was the purported inspiration for Sylvester Stallone's Rocky script. The Bleeder, also starring Naomi Watts and Elisabeth Moss, is directed by Canada's Falardeau, whose Monsieur Lazhar was nominated for the foreign-language Oscar in 2012.
Contact: Millennium Films, rqasem@nuimage.net
Gantz: O (Jap)
Dir Yasushi Kawamura
CGI anime feature Gantz: O marks the fourth adaptation of Hiroya Oku's popular manga series, about two deceased men forced to hunt and kill aliens, following a TV anime and two live-action films. It is the film debut of director Kawamura, who has worked as a CGI designer on video games such as Shadow Of Rome. Production outfit Digital Frontier has worked across film, TV and video games, including on the long-running Final Fantasy series.
Contact: Toho, tohointl@toho.co.jp
Hacksaw Ridge (US-Aus)
Dir Mel Gibson
A decade after he last helmed a film, 2006's Apocalypto, Gibson premieres his latest directorial work in Venice. Andrew Garfield takes the lead role of real-life Second World War US army medic Desmond T Doss, who became the first conscientious objector to be awarded the Medal of Honor. Lionsgate will release the film in the US in November; Australian rights are held by Icon Film Distribution while Bliss Media is to release in China.
Contact: IM Global, sales@imglobalfilm.com
I Called Him Morgan (Swe)
Dir Kasper Collin
The second documentary from Swedish film-maker Collin tells the story of US jazz musician Lee Morgan, who was shot dead by his wife during a New York performance in 1972. Collin directed 2006 doc My Name Is Albert Ayler, about the titular avant-garde saxophonist. I Called Him Morgan is produced by the director's own Kasper Collin Produktion, with support from the Swedish Film Institute.
Contact: Submarine Entertainment, dan@submarine.com
The Journey (UK)
Dir Nick Hamm
Directed by Hamm from a screenplay by Colin Bateman, this is the fictionalised account of what happened when two avowed enemies in Northern Ireland, Democratic Unionist Party leader Ian Paisley and Sinn Fein politician Martin McGuinness, were forced to take a short journey together. The screenplay was developed with the support of Northern Ireland Screen; the two central roles are taken by Timothy Spall and Colm Meaney, respectively.
Contact: IM Global, sales@imglobalfilm.com
Monte (It-US-Fr)
Dir Amir Naderi
Set in a semi-abandoned Italian village at the foot of a mountain, this drama tells the story of a man struggling to keep his crops alive in the shadow of the gigantic peak. Director Naderi was a writer on Ramin Bahrani's 99 Homes, which premiered at Venice in 2014, and also contributed a segment to 2013's anthology documentary Venice 70: Future Reloaded, produced for the 70th anniversary of the festival. His last two features as a director, 2014 documentary Mise En Scene With Arthur Penn and 2011's Cut, both premiered at Venice.
Contact: Citrullo International, diahg@hotmail.com
One More Time With Feeling (UK)
Dir Andrew Dominik
New Zealand-born, Australia-based Dominik was in Venice with 2008's The Assassination Of Jesse James By The Coward Robert Ford and returns with this documentary about Nick Cave & The Bad Seeds recording their 16th studio album, Skeleton Tree. Picturehouse Entertainment will launch the documentary worldwide in 650 cinemas on September 8, the day before the album's release. The film features performances along with interviews and Cave's narration.
Contact: Picturehouse Entertainment, marc.a@picturehouses.co.uk
Our War (It-US)
Dirs Bruno Chiaravalloti, Claudio Jampaglia, Benedetta Argentieri
Argentieri, who co-directed 2014 Thessaloniki Documentary Festival entry Capulcu: Voices From Gezi, finds two new collaborators for this study of three volunteer foreign fighters — an American ex-Marine, an unemployed Italian communist and a Swedish bodyguard — who have left their families behind to join the battle against ISIS. Those daily home lives are contrasted with their new roles, serving alongside Kurdish forces in northern Syria, as the film seeks to discover who they are fighting for.
Contact: PossibleFilm, brunochiara@gmail.com
Planetarium (Fr-Bel)
Dir Rebecca Zlotowski
French film-maker Zlotowski follows up 2013's Grand Central with a 1930s drama in which two spiritual sisters (Natalie Portman and Lily-Rose Depp) cross paths with a controversial movie producer (Emmanuel Salinger) who wants to hire them for a film. Set for release in France in November through Ad Vitam, Planetarium is the latest film to star newcomer Depp, who appeared in The Dancer, which premiered in Un Certain Regard at Cannes.
Contact: Kinology, gmelin@kinology.eu
Safari (Aust-Den)
Dir Ulrich Seidl
Austrian film-maker Seidl's documentary looks at the topical issue of trophy hunting in Africa. He spent several years filming German and Austrian hunt tourists as they bag their prey, and describes the film as "a vacation movie about killing, a movie about human nature". As a film-maker, Seidl moves between documentary and fiction; Paradise: Faith won a special jury prize at Venice in 2012 and his last documentary, In The Basement, was also shown at the festival.
Contact: Coproduction Office, office@coproductionoffice.eu
Tommaso (It)
Dir Kim Rossi Stuart
Released in Italy by 01 Distribution on September 8, actor-director Stuart's second feature, about an Italian actor experiencing the downside of playing the field, is, in the words of festival head Alberto Barbera, "a very autobiographical film in which Kim spotlights his obsessions and his relationship with women". It is one of two co-productions from Carlo Degli Esposti's long-running TV and film company Palomar, here working with Rai Cinema, to feature in this year's official selection, alongside Piuma.
Contact: Palomar, palomar@palomaronline.com
The Young Pope (It-Fr-Sp-US)
Dir Paolo Sorrentino
The first two episodes of HBO's hotly anticipated TV series premieres ahead of its debut on the US cable network later this year. Directed by Academy Award winner Sorrentino (The Great Beauty), it stars Jude Law as the first — fictional — US pope. The show is produced by Italy's Wildside and co-produced by Haut et Court TV and Mediapro.
Contact: Wildside, info@wildside.it