The full line-up of world premieres in the Venice Days programme at the Venice Film Festival, with details on each title including sales contacts.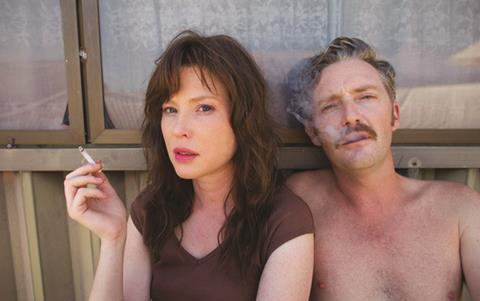 Guilty Men (Col)
Dir Ivan D Gaona
Guilty Men marks the debut feature of Colombian writer-director Gaona after a string of award-winning shorts, including Portraits (2012) and Naranjas (2014). The contemporary western revolves around divided loyalties in the run-up to a family wedding that becomes tainted by crime and corruption. The film is produced by Diana Perez Mejia through La Banda del Carro Rojo, the Bogota-based company she co-founded with Gaona in 2008, and has a Colombian release date of October 13.
Contact: Films Boutique, contact@filmsboutique.com
Heartstone (Ice-Den)
Dir Gudmunder Arnar Gudmundsson
The feature debut of award-winning short film-maker Gudmundsson is a coming-of-age drama starring Baldur Einarsson and Blaer Hinriksson. It was developed through Cannes' Cinefondation after Gudmundsson won a special mention in the festival's 2013 short film competition for Whale Valley, and is produced by Jesper Morthorst and Lise Orheim Stender of Denmark's SF Film Production, with Anton Mani Svansson of Iceland's Join Motion Pictures. The Icelandic Film Centre and the Danish Film Institute both backed the film.
Contact: Films Boutique, giorgia@filmsboutique.com
Hounds Of Love (Aus)
Dir Ben Young
Writer-director Young's debut feature is inspired by a number of true-life Australian crime stories, and follows the fate of a teenage girl kidnapped by a murderous couple. Produced through Melissa Kelly's Factor 30 Films, it participated in the Screen West script and talent development programmes Feature Navigator and eQuinoxe. Supported by Screen Australia, the film received production funding through Screen West's West Coast Visions initiative. The cast is lead by Emma Booth (Gods Of Egypt).
Contact: Urban Distribution International, arnaud@urbangroup.biz
Indivisible (It)
Dir Edoardo De Angelis
Italian film-maker De Angelis follows comedies Mozzarella Stories (2011) and Vieni A Vivere A Napoli!, which premiered at this year's Milan International Film Festival, with a drama about conjoined twin sisters. Newcomers Marianna and Angela Fontana star as the 18-year-old siblings who support their family by singing at weddings, communions and baptisms, and now face the prospect of surgical separation.
Contact: True Colours, catia@truecolours.it
Ordinary People (Phil)
Dir Eduardo Roy Jr
Jane and Aries are teenage parents, surviving on the streets of Manila by stealing and selling themselves. Their already challenging existence is put to the test when baby Arjan is kidnapped. Ordinary People is the third feature from writer-director Roy Jr and is produced by John Tan and Ferdinand Lapuz. It debuted at the Philippines' Cinemalaya in 2016, before securing its spot in Venice Days.
Contact: Ignatius Films, ignatiusfilms@yahoo.ca
Polina (Fr)
Dirs Valérie Muller, Angelin Preljocaj
Based on an award-winning graphic novel by cartoonist Bastien Vives, Polina tells of an eight-year-old girl who dreams of becoming an international ballet dancer. The film portrays her efforts to join the Bolshoi and her subsequent glittering career, which takes her all over the world and into the arms of a French lover. Shot in English and French, the film stars Anastasia Shevtsova, Juliette Binoche, Aleksei Guskov and Niels Schneider, and is produced by Didier Creste of Everybody On Deck.
Contact: TF1 Films International, arene@tf1international.com
Quit Staring At My Plate (Cro-Den)
Dir Hana Jusic
Following a number of award-winning shorts, including Terarij (2012) and No Wolf Has A House (2015), Croatian writer-director Jusic makes her feature debut with Quit Staring At My Plate, a black comedy developed through Torino Film Lab and presented at Les Arcs Co-Production Village works-in-progress strand. A co-production between Kinorama and Beofilm, it stars newcomer Mia Petricevic as a young woman escaping her suffocating family life through meaningless sexual encounters.
Contact: New Europe Film Sales, ewa@neweuropefilmsales.com
The Road To Mandalay (Myanmar-Tai-China-Fr-Ger)
Dir Midi Z
Myanmar-born, Taiwan-based director Midi Z's latest feature is about two immigrants who meet on the Thai border, on their way to establishing new lives in Bangkok. Starring Kai Ko (You Are The Apple Of My Eye) and Wu Ke-Xi (Ice Poison), the film was selected for the Cannes co-production platform L'Atelier in 2015, and is produced by Bombay Berlin Film Production, Taiwan's Flash Forward Entertainment and Seashore Image Productions, France's House On Fire Films and Myanmar's Montage Film.
Contact: Urban Distribution International, arnaud@urbangroup.biz
Sami Blood (Swe-Den-Nor)
Dir Amanda Kernell
Kernell's debut feature is about a 14-year-old Sami girl exposed to racism and race biology examinations in 1930s Sweden, leading her to reject her culture and become someone else. The story was inspired by the director's own grandmother. The cast features newcomer sisters Lene Cecilia Sparrok and Mia Sparrok. Nordisk produced and will release in Scandinavia in spring 2017. Kernell previously made the award-winning shorts Northern Great Mountain and Sharing All.
Contact: LevelK, tine.klint@levelk.dk
The War Show (Den-Fin)
Dirs Andreas Dalsgaard, Obaidah Zytoon
Venice Days' opening film is a documentary about a Syrian radio DJ (co-director Zytoon) and her friends as they are swept into the Syrian uprising and see their country descend into chaos. Dalsgaard's credits include The Human Scale and Traveling With Mr. T, while production company Fridthjof Film has credits including the award-winning documentary Armadillo.
Contact: DR Sales, drsales@dr.dk
Worldly Girl (Italy)
Dir Marco Danieli
This romantic drama stars Sara Serraiocco (recently seen in Chlorine) as a Jehovah's Witness who is ostracised by the church after she falls in love with an outsider. Danieli's debut feature is produced by CSC, the production arm of Rome's Centro Sperimentale di Cinematografia film school, where he studied, together with Rai Cinema and French partner Barbary Films. The director has stated "this is not an act of accusation against Jehovah's Witnesses but a realistic coming-of-age story".
Contact: Intramovies, mail@intramovies.com