Israeli director Rama Burshtein talks about the religious and secular inspirations behind her new film Through The Wall.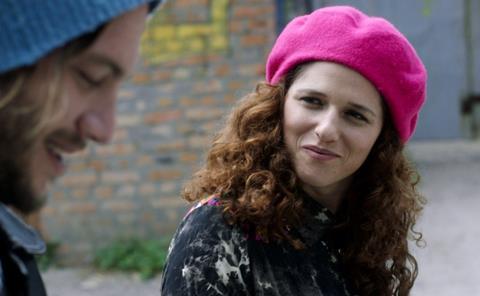 Israeli director Rama Burshtein landed on the international film festival stage seemingly out of nowhere in 2012 when her debut feature Fill the Void premiered at the Venice Film Festival.
New York-born Burshtein – who became deeply religious shortly after graduating from the prestigious Sam Spiegel School of Film and Television in Jerusalem in 1994 – spent some 15 years making films within the Orthodox Jewish community before breaking into the mainstream.
Her sombre debut drama about a young Orthodox Jewish girl pressured by her family to marry her late sister's husband gave mainstream audiences a rare insight into the private world of Orthodox Jews and won critical acclaim worldwide.
It was also hailed as the first feature by an Orthodox Jewish woman in Israel aimed at a non-Orthodox audience.
Burshtein's second picture Through the Wall – which premieres in Venice's Horizons programme - is a very different work.
A romantic comedy-drama, it revolves around Michal, a vibrant 32-year-old Orthodox woman who is on the verge of getting married after years of dating and using the services of matchmakers. A month before the wedding, however, her fiancé backs out.
Michal cannot face going back on the dating circuit. Instead, she continues her wedding preparations and puts her trust in God to provide her with a groom on the day, embarking on a rollercoaster, month-long personal odyssey.
Burshtein has united with respected Israeli producer Assaf Amir of Tel Aviv-based Norma Productions on the film. The company is gearing to release the picture in Israel in October. The Match Factory is handling international sales.
Burshtein spoke to Screen ahead of the film's premiere in Venice in the Horizons section the secular and religious inspirations for her film.
Through the Wall is a very different film from Fill the Void. Was this a deliberate move?
It wasn't a conscious decision. If I'd deliberately tried to do something different it probably wouldn't have worked. This film is more me. I love humour and I do have humour and somehow with Fill the Void, due to the subject and the characters, it was not out there. This is a very different kind of movie in terms of what you feel as a viewer. It's got hope, faith, a journey, suspense, laughter and tears.
Like you, the protagonist Michal became religious as an adult? Is the film in any way based on your own experiences?
Actually, I was more inspired by my non-religious friends, rather than my religious friends — girls who are very strong and decisive, have a career and struggle to find someone. Time and years go by and suddenly they're 40 and they don't have that partner and they get very uptight about kids and family in general. It was more for them.
How much of Michal's personal odyssey, however, is related to her religious beliefs?
The film is about finding love and believing love is out there. Michal wants to see good win and despair to die. In all worlds, not just religious worlds, the big war is between despair and hope. She is fighting with all her heart. Michal makes this absurd, unbelievable decision. She says, "I have a wedding venue booked. God will help me find a groom". In my eyes, it's about being a believer. If you're a believer and open to hope and love – you'll find it in the end.
In the press notes, you say the aesthetic look of the film was inspired by nudibranch sea creatures. Can you explain?
These creatures are very small and have the most incredible colour combinations you can imagine. They're mesmerising. The art department and the cinematography was informed by their appearance. The journey Michal undertakes is a colourful one and I wanted the look of the film to reflect this.
Michal comes into contact with a lot of different characters during the lead-up to the big day. How did you manage this large portmanteau of characters?
It's true. She ends up dating a lot of guys. We rehearsed for a month, which is a long time for an Israeli film. Every scene has two peaks so if you feel hope you will also suddenly feel despair in the same scene. I knew this was something that would be difficult to achieve on set and we had to work it out in the rehearsals. Also, all the men Michal meets have true potential for her so I had to make sure these characters were truly credible on the screen.
Why did you cast Noa Koller in the role?
I have an amazing casting director, Michal Koren. She is part of the inspiration for this film and she's a very close friend. She found Noa, who is a professional actress. She's worked mainly in theatre with some very prestigious companies but this is her first lead role. We needed an actress who could do comedy and drama. Very few people can do that, not just in Israel but all over the world. I felt immediately she was right for the role. What she does is amazing. She's a genius. She holds it all together. There is not one scene without her.
Are you working on any new projects?
I have some ideas. I actually I thought about this film when I was shooting Fill the Void. I'm lucky enough to be able to think about the next project at the same time as shooting another one. At the same time, it's such a gift and privilege to make a film that I'm going to stay with this one for now.