Venice will screen a trio of documentaries on Syria, including a movie about western fighters battling ISIS.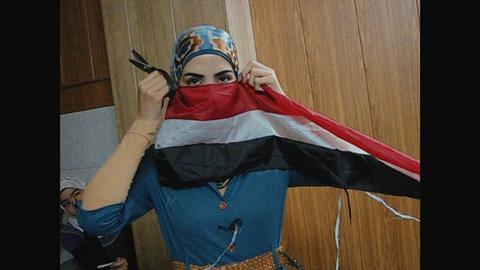 The current crises in Syria is as multifaceted as it is complex, a trait acknowledged in three very different documentaries on the conflict premiering at the 73rd Venice Film Festival (Aug 31- Sep 10).
Two screen in the official selection and another in Venice Days, and at a time when rolling TV and digital news coverage is virtually omnipresent, the filmmakers tell Screen about the unique role cinema can play in conveying stories of conflict.
The War Show
First up in Venice is The War Show, Venice Days' opening film. Shot on microcameras and mobile phones by SyrianDJj Obaidah Zytoon and her friends during the days that led up to and followed the Arab Spring, and subsequently assembled and edited with the help of documentarist Andreas Dalsgaard (The Humane Scale), the movie chronicles the fateful uprising through the eyes of ordinary boys and girls fighting for freedom.
Screen: Did you recognize the power of this material when it was first handed to you?
Andreas Dalsgaard: "It had a raw and unedited quality that resonated with me: images shot by ordinary people who where in that time and place. I wanted to mantain that kind of quality. Therefore the strategy became to have a chapter structure, like a journey".
Did you assemble the material with Obaidah?
AD: "It was all back and forth with her. Movie editing had been already halted once before I came on board, because Obaidah didn't think the result was being truthful to what happened. So first thing was to make sure that the storytelling was both good for the audience and truthful. I wanted to show the events and then stop to investigate them with the more in depth part of the material, such as the small casual interviews".
What is cinema's role when it comes to presenting images akin to those we see so often now in our living rooms?
AD: "Cinema is art, therefore it investigates truth and beauty. The image flux makes it difficult to relate to humans, such as the refugees; cinema on the other hand creates a different perspective. We think social network images bring us closer to what they show, but it's not like that, they're more cynical and cinema must destroy this point of view".
The War Within
With The War Show opening Venice Days, programmers have gone for symmetry by closing the strand with documentary The War Within.
The movie shot by journalist Paola Piacenza revolves around the work and memories of Domenico Quirico, a fellow journalist and war reporter for the italian newspaper La Stampa, who in April 2013 was taken prisoner in Syria for 152 days.
When did you know that Syria would form a central part of your documentary?
Paola Piacenza: "I didn't immediately realize the role it would play. Initially, Domenico and I traveled to Ukraine, which became a major turning point in his life. However, being there it was clear to me that the only journey Domenico was interested in at that time was the one to Syria, where he had been held captive".
There have been a number of films made about the Syrian conflict in recent years. Why?
PP: "It is both a tank and a magnet for stories, irresistable for people doing our job."
You couldn't enter Syria together with Domenico due to visa issues. Were you surprised by the material that was shot there without you?
PP: "I was in Beirut where I received daily filming in low quality over the internet, but I immediately realized that they were not the images we are used to seeing in television or online.
"Domenico's return to Syria and certain key places was incredibly intense. Being told what happened and then seeing him there unleashes unexpected feelings".
How does cinema differentiate itself from TV and internet news on this subject?
PP: "Cinema has a different way of reflection. It enables more interpretation of the same images."
Our War
Finally, Our War, which is presented out of competition in the Official Selection, tackles the ISIS conflict from the persepctives of three different international fighters - an American Marine Corps veteran, an Italian activist and a Swedish bodyguard - who traveled to the region to take up arms against the terrorist organisation.
The documentary comes from filmmakers Benedetta Argentieri, Claudio Jampaglia and Bruno Chiaravallotti.
Our War is mostly shot outside of Syria in the home countries of the three interviewees but we see the war through the images they shot on location. Why did you adopt that approach?
Claudio Jampaglia: "We wanted to understand if what we see everyday on TV and online is real and what we get out of it. Everybody working on location knows those images come from local troops and not foreign journalists. We had 50 hours of material, some shot on a GoPro, others made in diary style, but together they constitute only 20% of our movie and starting from that we decided what else had to be shot".
What did you understand about the attraction that Syria holds for foreign fighters?
CJ: "It is the discipline they find there that captivates them. Kurdish people's rigor has a great grip."
Benedetta Argentieri: "And this is not a man only war. Hundreds of foreign fighters have enlisted but you can find both men and women among them".
One of your characters is an ex-marine…
BA: "They're there but not generally fighting.