Top brass at the digital sleeping giant have confirmed Spike Lee's film about the inner city violence in Chicago as their first Amazon Original Movie and hinted at an accompanying theatrical release.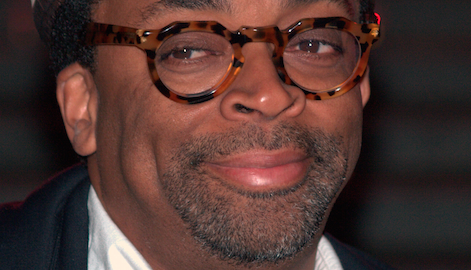 Production on the Chicago shoot wrapped last week on Chi-raq, which features Teyonah Parris from Dear White People in the lead and Jennifer Hudson now confirmed in the ensemble.
Nick Cannon, Wesley Snipes, John Cusack, Samuel Jackson, Angela Bassett, D.B. Sweeney, Harry Lennix and Steve Harris round out the key cast.
Lee directed from the screenplay he co-wrote with Kevin Willmott that is said to be composed entirely in verse. "I'm honoured to be part of the film that will launch Amazon Studios and to tell a story that is so important," he said. "Please don't be fooled by the title of Chi-Raq – this new Spike Lee joint will be something very special. We have assembled a stellar cast."
According to THR the film will get an awards-qualifying theatrical release in December although representatives for Amazon Studios did not comment on this.
Amazon Studio's distribution plan is to launch titles digitally for its Prime customers after the theatrical release, although the timing of that remained unclear at time of writing.
Also unclear was the issue of whether Kanye West would be involved in some way, as previously reported on Screendaily.
Amazon Studios has the ability to parlay its films' musical components — indeed any type of component — into crossover transactions as Amazon Prime customers peruse the online retailer's vast inventory of music, books and other items.
The desire to keep Prime customers on the site and buying all manner of goods, industry watchers say, is the main play behind Amazon's move into content creation and distribution.
Several weeks ago the studio confirmed it had acquired Elvis & Nixon.
"Spike Lee is one of the most distinct and visionary filmmakers of our time," said Amazon Studios head of motion picture production Ted Hope. "It would be impossible to find a better filmmaker with whom to launch our studio.
"He has a unique voice, a distinct eye, and he tackles important subjects with humour and heart, pointing to solutions and not exploiting the problems. Chi-Raq may be his greatest, and definitely his boldest film yet – everything about it is distinctive."
Recently appointed head of marketing and distribution Bob Berney said: "For Chi-Raq, and for future projects, we will collaborate with a top-tier theatrical distributor who shares our vision and passion. We will work together to craft bold and distinctive marketing and distribution approaches for all our films."