Dir/scr: Jonathan Caouette. US-France. 2011. 90mins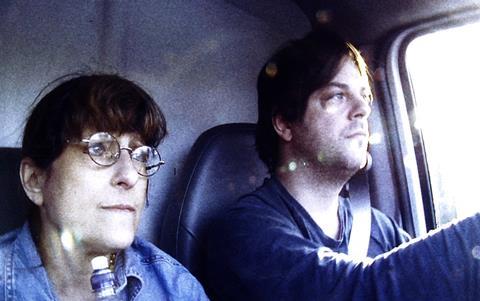 Artful fragmentation of old footage from his own and his unusual family's lives in the 2004 Tarnation, assembled for next to nothing with free Imovie software on a Mac, put Caouette on connoisseurs' talent radar, but pigeonholed him as a festival darling. Walk Away Renee is a gigantic leap forward: a real crew and more refined footage, but with enough of an accessible, more linear structure - a quasi-road movie with many more naturalistic scenes than Tarnation in which he takes his mentally ill mother by U-Haul truck from an assisted living facility in his hometown of Houston, Texas to his current residence in New York City - that it will still play festivals but will cross over into the alternative and arthouse circuit.
Caouette has achieved a balancing act bordering on genius.
Once again, it took the French designer agnes b., who has supported the wildly unusual forays of Harmony Korine, to finance the work of an edgy young American filmmaker. This is patronage, and the financial payoff will be small by commercial movie standards. The film is guaranteed to be critic-driven at first, then word-of-mouth among those attracted to edgy works will guarantee it relatively fruitful release in larger, more cosmopolitan cities in many territories territories.
Caouette's mother, 58-year-old Renee Leblanc, suffers from acute bipolar and schizoaffective disorder. Diagnosed with depression at the age of 12, she received the first of hundreds of electroshock treatments. The life of this once beautiful, animated woman has been a downhill slide ever since: institutionalization at hundreds of facilities, a huge daily regimen of psychopharmalogic medications, especially lithium, to quiet her demons, and a manic, passive-aggressive demeanour when she is off them.
In a role reversal, son has taken on the role of parent to his now brain-damaged mother. Through time shifts in which he shows Leblanc at various ages and in assorted states, as well as footage of their interaction at different phases of their lives, we come to understand the strong bond that attaches him to her so closely that he puts his own needs aside to make sure she is not mistreated by the medical establishment.
On top of the sequences documenting the trying ride through the South from Texas to New York (she loses her pills), gorgeous shots of moving clouds help structure the film. According to a cult called Cloudbusters, which aims to legitimise a fourth dimension, and for which Caouette is commissioned to direct an outreach video, clouds are a reservoir of energy. He has made no secret of his interest in parallel universes, but he treats the cult and his own video with a welcome sense of humour.
Few filmmakers working today can meld the formal wizardry on display here with a relatively straightforward account of a serious personal subject. With a soundtrack of quiet standards (Under the Boardwalk and the nostalgic title song made popular by the Left Bank in the 1960s, among many others) accompanying some extremely imaginative apocalyptic abstractions, Caouette has achieved a balancing act bordering on genius.


Production companies: Morgane Production, Polyester, Love Stream agnes b. Productions, Hummingbird 72
International sales: www.wildbunch.eu
Producers: Gerard Lacroix, Gerard Pont, Pierre-Paul Puljiz, agnes b., Christophe Audeguis, Charles Anthonioz, Jonathan Caouette
Cinematography: Noam Roubah, Andres Peyrot, Jason Banker, Jorge Torres
Editor: Brian McAllister
With: Jonathan Caouette, Renee Leblanc, Adolph Davis, Rosemary Davis, David Sanin Paz, Joshua Caouette