Dirs: Max & Dania. UK. 2014. 97mins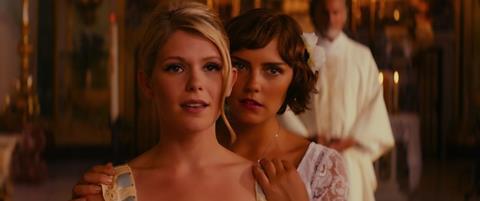 A gloriously frothy summer delight, there is an old-fashioned cheerfulness and warm-hearted glee to British musical Walking On Sunshine as it takes a familiar tale of romance and broken-hearts to the Italian coast and layers in a whole bunch of toe-tappingly familiar hits from the 1980s. It might lack a starry cast but it wins in terms of sheer infectious enthusiasm.
There is a delightful innocent joy to Walking On Sunshine that is likely to be embraced by audiences.
The film, which opens in the UK in late June, may well be a blending of Mamma Mia! and Summer Holiday, but it has its own sense of wide-eyed candy-covered innocence and joy, and while cynical critics may dismiss it out of hand it could well prove to be a real audience-pleaser if handled well. Like Mamma Mia! before it, all it needs is good word-of-mouth and bad summer weather to help drive holidaying audiences into the cinemas.
Co-directors Max Giwa and Dania Pasquini have had music-themed cinema success with British dance film StreetDance, but Walking On Sunshine offers the additional challenges of singing, choreography and a cast with limited experience of the genre. Smartly they have kept it straightforward and rather traditional in terms of the romances that drive the story and made sure the songs mesh nicely with the script. There is a real sing-a-long quality to the film (watch out viewers who get annoyed about audience participation) and if they have sense it will be re-released in that format in months to come.
The comparisons with Mamma Mia! will be unavoidable, but Walking On Sunshine makes its own musical mark thanks to a genial gaucheness, a frothy innocence and a willingness to play the story as a naïve summer romantic adventure bolstered by some 1980s pop classics.
The film opens with fresh-faced Taylor (Hannah Arterton, sister of Gemma) arriving in sunny Italy for the wedding of her sister Maddie (Annabel Scholey), who is getting married after a whirlwind romance. A bright and breezy dance scene at the airport sets the tone for the film as it launches into a series of romantic complications that offer little in the way of surprises but are a whole lot of fun.
It turns out that the desperately hunky Raf (Giulio Berruti) who Maddie is to marry was the same ex-holiday flame that Taylor was madly in love with before she went off to college. And naturally she can't bring herself to tell her sister of their prior relationship.
Things get additionally complicated when Maddie's older-man former lover Doug (a very funny Greg Wise) arrives in Puglia to try and win her back, setting the scene for grand romantic gestures, misunderstandings, sexual misadventures, a bit of drama during a wedding ceremony and a whole lot of song and dance scenes, all set against the most idyllic of backdrops.
Both Hannah Arterton and Annabel Scholey have done their fair share of UK television work and both are delightful as the very different sisters. Arterton's Taylor is sweet, gentle and haunted by her summer love, while Scholey's Maddie is a vibrant force of nature, flitting about but vibrant and passionate in nature. They work perfectly together and it is easy to see what they fall for Giulio Berruti's chiseled and charming Raf.
There is also much fun to be had around the support cast. Greg Wise is a natural as the charming cad who pursues Maddie. In a similar role to that of Pierce Brosnan in Mamma Mia!, he relishes the singing and dancing and is blessed with a real charm and energy. Comedian Katy Brand has some of the best lines as Maddie's best friend Lil, while British X-Factor winner and singing star Leona Lewis brings real charm – and a great voice – to Taylor's friend Elena, and also gets to belt out her version of the title song, Katrina and the Waves' Walking On Sunshine.
The film also features 1980s pop classics such as Human League's Don't You Want Me Baby, Madonna's Holiday, Cyndi Lauper's Girls Just Wanna Have Fun and Wham's Wake Me Up Before You Go Go to name but a few, and they help give a real energy and drive. There is a delightful innocent joy to Walking On Sunshine that is likely to be embraced by audiences.
Production company: Vertigo Films
International sales: IM Global, www.imglobalfilm.com
Producers: Allan Niblo, James Richardson, Caroline Levy
Executive producers: Rupert Preston, Nigel Williams, Nick Love, Al Munteanu, Stuart Ford
Screenplay: Joshua St Johnston
Cinematography: Philipp Blaubach
Editor: Robin Sales
Production designer: Sophie Becher
Music: Anne Dudley
Main cast: Annabel Scholey, Hannah Arterton, Giulio Berruti, Greg Wise, Katy Brand, Leona Lewis, Danny Kirrane, Hiulio Corso