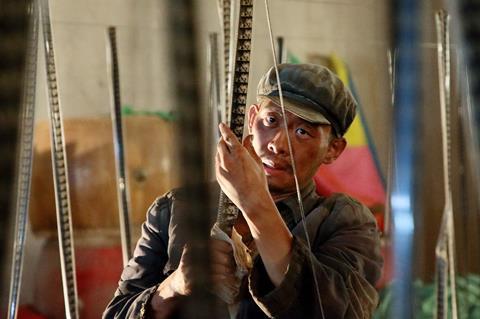 Wild Bunch International (WBI) is launching sales on Chinese director Zhang Yimou's drama One Second during the American Film Market (AFM) next week.
The film was to have originally world premiered in competition at the Berlin Film Festival in 2019 but was pulled at the 11th hour because of "technical reasons with post-production".
WBI previously sold Zhang's 2014 love story Coming Home. It has taken worldwide sales rights, excluding Asia, which is handled by Hong-based Edko Films, apart from Australia and New Zealand.
The international sales launch follows recent Chinese media reports that the film will finally be released in local cinemas at the end of November.
Set against the backdrop of the Cultural Revolution, Zhang Yi stars as a prisoner who escapes from a labour camp and then embarks on a search for the stolen reel of a film featuring his long-lost daughter for just one second. When he catches up with the thief, he discovers she is a young orphan coping with her own terrible loss.
"It has a Cinema Paradiso quality to it in the way it is dedicated to cinema," said Eva Diederix, head of sales at WBI.
In a statement released to accompany the international launch, Zhang said the film tapped into his own experience as a film-lover.
"There is always one particular movie you will remember for a lifetime, and maybe not only the movie itself but also the kind of expectation it captures… One Second is dedicated to all who love movies," he said.
WBI is also launching sales on Lucile Hadzihalilovic's English-language 1930s-set drama Earwig which is backed by FIlm4 and the BFI. It stars UK actor Paul Hilton, whose credits include Lady Macbeth, as a 50-year-old man employed to care for a 10-year-old girl who lives a solitary existence in a large, darkened apartment. Each week, the telephone rings and a male voice questions him about the girl's wellbeing. Then one day he is instructed to prepare his young charge for her departure.
Other cast members include Alex Lawther and Romola Garai. Hadzihalilovic co-wrote the screenplay with Geoff Cox, based on a novel by UK writer and performance artist Brian Catling.
It is Hadzihalilovic's third feature and follows her well-received 2016 fantasy drama Évolution set in a strange seaside town inhabited only by women and young boys. The feature is due to start shooting later this week in Brussels, Belgium.
Jean des Forêts at Paris-based Petit Films, whose previous credits include Raw, and Andy Starke for Anti-Worlds are producing, in a co-production with Belgium's Frakas Productions.
The company is also set to ramp up sales on Justin Kurzel's untitled 2021 project which is also due to go into production this month. Details of the project remain under wraps with WBI revealing only that it is an "intimate portrait of a troubled mind". A script is available for select buyers. The company has world sales rights apart from North America, which is handled by CAA. Madman Entertainment has already taken Australian rights.
WBI and CAA are also collaborating on Belgian directorial duo Abil El Arbi and Bilall Fallah's Brussels-set family drama Rebel about a 13-year-old boy whose life stands at a crossroads following the death of his father.
It marks a return to home ground for the directors whose last feature Bad Boys For Life - the third installment of the Bad Boys franchise starring Will Smith - grossed $419m worldwide when it was released in January.
WBI is again handling world sales rights while CAA represents North American rights. The company will do a special presentation of the project during the AFM. The feature is currently in pre-production.
Further previously announced projects in pre-production include Claire Denis's Nicaragua-set romantic thriller Stars At Noon, starring Robert Pattinson and Margaret Qualley, which is due to shoot in April 2021 and Iranian director Ali Abbasi's serial killer drama The Long Night, which has set a January 2021 shoot.