Croatia's enthusiasm and chameleon-like ability to look like other places are helping to woo international productions.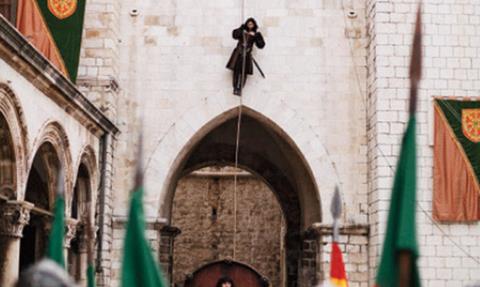 The real measure of a territory as a bonafide international production hub is how often visiting producers return. In terms of the high-end TV it attracts — and keeps — Croatia is one of those territories. Indeed US producer Rick McCallum, who works closely with George Lucas, has shot several productions in this country nestled between the Balkans and central Europe. He has seen the territory stand in for Mediterranean locales such as Italy on Red Tails in 2011, while Borgia, which McCallum produces for Canal Plus, shoots modern-day Croatia for 17th century Italy and Spain. McCallum is back this year with StudioCanal's English-language crime thriller Crossing Lines, starring Donald Sutherland.
Another Croatia regular is HBO, which films Game Of Thrones in the majestic coastal town of Dubrovnik. Further high-end TV series to shoot in the territory include SVT's Swedish series The Lost Treasure Of Aquila, BBC America's Jonathan Strange & Mr Norrell and NBC Universal's Dig.
In 2014, the territory attracted several European feature films, including David Verbeek's Netherlands-Croatia collaboration Full Contact, Mitko Panov's The Witness, starring Bruno Ganz, which is a Switzerland-Macedonia-Ireland co-production, and German TV film Winnetous Weiber, directed by Dirk Regel, for UFA.
Fan, starring Bollywood superstar Shahrukh Khan, and the first official India-Croatia co-production, also shot partly in Croatia for Yash Raj Films.
Coming into the territory this year are Marion Hänsel's feature River Upstream, starring Sergi Lopez, and EuropaCorp's Baltic-set action thriller The Lake, produced by Luc Besson and directed by Steven Quale.
The Lowdown
Financial incentives
International film and TV producers can access a 20% rebate on costs incurred in Croatia. The rebate is administered by the Croatian audiovisual centre, HAVC, and producers say it is straightforward to use. It takes less then 90 days for the producer to receive the rebate. Further information www.havc.hr
Infrastructure
There is a new generation of young, smart technicians and thanks to returning series such as Game Of Thrones, Croatia boasts fantastic construction crews. In terms of studios, the only stages are in Zagreb and are used mostly by the local film and TV industry.
Locations
This is why productions come to Croatia. Zagreb is an attractive central European town and the historic coastal towns of Dubrovnik, Šibenik, Zadar, Split, Trogir and Rijeka offer well-preserved medieval and renaissance architecture as well as film-friendly authorities.
Size matters
Croatia is a relatively small country, interconnected with highways and airports.
Where to stay
As it is a popular tourist destination, Croatia has many moderately priced hotels and restaurants as well as five-star ones. While filming Fan, Shahrukh Khan stayed at the Valamar Dubrovnik President Hotel.
Rick McCallum, producer, Red Tails, Borgia, Crossing Lines
"The tax rebate is totally transparent. It's a rigorous application process but nothing major. You get the money back in two-and-a-half months.
"The crews are wonderful. And it's a fantastic place to take your crew if you've been shooting in northern Europe for a long time. There are so many islands. The water is spectacular. You have rich and diverse countryside from Dubrovnik to Istria. It's very easy to close off a city, a town or roads. Permissions are instantaneous in Croatia. The film-making experience is still new enough that everybody jumps on it and wants to be a part of it."
What could be improved?
A studio complex is planned for the outskirts of Zagreb. "We often have to improvise with deserted sports halls and industrial warehouses," says Hrvoje Hribar, chief executive of HAVC.
First person to call
Croatian Audiovisual Centre, Filming in Croatia department filmingincroatia@havc.hr
For further information: havc.hr filmingincroatia.hr