Indonesia is an emerging market for film locations with a wealth of untapped resources and a talented workforce.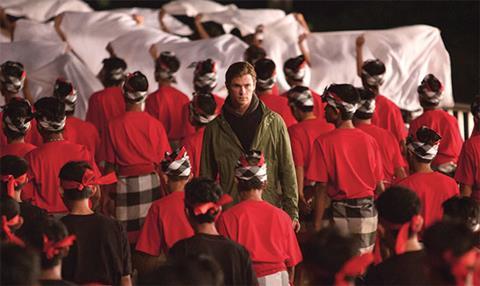 There has been a surge in international shoots in Indonesia following 2010's Julia Roberts and Javier Bardem vehicle Eat Pray Love, which shot on Bali.
To name a few, Rob Cohen's action thriller Alex Cross, Oliver Stone's crime thriller Savages, Koh-Lanta (the French version of Survivor), as well as sci-fi thriller After The Dark, which was filmed entirely in Indonesia and provided a colourful showcase of the country's diverse locations. These include the pristine Belitung beaches, the volcanic sand caldera on Mount Bromo, the ancient Sewu and Prambanan temples and the bustling capital Jakarta, which featured in Michael Mann's cyber thriller Blackhat.
More recently, Beyond Skyline and HBO Asia's Halfworlds made use of Infinite Framework's integrated facility in Batam. Other shoots include Russian director Roman Prygunov's Downshifter; Dutch-Flemish reality game show Peking Express; and South Korean variety show Running Man.
After a new government took office in late 2014, a Creative Economy Agency (BEKRAF), which reports directly to the country's president Joko Widodo, was created to drive the creative arts sector, including film, in all its value chains. This development is seen as a big step towards developing policies to further support the film industry.
GOOD TO KNOW
Filming permits are a must. Apply through the Investment Coordinating Board (BKPM).
THE LOWDOWN
Financial incentives
Indonesia can now accept ATA Carnet, which allows the tax-free temporary import of goods. The low cost of living also means relatively affordable accommodation, crew and equipment, while food is inexpensive.
Infrastructure
Indonesia has a history of film-making and a viable infrastructure based mainly in Jakarta. In addition to mostly TV studios in and around the capital, Singapore-based Infinite Studios has opened an integrated facility in Batam with two soundstages (30,000 square feet and 14,000 square feet) and a one-hectare backlot, making it the largest purpose-built fi lm and TV studios in Indonesia. Batam is only 30 minutes by ferry from Singapore and one hour 40 minutes by flight from Jakarta. The local crews have a reputation for being very creative, especially in production design. However, they generally don't speak English, except for heads of department. It would be advisable to bring in HODs for large-scale international productions. Quite a few of them come from Australia.
Locations
Situated along the equator and with a population of 250 million, Indonesia boasts a vast tapestry of culture and topography. While Jakarta and Bali are the two top filming destinations, Oliver Stone chose Moyo Island and Labuan Aji, both in West Nusa Tenggara, for the opening and closing scenes of Savages. Yogyakarta's Borobudur temple, a Unesco World Heritage Site, was featured in Java Heat, starring Mickey Rourke, as well as in the 19th season of The Amazing Race. Favourite locations for wildlife documentaries (such as IMAX's Journey To The South Pacifi c and Ocean Giants) include Papua, East Kalimantan, South Sulawesi and Komodo Island.
Where to stay
Indonesia has plenty of upscale hotels and resorts. Julia Roberts and Javier Bardem stayed at the Four Seasons Ubud and Jimbaran Bay, both in Bali; the After The Dark team were at the Ritz-Carlton Jakarta; and Michael Mann and Chris Hemsworth stayed at the Mandarin Oriental Jakarta while filming Blackhat. It is also possible to set up base camps around volcanoes or live on a Bugis schooner surrounded by whale sharks and manta rays.
When in Indonesia
Stars enjoy total privacy. They can chill out at their resort hotels which are situated at some of the best locations in the area, and can go almost anywhere without being mobbed by paparazzi.
Size matters
Indonesia is the largest archipelago in the world with more than 1,700 islands that span the width of North America. Although most regions have accessible airports and ample ground transportation, logistics for multiple island-hopping locations can be challenging and traffic in urban areas highly congested. It may take between one and three hours from the airport to Jakarta. Use good logistics managers to plan ahead.
Stan Wlodkowski, executive producer, Eat Pray Love
"There's a ton of magic in Bali. Everyone is so welcoming."
First person to call
Bali Film Center contact@balifilm.com