International productions have long been drawn to this small but perfectly formed country, which provides mountains, lakes, beaches and castles aplenty.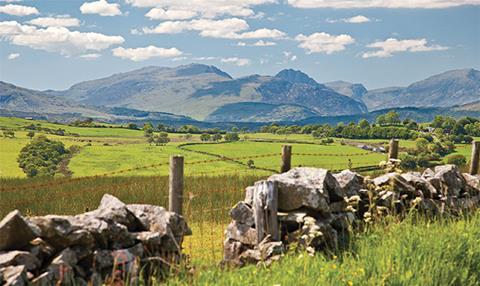 Wales is significantly ramping up its offering thanks to new studio facilities, an ever-growing crew base and a $46m (£30m) fund aimed at attracting international high-end TV and film shoots.
The new Pinewood Studio Wales outside Cardiff offers 70,000 square feet of studio space, while Fox Studios has taken out a long lease on Dragon Studios, also known as 'Valleywood', near Bridgend for its TV series The Bastard Executioner. Warner Bros' Knights Of The Roundtable: King Arthur shot in the stunning Snowdonia National Park earlier this year. Ariel Vromen's CIA thriller Criminal, starring Ryan Reynolds, shot on location at an RAF base in the Vale of Glamorgan, while Lone Scherfig is shooting Second World War feature Their Finest Hour And A Half in south-west Wales.
Only two hours drive from London, Wales' capital Cardiff has established itself as a key filming hub, playing host to the BBC's Doctor Who among other productions.
GOOD TO KNOW
Wales has a growing post-production scene, buoyed by the arrival of companies such as Milk, a VFX house that has opened a studio in Cardiff Bay.
The Lowdown
Financial incentives
As well as being able to access the UK's film and high-end tax reliefs, incoming productions can tap into the Welsh government's $46m (£30m) Media Investment Budget, which is backed by Pinewood Pictures. Film and high-end television projects must shoot 50% of principal photography in Wales. There is no cap on the amount awarded and it can be used in conjunction with the Isle of Man fund and Pinewood equity investment. Further information www. pinewoodpictures.com
Wales also offers a $4.6m (£3m) Digital Development Fund, which will contribute 50% of the cost of projects that exploit new digital technologies in international markets. Film Agency for Wales offers production and development funding to Welsh or Wales-based writers, producer and directors: Craig Roberts' directorial debut Just Jim shot in his home town of Maesycwmmer and went on to screen at SXSW. Further information www. ffilmcymruwales.com
Infrastructure
The new Pinewood Studio Wales, close to Cardiff, includes two stages of 20,000 square feet each and an additional 30,000 square feet of shooting floor. Dragon Studios, near Bridgend, is hosting Fox's The Bastard Executioner TV series. Bay Studios is another large facility near Swansea, which played host to Starz's Da Vinci's Demons. Wales' crew base is also growing — the number of people working in the creative industries in Wales has increased by 52.2% over the period 2005-14.
Locations
Wales has three national parks (covering around 20% of Wales), five Areas of Outstanding Natural Beauty, 400 castles and only 3 million people, making it popular among productions looking for breathtakingly beautiful but unspoilt landscapes. Cardiff provides everything a production could need in terms of a modern cityscape, while being close to mountains and coastline.
Where to stay
Most productions base themselves in Cardiff, heading out to locations when required. Popular hotels include New House Country Hotel, located just outside Cardiff, and small boutique hotel Cathedral 73 in the city. Elsewhere, stars love the 143-bedroom Vale Resort in south Wales, which has two championship golf courses and Wales' largest spa.
When in Wales
Cast and crew enjoy Cardiff's nightlife and restaurant scene which includes The Potted Pig, located in a former bank vault, the atmospheric Chapel 1877 and Madame Fromage, famous for its cheese. For those looking to practise their stunts, Wales offers an array of extreme adventure sports, including the newly opened Surf Snowdonia, a surfing lagoon that has opened in an old aluminium works, and Zip World, for zip-lining.
Size matters
Wales is half the size of Switzerland, around 170 miles long and 60 miles wide.
Julie Gardner, producer, Da Vinci's Demons
"We looked all over the world for possible locations but it was the creativity and experience of the production talent that made Wales the obvious choice. It's less a case of bringing Hollywood to south Wales and more truthful to say that Wales has shown Hollywood how high the bar can be raised in television production."
What could be improved?
The country needs to make sure it has a sufficient crew base to accommodate the ever-growing number of international productions, which means encouraging Welsh talent that might have moved elsewhere in the UK to return home.
First person to call
Penny Skuse, Wales Screen, South Office