Germany's well-established network of federal and state funds, and efficient film infrastructure means many big footloose productions base themselves in the territory.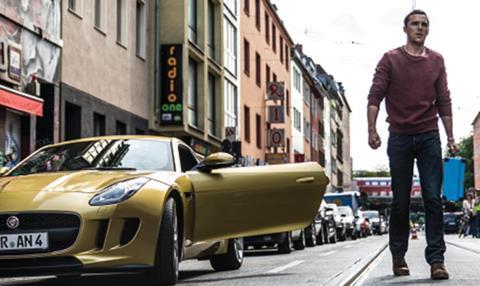 The big US productions based entirely or partly in Germany in the last year have included Warner Bros and Alcon Entertainment's Point Break, Lionsgate's The Hunger Games: Mockingjay — Part 2, Steven Spielberg's Cold War thriller Bridge Of Spies, starring Tom Hanks, for DreamWorks, and Marvel's Captain America: Civil War. The fifth season of the HBO TV series Homeland shot in Berlin and Brandenburg this summer. The independent productions, set up as German co-productions include Gore Verbinski's horror film A Cure For Wellness (US-Germany); Stephen Hopkins' Leni Riefenstahl drama Race (France-Germany-Canada), starring Carice Van Houten; and Eran Creevy's action film Autobahn (US-UK-Germany), starring Felicity Jones and Nicholas Hoult, while Elie Chouraqui found locations in Weimar and the former concentration camp Buchenwald for the France-Germany collaboration The Origin Of Violence. Taron Egerton and Hugh Jackman shot Marv Films' UK-US-Germany co-production Eddie The Eagle for director Dexter Fletcher in the Bavarian ski resorts of Oberstdorf and Garmisch-Partenkirchen, and Oliver Stone used interiors at Munich's Bavaria Film studios and locations throughout Bavaria for his biopic Snowden.
Good to know
You'll never be short of extras. Around 3,500 men turned up at Studio Babelsberg in freezing temperatures on a Saturday morning for the chance to appear in The Monuments Men, while 700 locals answered a casting call for Eddie The Eagle when it arrived in Oberstdorf for crowd scenes at the ski jump.
The Lowdown
Financial incentives
Although its annual budget was cut to $53m (€50m) this year, the German Federal Film Fund (DFFF) is a key partner for international producers wanting to shoot in Germany. A producer needs to partner with a qualifying German co-producer to apply for a rebate of up to 20% on the film's qualifying spend. DFFF funding can be combined with production support accessed from the regional funds such as FFF Bayern and Film und Medienstiftung NRW as well as the German Federal Film Board (FFA) Further information www.dfff-ffa.de www.location-germany.de
Infrastructure
International productions tend to bring heads of departments and the rest of the English-speaking crew can be recruited locally. The major studio complexes are Studio Babelsberg (Berlin/Potsdam), Bavaria Film Studios (Munich), MMC Studios (Cologne) and MP Medienpark NRW (Cologne).
Locations
Steven Spielberg shot at Berlin's Glienicke Bridge for Bridge Of Spies, while the city's 1936 Olympic Stadium has been used for Race. Germany's huge variety of landscapes includes islands, mudflats, forests, lakes and mountains. At a pinch, desert scenes can even be shot at the open-cast mines in former East Germany, but productions normally travel to locations in Morocco.
Where to stay
Soho House in Berlin — in the former East German Politburo building — is a popular base. George Clooney stayed here while making The Monuments Men as did Spielberg during Bridge Of Spies. The Waldorf Astoria and Adlon Kempinski hotels in Berlin are also popular addresses. When hotel living does not suit, Matt Damon rented a flat in the hip Mitte district for three months when shooting The Bourne Supremacy, while Brad Pitt and family decamped to a villa in leafy Zehlendorf near Studio Babelsberg during the shoot of Inglourious Basterds.
When in Germany
Germany is a culture vulture's dream. Days off are often spent taking in exhibitions at Munich's Pinakothek, Berlin's Martin Gropius Bau and Bode Museum, as well as the Jewish museums in Berlin and Munich. Popular restaurants include Borchardt and Vau in Berlin, the legendary Schumann's Bar at Munich's Hofgarten, and Seerose in Munich. It is worth noting, dogs can be taken into restaurants in Germany.
Size matters
Although one of the biggest countries in Europe, Germany is roughly 85% the size of California. Berlin is an hour's flight from Munich and Cologne, while Hamburg is one-and-a-half hours by train from the capital. A well-developed network of autobahns crisscross the country.
Jean-Charles Lévy, Forecast Pictures, producer on Race
"While we shot the race sequences at a stadium in Montreal, it was very special to be able to shoot in Berlin's original Olympic Stadium."
Would they return?
Yes. Lévy has established a production company with local producers Karsten Brünig and Thierry Potok to produce international projects based in Germany.
First person to call
The 11 members of the German Film Commissions Network, from Schleswig-Holstein in the north to Bavaria in the south www.location-germany.de