Diverse cityscapes and cost-effective crew are drawing in Hollywood film-makers.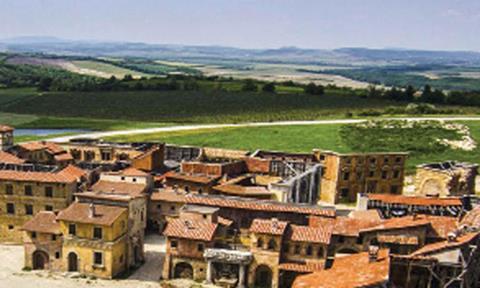 Studios in Hungary, including Mafilm, Origo and Korda, are enjoying brisk business since the government enhanced the already generous tax rebate to a competitive 25% of qualifying spend in late 2014. Projects to have come to Hungary recently include Jean-Pierre Jeunet's Casanova for Ama- zon, Ron Howard's latest Dan Brown adaptation Inferno for Columbia Pictures, Brady Corbet's US indie The Childhood Of A Leader, Nic Mathieu's actioner Spectral for Legendary Pictures and Universal, and Ridley Scott's The Martian. Upcoming shoots include Ghost House Pictures' Man In The Dark and Netflix's Marco Polo.
Good to know
Colleen Bell, US ambassador to Hungary, is a producer on TV soap The Bold And The Beautiful, and so should understand the issues facing film-makers.
The Lowdown
Financial incentives
Films and high-end TV series shot in Hungary are eligible for a 25% rebate based on their expenditure in the country. It is overseen by the Hungarian Film Fund and producers view it as a prompt and efficient scheme. Further information http://mnf.hu/en/whats-on/76-film-support-scheme-is- to-be-raised-to-25.html
Infrastructure
The studios are considered among the best in Europe and the English-speaking technicians are well-regarded but in relatively short supply. For this reason, the Hungarian Film Fund is launching a training initiative to create a new generation of crew. Most US and UK productions bring heads of department and extra crew for the art department, props, costume and make-up.
Locations
Budapest offers all kinds of architecture and can double for many other places such as 18th century Vienna for Virtuoso. The city famously stood in for Buenos Aires for Alan Parker's Evita.
Where to stay
Budapest has many five-star hotels, including the Four Seasons and the Kempinski Hotel Corvinus. Many of the Virtuoso crew stayed in the Boscolo Budapest Hotel. The city has plenty of high-end restaurants and is known for its spas.
Size matters
The three main studios are just outside Budapest, which is where most productions base themselves and shoot. There are no direct flights from the US to Hungary so most US film-makers travel via London, Paris or Berlin.
Laurie Borg, producer, Bel Ami
"We looked at Prague, Austria and London. Creatively, we came to Hungary because we could make it work better than in Prague and Vienna. And we looked at the costs. With Budapest you've got a great infrastructure, great locations. Budapest has a vibrancy."
First person to call
Agnes Havas, chief executive, Hungarian Film Fund havas.agnes@filmalap.hu