New York state — and New York City in particular — has always been a draw for film and TV producers because of its iconic locations.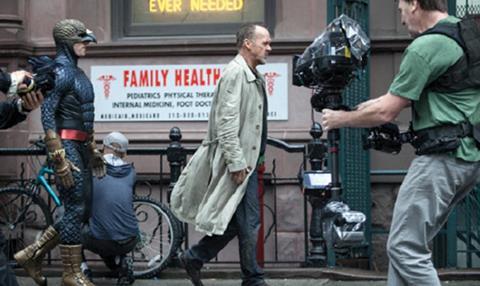 But it has only been over the past decade that incentives have made it more feasible for projects to shoot New York in New York rather than faking the Big Apple in other cities. The state's competitive and long established 30% production credit has helped rejuvenate the local industry and over the past year features including Teenage Mutant Ninja Turtles 2, Birdman and Still Alice and TV series including The Knick, The Get Down and Shades Of Blue have been made in New York. In total, 192 projects applied to spend an estimated $2.6bn locally in 2014, a 6% increase on 2013. Television production boomed, with 53 series applying to spend more than $2bn, a 67% jump on 2013. For the first half of 2015, 80 projects applied to the production programme, representing $1.89bn in direct spending, and 28 series applied, with an estimated direct spend of $1.08bn. For the period 2015-19, the state is offering an additional 10% credit on labour expenses in certain counties and funding for the credit programming is going up to $420m a year.
Good to know
To qualify for the production incentive, a project budgeted at more than $15m or produced by a company that's more than 5% publicly traded must do at least 10% of its principal photography days at a state-qualified production facility. Lower budgeted and indie projects must shoot at least one day at a qualified facility.
The Lowdown
Financial incentives
A 30% fully refundable tax credit on qualified production and post-production expenses incurred in New York State and, for productions not eligible for the production credit, a 30%-35% credit on qualified post-production expenses. There is a 5% credit on qualified production expenses for commercials and a 20% annual growth credit. Further information www.nylovesfilm.com/tax-incentives.php
Infrastructure
New York has one of the biggest talent pools in the world and an abundance of production services facilities. Major studio facilities include Broadway Stages, CBS Broadcast Center, Kaufman Astoria Studios, Silvercup Studios and Steiner Studios.
Locations
New York City, small to medium sized cities throughout the state, mountain vistas, lakes, farmland, small towns and historic villages.
Where to stay
Mandarin Oriental, The Carlyle, Gansevoort Park Avenue, Soho Grand Hotel.
Size matters
New York is the 27th largest but the fourth most populous state in the US, with an area of close to 55,000 square miles. It has one of the most extensive and oldest transportation infrastructures in the country. New York City is served by the John F Kennedy and LaGuardia airports and there are seven other international airports in the rest of the state.
John Lesher, producer, Birdman
"I believe in shooting movies where they're set. There's a look and feel of a Broadway theatre that's not the same as a theatre anywhere else. And there's a look and feel of New York, which is really a character in the piece as well. So we were able to shoot the movie where it actually took place. And we were able to make the movie a little less expensively because we were able to use all local crew."
Would they return?
For a New York-set project, "in a second". But "if it doesn't need to be specifically New York, there are places that are cheaper".
First person to call
Jerry Stoeffhaas, deputy director, Governor's Office of Motion Picture and Television Development +1 212 803 2330 jstoeffhaas@esd.ny.gov