Spectacular geography and enticing towns all play their part.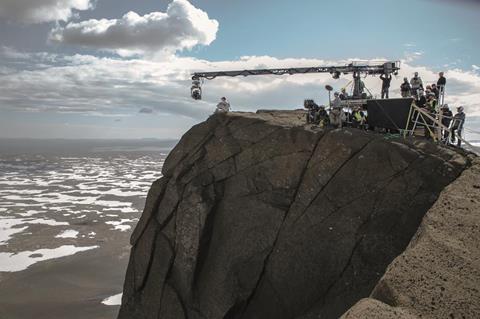 They may not boast many major tax credits, cash rebates or huge state-of-the-art studios but the Nordic countries still attract plenty of international film-makers.
From Darren Aronofsky's Noah, Ridley Scott's Prometheus, Joseph Kosinski's Oblivion, Ben Stiller's The Secret Life Of Walter Mitty and HBO's Game Of Thrones, (all shot in Iceland) to David Fincher's The Girl With The Dragon Tattoo and the BBC's English-language Wallander (which shot in Sweden), big-budget footloose films are drawn by the locations and various regional funding opportunities.
Sweden, Norway, Denmark, Iceland and Finland are all ultra-modern countries boasting high-tech gadgetry and urban sophistication. They also have spectacular locations that cannot be found anywhere else, including volcanoes, fjords, mountains and huge forests. In the Nordic world, modern cities and quaint old-fashioned villages sit side by side.
A director says
"Wherever I looked around Stockholm, every view was a great filming image." - David Fincher, director, The Girl With The Dragon Tattoo
Good to know
All Nordic countries have film commissions designed to encourage international production, and which pride themselves on their efficiency. "One phone call to the power," is how the Swedish Film Commission puts it.
LOWDOWN
What financial incentives are available to international producers?
Film and TV productions shooting in Iceland can take advantage of a 20% tax rebate — one of the region's few film financial incentives aimed at attracting high-budget productions.
There is a plethora of local film funds throughout the region. One of the most prominent is Film i Vast in Trollhattan, on Sweden's west coast, which has an annual investment budget of around $11m. The Academy Award-nominated Kon-Tiki and A Royal Affair, Hammer Films' The Woman In Black and various Lars von Trier features have either shot or done their post-production work here. International film-makers are eligible for support from the region's state funds if they work with local partners.
Denmark — which is home to Nordisk, the world's oldest film company — has several funds. Among them are the West Danish Film Fund, the Copenhagen Film Fund and FilmFyn. The Danish Film Institute is at the hub of the industry and supports between five and nine minority co-productions every year.
In Sweden, if you co-produce with a Swedish producer, you may, through that producer, access the 10% of the National Film Fund set aside for foreign co-productions.
What are the major film studios?
Film i Vast houses big productions in its studio and office complex in Trollhattan, while part of HanWay Films' Kon-Tiki was shot at Storm Studios in Norway, with much of the film's post-production also being done there.
Do incoming productions need to bring their own crew?
No. The Nordic countries have professional, English-speaking crews that are used to working on large international productions.
First point of contact
Sweden Ingrid Rudefors, film commissioner, Sweden: ingrid.rudefors@frsm.se
Denmark Noemi Ferrer Schwenk, international producer, Danish Film Institute: noemis@dfi.dk
Norway Truls Kontny, head of commission, Film Commission Norway: truls.kontny@nfi.no
Iceland Einar Hansen Tomasson, film commissioner, Film In Iceland: einar@filminiceland.com