With rugged mountains, pristine beaches and cities that double for US metropolises, it is no surprise Scotland soars to the top of the wish list of many a location manager.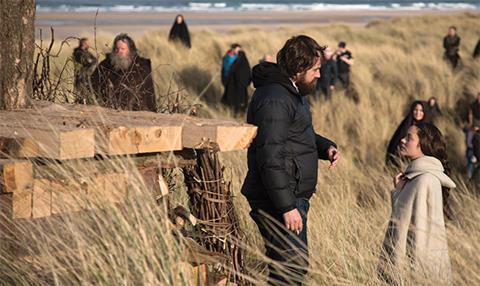 Scotland has always attracted international film and TV shoots thanks to the sheer range of breathtaking locations on offer and the world-class crews to go with them. The introduction of a new production growth fund aimed at supporting international film and productions has made the offering even better, especially now that productions are also able to take advantage of the UK's generous Film Tax Relief. Negotiations are well underway for a significant permanent studio facility in Scotland to house large productions. But what it lacks in dedicated facilities, it makes up for in alternative build space such as Wardpark Studios outside Glasgow, which is hosting the second series of Sony's fantasy TV series Outlander.
Glasgow doubles regularly for US cities thanks to its unusual grid system, while Edinburgh recently housed three major shoots at the same time, including the BBC's adaptation of Joseph Conrad's novel The Secret Agent, for which it doubled as Victorian London. Other recent high-profile productions include Justin Kurzel's Macbeth, which shot on the Isle of Skye, Jason Connery's Tommy's Honour and Terence Davies' Sunset Song, which filmed in Aberdeenshire
GOOD TO KNOW
Scotland boasts the longest daylight hours in the UK – up to 18 hours in Midsummer.
The Lowdown
Financial Incentives
As well as being able to access the UK's 25% Film Tax Relief, incoming film and high-end TV productions to Scotland will now be eligible for funding from Creative Scotland's new Production Growth Fund, which will have $2.7m (£1.75m) in its pot for 2015-16. Awards will be based on spend in Scotland, opportunities provided to Scotland-based crew and facilities and co-production opportunities for Scotland-based production companies. Creative Scotland also offers a $3.1m (£2m) film, high-end TV and animation tax credit advance facility and recce funding, as well as its $6.1m (£4m) production fund aimed at supporting Scottish talent. Further information www.creativescotland.com/funding
Infrastructure
Scottish crews are experienced and well versed in filming in hard-to-reach and tricky locations. "You can crew a job across the board. There is no-one lacking, from the top through to the bottom," says Outlander's first assistant director Nick Heckstall-Smith. Wardpark Studios is a converted factory outside Glasgow comprising 135,000 square feet of production space and four soundstages, while the OKI Building in Cumbernauld has 800,000 square feet of space. Glasgow is home to Film City, which offers 5,000 square feet of build space and Scotland's largest sound facility, Savalas. Glasgow and Edinburgh both boast dedicated film offices, flexible local councils and competitive rates.
Locations
Scotland has it all — the UK's highest mountains, lochs, forests, picturesque villages, castles and one of the longest coastlines in Europe, with nearly 800 islands dotted along it. Edinburgh offers a wide variety of backdrops, while Glasgow has doubled for San Francisco (Cloud Atlas) and Philadelphia (World War Z).
Where to stay
In Edinburgh, A-listers love the luxury Prestonfield House hotel, which is a 10-minute ride into Edinburgh but is paparazzi free. The Balmoral and Waldorf Astoria Edinburgh — The Caledonian (Sean Connery's favourite hotel) ooze Scottish charm, while the sleek G&V (formerly the Missoni) is more high-tech. For longer stays, cast and crew love the Old Town Chambers apartments, which are hidden away off the Royal Mile. Over in Glasgow, stars like the Blythswood Square Hotel.
When in Edinburgh
Scotland is famously hospitable and its two biggest cities offer world-class restaurants, theatre and music galore. Cast and crew always head for Guy's Restaurant in Glasgow, run by a former on-set catering chef used to dealing with A-list demands. Scarlett Johansson was spotted in The Corinthian Club while filming Under The Skin. Over in Edinburgh, days off provide a chance to visit the castle or the city's gorgeous surrounding scenery, as well as top-class restaurants including the very cool Timberyard and Contini Cannonball, housed in a former Victorian school.
Size Matters
Edinburgh and Glasgow are both within easy reach of unspoilt countryside as well as being just 50 miles apart. Transport is cheap within Scotland, while getting there from the rest of the UK is quick and easy (flights from London to Edinburgh take just over an hour).
Iain Canning, producer, Macbeth
"Scotland provided the most spectacular and awe-inspiring landscapes. It was important for our Macbeth adaptation to have a sense of realism and unfold in what felt like a frontier community. Shooting in Scotland, and in particular Skye, gave us an authenticity and scale that was crucial to our retelling of Shakespeare's play."
Would they return? Yes.
First person to call
Brodie Pringle, locations manager
brodie.pringle@creativescotland.com