Mexico's Kings of Nowhere wins doc prize; Thank You For Bombing wins Switzerland, Germany, Austria award.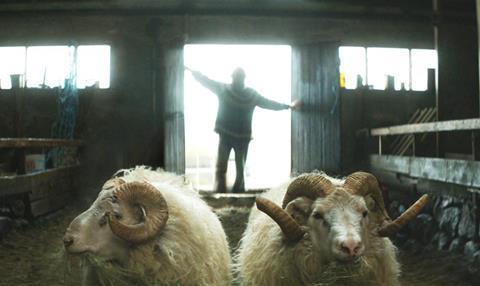 Scroll down for full list of winners
Grimur Hakonarson's Rams (Hrútar) has won the Golden Eye for Best International Feature Film at the 11Sth Zurich Film Festival (Sept 24-Oct 4).
The film, about two estranged brothers who have to reunite to save their sheep during an outbreak of disease, is Iceland's submission for the Oscars for Best Foreign-Language Film.
ZFF's international jury, headed by Carol producer Elizabeth Carlson, awarded the title as well as a cash prize of more than $25,000 (CHF25,000).
It continues a strong festival run for Rams, which won the Un Certain Regard prize at Cannes in May before going on to screen at Karlovy Vary, Telluride and Toronto among others.
International sales are handled by New Europe Film Sales, which has sold the film to around 40 countries. Cohen Media Group handle US distribution.
It also marks a second recent festival win for Iceland, after Rúnar Rúnarsson's Sparrows picked up the Golden Shell for best film at San Sebastian last week.
Doc prize
The international documentary film prize, presided over by Catherine Dussart (The Missing Picture), awarded the Golden Eye to Betzabé García's Kings of Nowhere (Los Reyes Del Pueblo Que No Existe).
The film, about three families who refuse to leave a village partially submerged by water in Mexico, previously won the audience award at SXSW in March.
The Focus: Switzerland, Germany, Austria prize, worth more than $20,000 (CHF20,000), went to Thank You For Bombing from Austrian film-maker Barbara Eder, which explores the behind-the-camera lives of three international war correspondents on assignment in Afghanistan.
The jury was headed by German producer and UFA Group co-CEO Nico Hofmann (The Physician).
The Emerging Swiss Talent Award went to immaculate conception fable The Miracle Of Tekir by Ruxandra Zenide.
The Critics' Choice Award was won by Spanish comedy-drama Pikadero, directed by Ben Sharrock.
The Audience Award went to teen drama Amateur Teens, directed by Switzerland's Niklaus Hilber, while the Audience Award in the ZFF for Kids section was won by adventure Supilinna Salaselts, directed by Estonia's Margus Paju.
ZFF 2015: Winners
International Feature Film Competition
Rams (Hrútar) by Grimur Hakonarson (Iceland, Denmark)
Special mentions
Koudous Seihon (actor) in Mediterranea by Jonas Carpignano (Italy, France, US, Germany, Qatar)
Marielle Heller (director) for The Diary Of A Teenage Girl (US)
International Documentary Film Competition
Kings of Nowhere (Los Reyes Del Pueblo Que No Existe) by Betzabé García (Mexico)
Special mention
Killing Time – Entre Deux Fronts by Lydie Wisshaupt-Claudel (Belgium, France)
Focus: Switzerland, Germany, Austria
Thank You For Bombing by Barbara Eder (Austria)
Special mention
Gruber Geht by Marie Kreutzer (Austria)
Emerging Swiss Talent Award
The Miracle Of Tekir by Ruxandra Zenide (Switzerland/Rumania)
Critic's Choice Award
The Swiss Association of Film Journalists (SVFJ) award their prize for Best Debut Feature Film in the Competition Section to
Pikadero by Ben Sharrock (Spain, UK)
Audience Award
Amateur Teens by Niklaus Hilber (Switzerland)
Audience Award for Children's Film
Supilinna Salaselts by Margus Paju (Estonia)
Treatment Competition Award
Stefanie Klemm for Renatas Erwachen (Switzerland)
She receives a CHF5,000 cash prize and a further CHF25,000 for the development of her screenplay.