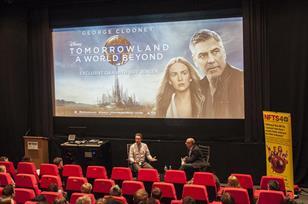 Disney gives NFTS students preview screening of 'Tomorrowland' and Q&A with Co-Creator Jeff Jensen

Mary J Blige joined Jake Gyllenhaal and guests aboard a private yacht in Cannes on Friday for a private screening of Southpaw orchestrated by The Weinstein Company.
Fionnuala Halligan blogs on the Cannes Competition titles straight from the Palais.

Clips show Michael Fassbender in fighting spirit as Shakespeare's warrior undone by ambition.
A roundup of Cannes fun, from John Lasseter's wine habit to Steve McQueen's son.

Jean-Michel Cousteau talks about his documentary, aiming to premiere at next year's Cannes.

Victoria Thomas talks about her new App, Cues, which was unveiled at Cannes.

The French filmmaker talks to Geoffrey Macnab about Ice and the Sky.

Korean film director Sung-Bok 'Myron' Jung and Auro 3D Founder Wilfried Van Baelen brought their high-flying 4k and 3d spectacle Odysseo 3D by Cavalia to the Marche on Thursday.

Although the similarities between 1990s China and the Pine Ridge Native American reservation in South Dakota may not be immediately obvious, Chloe Zhao explains those parallels exist in her first feature, Songs My Brother Taught Me, which is screening in Directors Fortnight.  

Truffaut or Hitchcock? How about both. Kent Jones' Hitchcock/Truffaut, premiering in Cannes Classics and sold by Cohen Media Group, will be a must see for any true cinephile in Cannes.