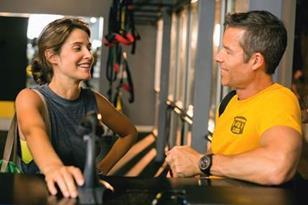 Guy Pearce and Cobie Smulders from The Avengers are mismatched personal trainers in the upcoming movie.

A huggable robot with super powers? Disney unveiled impressive first footage of just that today in the shape of Big Hero 6, their new animation inspired by a little-known Marvel comic.

Lionsgate releases the full-length trailer for the penultimate film in the Hunger Games franchise.

Sunday September 7 was D-Day at the Toronto International Film Festival. Daniel Horowitz plugs in to find out more.

Film producer Steven Markovitz on the challenges of co-production, finding the right partners and maintaining independence.

Bryan Cranston and Jay Roach promote their upcoming biopic of Dalton Trumbo.
Toronto: The Chinese director says he loves absurdity more than black humour.

If you can't take one more drink in the Hyatt bar, two Torontonians have just the list for you.

Reimagined posters of classic and contemporary features on show.

Venice might have been sans Clooney this year, but there are plenty of reasons why this festival is still vital.

Vertigo Films has released the first trailer to sci-fi sequel Monsters: Dark Continent.