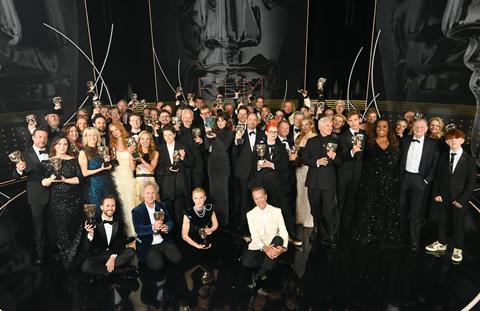 As mentioned in this column earlier in the week, it was one thing being in the room for Bafta 2023, and it was, clearly, quite another experience outside. The 'room' being, loosely, the Bafta awards at the Royal Festival Hall in the Southbank Centre, aka, the film industry, and outside being general TV audiences and pundits.
The 'room' knew Baftas were up for grabs, but the 'room' also knew that, given the films involved, the release calendars, awards campaigns (ie, the money), the nature of Bafta (more on that later), it was incredibly unlikely the Black actors who made the nominations list (Viola Davis, Danielle Deadwyler, Daryl McCormack, Angela Bassett, or Micheal Ward), were going to win.
In fact, going in, Bafta was pretty happy with itself, and justifiably so considering how hard it has tried to engineer itself out of its male-pale-stale torpor, given the Academy Awards didn't manage a single nomination for a Black actor in lead male or female performance.
Hopes were high, though, that a strong showing for Asian actors would result in at least one win - for Michelle Yeoh (a long shot), or Ke Huy Quan and Dolly De Leon in supporting. It didn't happen. For those who know the lay of the land – the room – #baftasowhite is a crude and superficial look at how the awards played out, and, when you boil it down and reduce it to its essence, uncomfortable for Barry Keoghan and Kerry Condon, who did win.
(Of course, there's lots of talk of the incredible success that is Barry Keoghan and what he represents and who can claim it. Step forward Shimmy Marcus of Dublin's inner-city Bow Street Academy, who has made it his life's mission, often without funding, to help disadvantaged kids into the sector, and continues to do so.)
There is a justifiable anger in the air, and it's there for a reason. Focusing it all on Bafta and its televised ceremony, however, is never going to change anything, even as Bafta furiously – and publicly – pedals to change itself. (Before we get to the anger, though, let's focus on the humour of All Quiet On The Western Front sweeping the board. Can we read a new approach to foreign-language films into it? Really, no: a film about a World War appealing to Bafta voters is a hilarious reminder of what Bafta really is.) Grumbles from the membership and public renunciations are a sign of what Bafta has to deal with internally as it tries to make changes.
Bafta of course has problems. Sunday night's room was incredibly diverse. Sunday night's picture of the winners was not. But this isn't one of these comments that rants on about production funding, access, and casting (again). Or points out the kind of films most likely to appeal to awards voters are not the films made by our new generation of talented and diverse filmmakers (ie, war films). It's going to talk about awards. Because if you're going to pin the success or failure of diversity in the industry on an awards ceremony, you've got to look at the road there.
Awards machine
The awards machine works throughout the year and it goes later than conventional wisdom suggests (the idea that a film without a US distributor by the time of the Toronto International Film Festival can't make it to the podium has been comprehensively disproved, although it is a rarity.) We know already Celine Song's Sundance and Berlinale title Past Lives is being groomed by A24 for next year, for example. And the UK industry is fully aware that if, by the time we arrive at the BFI London Film Festival in October, there isn't a consensus forming around titles, no awards backer and no release date, no unicorn is going to show up either. The Bafta Film Awards were old news to those 'in the room', even though there were surprises during the night.
The point? If we all know this, collectively, why don't we do something about it? Sitting around pointing fingers at Bafta is a comfortable factory setting and it fundamentally changes nothing. There are US studios and streaming services picking up a new generation of independent UK cinema who don't know what to do with what they've got. There are titles hanging around that could be promoted at that precise time – when we all know in September what the lie of the land looks like – if the conviction and the belief and the confidence was there. Just look at what Andrea Riseborough managed to do with a social media campaign. Things are more fluid than we are led to believe.
But that's an uncomfortable truth, isn't it? That the people who finance and acquire and release and fund and publicise campaigns for films such as Dionne Edwards' Pretty Red Dress, say, or Raine Allen Miller's Rye Lane – which will release through Disney+ globally, only receiving a theatrical outing in the UK – are as unsure of themselves as Bafta, although they don't do the self-flagellation part.
Look at festivals too. The rapturous welcome at Critics' Week in Cannes for Aftersun gave it the boost it needed and its backers the confidence to aim for awards – same goes for Joanna Hogg's Souvenir diptych. Is it an absolute that UK films need external validation like this before they reach for the stars?
Today's Britain is something Britain itself has to celebrate.
We all have a duty – including at Screen International – not to leave this magical, thriving industry where we found it. In this era where slabs of cash are thrown at films we are told are 'awards-worthy titles' on the one hand, and guerrilla campaigns are starting to pop up on the other, nobody is allowed to shrug their shoulders and point the finger at someone else, however convenient that may be. We all have the power to change things, so let's take that knowledge on board as the machine winds down/cranks up again.

Screen International's executive editor for reviews and new talent