News
The television drama strand will again showcase premium titles at next year's Berlinale, extending from two days to being spread across the festival.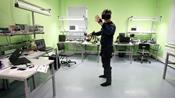 Running alongside the European Film Forum (Nov 18-19) at Tallinn's Black Nights Film Festival, a showcase of product demonstrations and start-ups were presented in the Digitech section further iterating a cross-over between the film and technology sectors. 
Game developers were tasked with building games around films.