Dir: Lee Kung-lok. Hong Kong-China. 2014. 106mins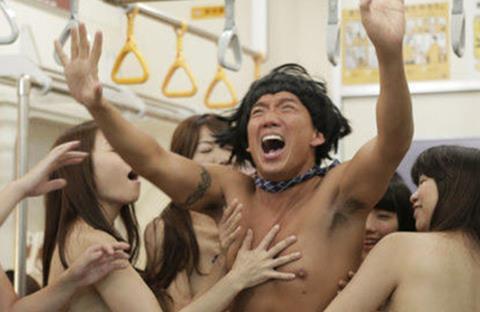 Brimming with colloquial Hong Kong humour and plenty of bare flesh, Lee Kung-lok's jolly romp through the Japanese AV (adult film) scene is slight yet entertaining fare, and likely to offend only the most bashful of audiences. Strong, charismatic performances from a buffed-up Chapman To and a foul-mouthed Josie Ho should help the film travel well within Asian markets and appreciative festival events, although Hong Kong's second Category III 3D porno is unlikely to repeat the box office success of predecessor Sex And Zen: Extreme Ecstasy.
As expected, the 3D is used largely for comical effect, and Lee ensures that his amply-chested female performers are well-shot during their showcase moments.
A loose sequel to Chan Hing-ka and Dante Lam's 2003 comedy Naked Ambition, 3D Naked Ambition (also titled Naked Ambition 2 during shooting) sees Chan shift to producer , handing directorial reins to MicroSex Office's Lee Kung-lok. The story follows frustrated sex writer Wyman Chan (Chapman To), whose popularity is waning in an era of free internet porn, while his successful girlfriend (Candy Yuen) proves an increasingly intimidating presence in the bedroom. The film had its world premiere at the Hong Kong International Film Festival.
With a few like-minded friends (Tyson Chak and Derek Tsang), Chan travels to Tokyo and teams up with Josie Ho's ex-pat casting agent Hotoyama, with the aim of becoming an AV producer. Unwittingly, Chan himself is cast as the male lead in their film, only to become an overnight sensation both in Japan, and back home in Hong Kong.
Using the name Mario Ozawa (a play on porn icon Maria Ozawa), Chan opts to embrace his newfound fame and reap the financial benefits, and Chan and his crew shoot a number of increasingly wild & fetishistic films featuring some of the Japanese industry's most recognisable stars. However, soon enough, Chan's success has incurred the wrath of his rival male performers.
Audiences familiar with Japan's adult movie scene will recognise many familiar faces among the international cast, including Tatsumi Yui, Okita Anri and veteran male performer Kato Taka, who takes Chan under his wing and trains him in the artform's finer skills. Conversely, a swathe of Hong Kong actors also appear in minor roles, including co-producer and star of the original film, Louis Koo, Wong Jing, Sandra Ng and Charlene Choi.
While the film takes great delight in recreating many sub-genres of Japanese pornography, and cinema in general, for Chan's onscreen exploits - saucy nurses, schoolgirl gropings and even rubber-suited kaiju battles - the tone never dips into anything more sleazy than bawdy seaside humour.
As expected, the 3D is used largely for comical effect, and Lee ensures that his amply-chested female performers are well-shot during their showcase moments. Sadly, this is an effect likely to be lost on most international audiences, who may well only catch the film on home platforms, where the overwhelming sensory experience will be largely muted. Outside of these sequences, the 3D goes largely to waste, but otherwise tech specs are slick and colourful, adding to the film's playful, rather than debauched, sensibility.
Despite the plentiful nudity on display and the deliberately buxom flaunting of the actresses' notable assets, it is star Chapman To's newly buffed and bronzed torso that rightfully attracts most attention and acclaim.
3D Naked Ambition has more in common with Pang Ho-cheung's Vulgaria than its official predecessor, and marks a significant improvement from last year's similar effort to recapture that success, SDU: Sex Duties Unit. Writers Chan, Ho Miu-ki and Chou Man-yu produce a script ripe with innuendo and social commentary, even touching on recent frictions between Japan over the Diaoyu Islands. But the emphasis here is always on fun, playing each situation for laughs, and the film largely succeeds in doing so.
Production companies: 852 Films, UA Films
Producers: Chan Hing-ka, Louis Koo Tin-lok
Screenplay: Chan Hing-ka, Ho Miu-ki, Chou Man-yu, based on a story by Chan Hing-ka
Cinematography: Tam Wai-kai
Editor: Curran Pang
Production designer: Andrew Wong
Music: Day Tai, Afuc Chan
Main cast: Chapman To, Josie Ho, Derek Tsang, Tyson Chak, Candy Yuen, Kato Taka, Tatsumi Yui, Tsukasa Aoi, Yume Kana, Okita Anri, Yuki Maiko