Dir: Andre Techine.France. 2009. 105mins.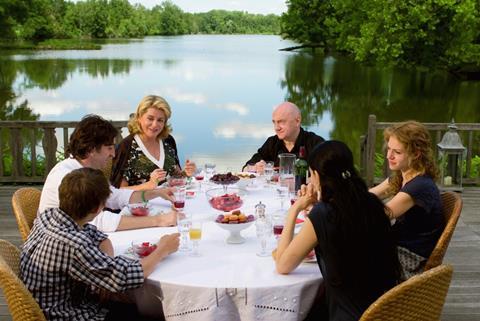 In The Girl On The Train, veteran French auteur Andre Techine turns in a complex drama which displays all his trademarks of narrative density, insightful character study and a passionate engagement with the complexities of modern French politics and culture. This provocative and involving piece proves that the French tradition of intelligent, adult film-making is still healthy and in the right hands, can still provide upmarket commercial prospects.
The cast is uniformly strong, with Catherine Deneuve appearing considerably more human and less monumental than in some of her recent work
Working on a slightly less expansive canvas than his 2007 AIDS drama The Witnesses, Techine again harnesses an accomplished ensemble cast to tell a multi-stranded story that unfolds with rewarding subtlety and richness. A blue-chip French cast, plus a winning lead performance from Emilie Dequenne, will ensure the film makes its mark when released in France on March 18 and - while Techine has not always had the highest international profile - the film's energy andaccessibility should make it as exportable as anything he has made while festivals will certainly take to it (The Girl On The Train screened in the market at the Berlinale).
Although it is based on a stage play by co-writer Jean-Marie Besset, the film shows no signs of its theatrical origins and, in a novelistic fashion, is divided into two long chapters entitled 'Circumstances' and 'Consequences'. Jeanne (Dequenne) is a young woman who lives with her widowed mother Louise (Deneuve), a child-minder, in the suburbs of Paris. She applies for a secretarial job in the law firm run by Samuel Bleistein (Blanc), a successful attorney and leading figure in Paris 's Jewish community, who happens to be a former admirer of Louise. Also working in the firm is Samuel's Israeli daughter-in-law Judith (Elkabetz), divorced from his son Alex (Demy).
The film's first chapter focuses on Jeanne's burgeoning relationship with Franck (a charismatic Duvauchelle), an aspiring young wrestler who hits on her when they are both rollerblading by the Seine. Falling for each other after an online courtship, the pair contrive to live together by taking work tending a warehouse that contains highly suspect goods - only for their idyll to be disrupted by a brutal incident which leaves Jeanne traumatised.
Jeanne reacts, in the film's second part, by inventing an incident on the Parisian RER train network, casting herself, a gentile, as victim of one of the anti-Semitic assaults which - glimpsed newsreel reveals - have increasingly become a fraught aspect of Parisian life. After Louise approaches Samuel for help, most of the story's characters retreat to the lawyer's country estate to resolve their various differences, with Jeanne finding an unexpectedly insightful ally in the form of Samuel's 13-year-old grandson Nathan (promising newcomer Jeremy Quagedebeur).
The pleasure of The Girl On The Train lies in its leisurely unfolding, and in the way that the various characters' personal dramas interweave with the political background, namely resurgent French anti-Semitism and its present and historical context. While the film is anything but formally gimmicky, Techine gives the drama a distinctive visual energy, with DoP Julien Hirsch once again cultivating the unusually vibrant colour scheme of The Witnesses.
The cast is uniformly strong, with Catherine Deneuve appearing considerably more human and less monumental than in some of her recent work. But the film is also a landmark for Dequenne, in her strongest lead role since the Dardenne brothers' career-making Rosetta, delicately hinting at delicate psychic disturbances that only fully emerge in the film's second half.
Production companies
SBS Films
France 2 Cinema
International sales
UGC
(49) 30 246 497 - 471
Producer
Saïd Ben Saïd
Screenplay
Andre Techine
Odile Barski
Jean-Marie Besset
Based on Jean-Marie Besset's play R.E.R.
Cinematography
Julien Hirsch
Editor
Martine Giordano
Production design
Michèle Abbe
Music
Philippe Sarde
Main cast
Emilie Dequenne
Catherine Deneuve
Michel Blanc
Ronit Elkabetz
Mathieu Demy
Nicolas Duvauchelle