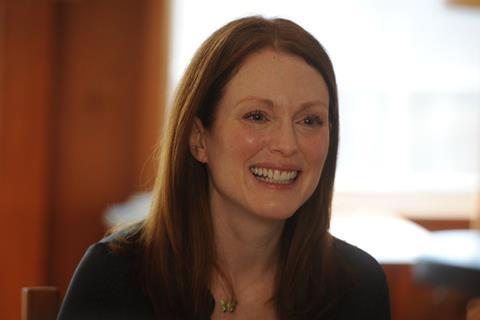 "What makes it theatrical?" That, according to Christine Vachon (producer and co-founder of Killer Films), is now the fundamental question asked of every new project that her company considers for the cinema.
Vachon, speaking at this weekend's Zurich Summit on "How Producers Are Re-Inventing Themselves In The Changing Media Landscape," said producers "now have to interrogate" every movie they want to make to ensure it is right for the big screen and not for another platform.
"I didn't have to make that distinction so much when I started my career 20 to 25 years ago because that was what we were doing. If we were making films, they were theatrical – inherently."
Greg Shapiro, producer and president Of production at IM Global, had a phrase to describe the new mindset among producers contemplating the relative attractions of film and TV – "platform agnostic."
"It starts with a story, it starts with an idea, and where is the best pace to tell this," Shapiro (whose producer credits include The Hurt Locker and The Immigrant) said of a shifting landscape in which projects conceived for film will end up on TV and vice versa. "Fundamentally, as a producer, it feels like it has always been the same thing – find a story, find talent and then figure out the best places for it."
Theatrical windows
Nonetheless, the producers on the panel (who had more than 70 Academy Awards nominations between them) all emphasised the "urgency" and excitement that theatrical exposure gives a film.
Vachon made it clear that Killer Films will still insist on certain titles being given a theatrical release whatever the objections of other partners. This was the case on Still Alice starring Julianne Moore. Some observers dismissed the project as script stage as a "Lifetime" movie for the small screen but the producers strongly disagreed – and the film eventually won a best actress Oscar for Moore following the theatrical release.
"If you can watch something at any point, I'd ask what is driving you to watch it now then. That's a challenge for films that don't come out theatrically," commented Le Grisbi Productions' John Lesher (whose producer credits include Birdman and Fury) of the apathy that can set in for audiences when choosing films at their leisure on a VOD platform.
Vachon pointed out that Amazon is filling a gap, making the "mid-level character-driven dramas" that the studios no longer make.
Budget pressure
The producers also all talked of the intense downward pressure on budgets – a pressure exacerbated by problems in the foreign sales market. Films that were once made for $10m are likely, in today's market, to be made for $4m.
The UK (Shapiro said) is currently one of the most difficult territories. "It is very difficult sell certain markets that really for a long time were really the backbone when you're putting a movie together. The UK has become very difficult to sell," Shapiro said, adding the UK used to be looked to for "10% or more" of the budget of a feature.
"Spain has problems, Japan. It feels like all these major territories are getting more tricky to pre-sell at least," panel moderator Christos Michaels, head of film at London-based law firm Lee & Thompson, said.
The panellists, though, were generally optimistic about the long-term prospects for the business. "I've seen the business die a million times. I've seen people get left along the wayside who weren't able to pivot when things changed drastically, whether it was the shift from celluloid to digital or whatever it was. The ability to stay open-minded about the ways you can tell your story is what keeps you in the business for the long run," Vachon concluded.