Marvel/Disney's superhero team up records year's highest opening and the biggest ever opening for a superhero film in the UK.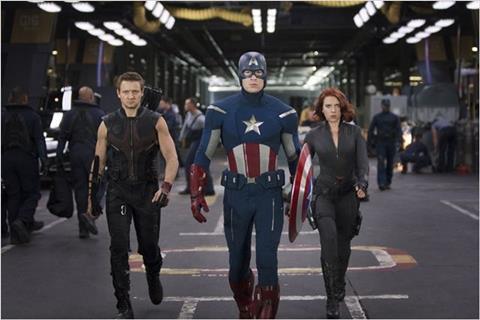 Marvel's The Avengers (Avengers Assemble in the UK) dominated the UK box office on its opening weekend, flying straight into top spot with an epic $25.7m (£15.8m) haul.
Disney's superhero team up achieved the third biggest Thursday opening of all time of $4.1m (£2.5m) on its way to its record-breaking debut, the highest ever for a superhero film in the UK and the second biggest four-day opening ever behind Harry Potter And The Order Of The Phoenix's $26.8m (£16.5m). Its opening was the biggest recorded at the UK box office since Harry Potter And The Deathly Hallows: Part 2 conjured $38.7m (£23.8m) last July.
The $25.7m (£15.8m) debut is more than double the previous biggest opening for a Marvel film in the UK, the $12.5m (£7.7m) achieved by Iron Man 2, and by the end of play Friday, Avengers' two-day total of $11.1m (£6.8m) had already surpassed the debuts of every other Marvel film with Iron Man's $8.9m (£5.5m) the closest contender.
Other records smashed include the biggest ever Disney three-day weekend and the distributor's strongest single day taking of $8.8m (£5.4m).
While the rainy weather may have played a factor, it's still an extraordinary performance that sets a high benchmark for the year's other superhero films - The Amazing Spider-Man and The Dark Knight Rises - to follow.
Lionsgate's Salmon Fishing In The Yemen stayed second for a second consecutive week with an impressive holdover performance as it hooked $1.8m (£1.08m) from its 427 sites. Lasse Hallström's adaptation of Paul Torday's novel stands at $5.2m (£3.2m) after ten days in play and has proved to be smart counter programming from the distributor in the face of the mighty Avengers.
Remaining resolute in third was The Hunger Games after corralling a further $1.2m (£744,000) in its sixth week for $36.5m (£22.4m). Lionsgate's adaptation of Suzanne Collins' best-selling young adult novel may soon be overtaken as the year's highest grossing film, but can still be satisifed with its highly impressive performance which bodes well for its subsequent instalments.
Sony's The Pirates! In An Adventure With Scientists! commandeered $1.1m ($663,776) in its fifth week to chart fourth and has now amassed $24.2m (£14.9m).
In a repeat of last week, Lionsgate again had three titles in this week's top five as their horror The Cabin In The Woods rounded off this week's top five adding $914,510 (£562,000) for a solid $7.5m (£4.6m) tally so far.
Sinking five places to sixth was Universal's action sci-fi Battleship which grossed an estimated $860,000 (£525,000) from 426 sites, bringing its current bounty to $11.4m (£7.1m).
This week sees saturation releases for Universal's re-teaming of the original American Pie gang in American Pie: Reunion (opens May 2), Disney's 3D re-release of the much-loved classic Beauty And The Beast, Warner Bros' romantic drama The Lucky One, starring Zac Efron, Momentum's Jason Statham actioner Safe and StudioCanal's English-language horror remake Silent House.
For more of Screen's box office news, analysis and charts, visit our new Box Office section by clicking the icon below.