Norwegian director Hallvard Bræin's action comedy Børning received both the jury and the audiences' film prize at the ceremony in Haugesund's Maritim Hall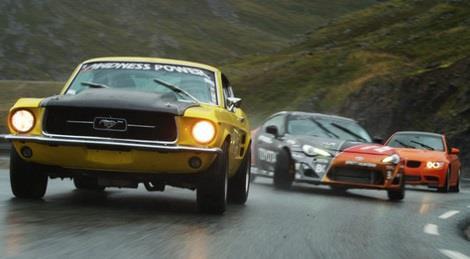 Scroll down for full list of winners
Norwegian director Hallvard Bræin's feature debut, Børning – a local twist of Cannonball Run (1981), which became last year's most popular Norwegian film, taking 381,648 admissions – was also the big winner at the Amanda awards ceremony in Haugesund on Saturday (Aug 15).
At the TV2 Norge televised presentation in Haugesund's Maritim Hall, preceding today's opening of the 43rd Norwegian International Film Festival, Børning received Amandas – Norway's national film prizes - including Best Norwegian Feature, the People's Amanda, Best Supporting Actor (Henrik Mestad) and Best Sound Design (Fredric Vogel, Petter Fladeby).
The frontrunner for the awards - Norwegian director Bent Hamer 1001 Grams (1001 gram), which has so far toured 25 international film festivals – was nominated in six categories, but won only Best Original Screenplay.
For the first time, the honour for Best Director went to a documentary filmmaker, Aslaug Holm for Brothers (Brødre).
Bjørn Sundquist collected his fifth Best Actor Amanda for Gunnar Vikene's Here Is Harold (Her er Harold), newcomer Ine Marie Wilmann her first Best Actress for Anne Sewitsky's Homesick (De nærmeste). The Amanda committee's Honorary Award went to Norwegian director Vibeke Løkkeberg, and the Golden Clapper to producer- dubbing director Harald Mæle.
Full list of Amanda winners 2015
Best Norwegian Feature: Hallvard Bræin's Børning. Prods: John M Jacobsen, Sveinung Golimo, Marcus Brodersen, for Filmkameratene
Best Actress: Ine Marie Wilmann, for Anne Sewitsky's Homesick (De nærmeste)
Best Actor: Bjørn Sundquist, for Gunnar Vikene's Here Is Harold
Best Supporting Actress: Anne Krigsvoll, for Yngvild Sve Flikke's Women in Oversized Men's Shirts
Best Supporting Actress: Anne Krigsvoll, for Women in Oversized Men's Shirts
Best Supporting Actor: Henrik Mestad, for Børning
Best Director: Aslaug Holm, for Brothers (Brødre)
Best Norwegian Children's Film: Grethe Bøe-Waal's Operation Arctic. Prods: John M Jacobsen, Sveinung Golimo, Marcus Brodersen, for Filmkameratene
Best Documentary: Drone. Dir: Tonje Hessen Schei
Best Short: Bunker. Dir/Prod: Vibeke Heide
Best Original Screenplay: Bent Hamer, for 1001 Grams. (Dir: Bent Hamer)
Best Visual Effects: Storm Studio (Morten Moen, Tine Teigene Dalen), for Lisa Marie Gamlem,John Andreas Andersen's Captain Sabertooth and the Treasure of Lama Rama
Best Editing: Christoffer Heie, Ida Kolstø, for Leiv Igor Devold's The Accidental Rock Star
Best Musical Score: Nicholas Sillitoe, for Bobbie Peers's The Disappearing Illusionist
Best Sound Design: Fredric Vogel, Petter Fladeby, for Børning
Best Cinematography: Simon Pramsten, for Here Is Harold
Best Production Design: Peter De Neergaard, for Peter Flinth's Beatles
Best Foreign Feature: Leviathan (Russia). Dir: Andrey Zvyagintsev. Local distr: Arthaus
The Amanda Honorary Award: Director Vibeke Løkkeberg
The Amanda Golden Clapper: Producer, dubbing director Harald Mæle
The People's Amanda: Børning