The president of the Broadcast Film Critics Association (BFCA) has defended Tuesday's announcement adding Star Wars: The Force Awakens as a late eleventh best picture nominee in the group's upcoming Critics' Choice Awards.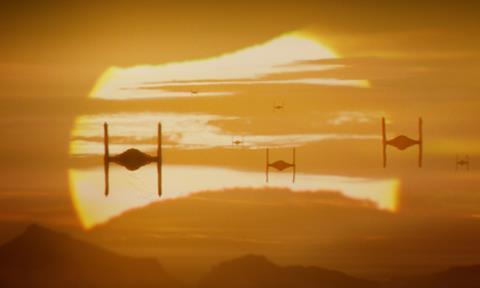 The inclusion of the film – a critical and commercial smash since it went on worldwide release last week – came eight days after the BFCA unveiled [December 14] its original nominations and sparked speculation that the move was designed to boost ratings for the January 17 Critics' Choice Awards telecast.
"That's not the reason this was done but it certainly is something we were aware that if we did this, that could have a positive effect on the telecast," Joey Berlin told Screendaily on Tuesday.

"But this is driven by the fact that so many members felt the movie deserves to be in our consideration."
Berlin said the decision resulted from a scheduling anomaly that meant the nominations voting deadline for BFCA members fell on December 11 – the night when Disney staged its world premiere of The Force Awakens in Hollywood.
"There were many BFCA members at the premiere and on Monday and Tuesday we began to get bombarded with calls and emails to the office saying we had to do something, Star Wars is one of the best movies of the year and it would be silly for us not to consider it," said Berlin.
The group's president said it was too late to stage a total revote and there was a desire to beat a path between "ignoring [The Force Awakens] and throwing everything into disarray."
A decision was made by the board of directors to poll members on Monday asking if they would have originally voted it as one of their top five films if they had seen it before the voting deadline.
"The results were such that it was obvious this was a movie that would have been in the top 10 if it had had the chance," said Berlin.
He did not elaborate on how many members voted, although he did say there was "strong participation in the referendum" and the outcome "was not close."
Berlin said he did not see a need to push back voting deadlines for next season, adding that in 21 years of Critics Choice Awards a similar case had only happened once before with Cast Away in the year 2000.
"We thought this was the best compromise in the best interests of the movie, members and our audience."
The 11 BFCA best picture nominees in alphabetical order are: The Big Short, Bridge Of Spies, Brooklyn, Carol, Mad Max: Fury Road, The Martian, The Revenant, Room, Sicario, Spotlight and Star Wars: The Force Awakens.