A Thousand Times Good Night, Blind take spoils at Amanda Awards.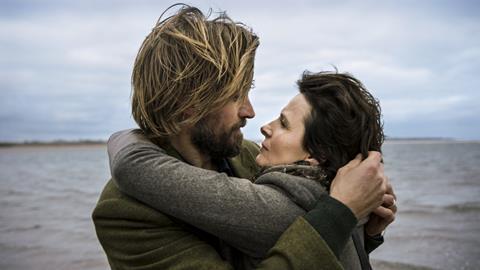 Scroll down for full list of winners
Norwegian director Erik Poppe's A Thousand Times Good Night, starring French actress Juliette Binoche, took home Best Norwegian Feature and two other prizes at Saturday's (Aug 16) Amanda Awards in Haugesund.
The drama, which had already won the Special Jury Grand Prix in Montreal and Founders Award in Chicago, also scooped Norwegian national film awards for Best Cinematography (John Christian Rosenlund) and Best Score (Armand Amar).
Binoche stars alongside Nikolaj Coster-Waldau as a war reporter torn between her job and her family.
The other big winner on the night was Eskil Vogt's feature debut Blind which collected four awards, including Best Director and Best Actress (Ellen Dorrit Petersen).
Blind, about a woman coming to terms with blindness, previously took the World Cinema Scriptwriting award in Sundance and the Europa Cinemas Label in Berlin.
Televised by Norway's TV2 and hosted by Norwegian actor Ingar Helge Gimle, the show marked the 30th anniversary of the Amanda awards, created by Norwegian director-producer Bente Erichsen, who was this year's awards president.
"I had no idea what the Amanda awards would become – I knew what it should be then: a recognition of Norwegian filmmakers," said Erichsen, who left film to become a theatre director, and since 2005 has been head of the Nobel Peace Center in Oslo.
"Although you cannot really compete within the arts, I like people being acknowledged for what they do. All other countries had this sort of prizes, and at the time neither audiences nor the industry were particularly proud of Norwegian cinema, so self confidence was needed."
Amanda 2014 winners
Best Norwegian Film in Theatrical Release
A Thousand Times Good Night
Best Actress
Ellen Dorrit Petersen, for Blind
Best Actor
Aksel Hennie, for Pioneer (Pionér)
Best Supporting Actress
Ivan Anderson, Letter to the King (Brev til kongen)
Best Supporting Actor
Herbert Nordrum, Crack, Back & Sack (Pornopung)
Best Director
Eskil Vogt, for Blind
Best Children's Film
The Christmas of Solan & Ludvig (Solan og Ludvig – Jul i Flåklypa)
Prod: Cornelia Boysen for Maipo. Dir: Rasmus A Sivertsen
Best Documentary
Light Fly, Fly High
Dirs/Prods: Susann Østigaard, Beathe Hofseth, for Fri film
Best Short
Amazon
Dir: Marianne Ulrichsen. Prods: Ragna Midtgard, Maria Ekerhovd, for Mer Film
Best Original Screenplay
Hisham Zaman, Mehmet Aktas, for Letter to the King
Best Visual Effects
Jeppe Nygaard Christensen, Ivan Kondrup Jensen, Rikke Hovgaard Jørgensen, Arne Kaupang, for Ragnarok
Best Editing
Jens Christian Fodstad, Blind
Best Musical Score
Armand Amar, A Thousand Times Good Night
Best Sound Design
Gisle Tveito, Blind
Best Cinematography
John Christian Rosenlund, A Thousand Times Good Night
Best Production Design
Karl Júlíussen, Pioneer
Best Foreign Feature
The Great Beauty (La Grande Bellazza/Italy).
Dir: Paolo Sorrentino. Local distr: SF Norge
The Amanda Committee's The Golden Clapper
Make-up artist and wig maker June Paalgard
The People's Amanda
Ragnarok
The Amanda Committee's Honorary Award
Elsa Lystad